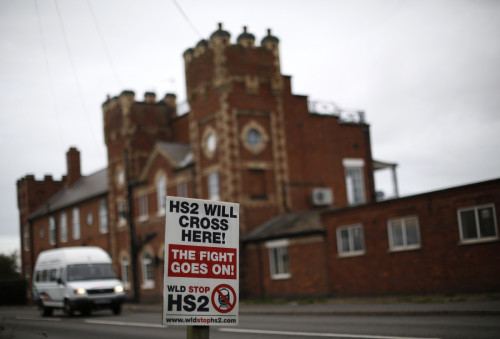 The new chairman of High Speed 2 pledged to deliver cost savings after the multi-billion pound budget spiralled and there were calls for the entire major UK rail project to be scrapped.
HS2, which will create high speed rail connections between the south and key midlands and northern cities, will cost around £50bn overall. The first lines to be completed will not open to the public until 2026 on current plans. Work on all sections should be complete by 2035.
It was attacked by MPs on parliament's Public Accounts Committee (PAC) for being based on "fragile numbers, out-of-date data and assumptions which do not reflect real life".
Sir David Higgins, former chief executive of Network Rail, has taken over from Douglas Oakervee as chairman of the HS2 project.
"The first thing I want to look at is the overall deliverability - time, can we make it quicker, can we get benefits to the north earlier - then how we can deliver it most effectively and hopefully that will deliver the cost savings," Higgins told BBC Radio 4's Today programme.
HS2's first phase will link London and Birmingham with high speed connections. The second phase extends this to Manchester and Leeds.
Advocates of the project say it will spur on economic growth by making it quicker to travel between cities in the UK.
The project's estimates say there are £2 of economic benefits for every £1 invested. Official figures from the Department for Transport show that HS2 will provide £63.6bn in user and wider economic benefits once all the work is complete.
On the proposed HS2 network, trains would be able to hit speeds of up to 250mph. According to the HS2 website, this would cut journey times from London to Birmingham from 84 minutes to 49.
It would also cut the journey time from the capital to York from 113 to 83 minutes, to Liverpool from 128 to 96 minutes, and to Edinburgh from 263 to 218 minutes.
Critics of the scheme say the benefits have been overblown and it should be scrapped before it eats up billions of pounds of public money.
The project is also facing staunch opposition from local campaigners in areas the new HS2 network will go through. They say it will wreak environmental damage and create significant noise pollution, as well as disrupt their lives while the construction work takes place.