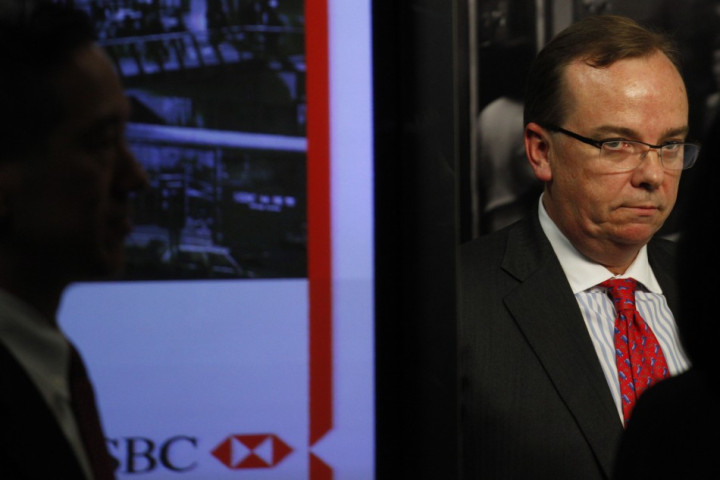 HSBC posted third quarter profits that were well ahead of its main British rivals, but was forced to set aside more cash to settle US money-laundering charges and the spiralling cost of compensating UK customers who were mis-sold private insurance products.
HSBC said pre-tax profits for the three months ending in September were $3.5bn while its underlying profits for the period more than doubled percent from the same period last year to $5bn. However, Europe's largest bank said it will set aside anther $800m to satisfy fines and costs associated with the explosive money-laundering charges it faced earlier this year by the US Senate. A further $353m in charges were booked as part of the bank's compensation scheme to repay British retail customers who were mis-sold payment protection insurance, or PPI.
The $800m addition takes HSBC's total cost in settling the money laundering charges to $1.5bn.
"The third quarter results include an additional provision of US$800m in relation to the on-going US anti-money laundering, Bank Secrecy Act and Office of Foreign Assets Control investigations," said CEO Stuart Gulliver in a statement. "We are actively engaged in discussions with US authorities to try to reach a resolution, but there is not yet an agreement. The US authorities have substantial discretion in deciding exactly how to resolve this matter. Indeed, the final amount of the financial penalties could be higher, possibly significantly higher, than the amount accrued. We have also made UK customer redress provisions of US$353m, mainly in respect of Payment Protection Insurance."
Gulliver added that he cannot comment on the timing of any settlement with the US in respect to the money laundering charges but acknowledged that the total figure could be "significantly" higher than the $1.5bn already accrued
HSBC said its so-called tier 1 capital ratio, a measure of the cash the bank needs to set aside to absorb potential losses while protecting shareholders and depositors, was 11.7 percent at the end of September, making it the highest of the major British banks. Return on equity for HSBC investors was measured at an annualised 5.3 percent for the quarter and 8.9 percent.
Shares in the bank fell around 2 percent in early London trading to change hands at 613.4 pence each. So far this year the stock has risen around 24 percent.
US Senate investigators released a damning report this summer detailing more than a decade of lax controls it said linked HSBC to money-laundering, terrorist funding, tax evasion and financial ties to Iran that violate US sanctions.
The Senate probe, which also lays heavy criticism on HSBC's prime US regulator, the Office of the Comptroller of the Currency, went so far as to suggest that lawmakers consider revoking its charter to operate in the United States.
The 335-page report from the US Senate Permanent Subcommittee on Investigations, which draws from 1.4m documents and interviews with 75 HSBC officials, describes a "pervasively polluted" culture and a "dramatic failure of accountability" at HSBC, according to Senator Carl Levin, the Committee's ranking lawmaker. His Committee accuses the bank of using a global network of branches and a US affiliate to create a gateway into the American financial system that led to more than $30bn in suspect transactions linked to drugs, terrorism and sanctioned companies in Iran, North Korea and Burma.
The report, compiled in conjunction with a sweeping investigation that involved the US Department of Justice, the Federal Reserve, the Manhattan District Attorney's Office and the OCC, says that between 2007 and 2008 more than $7bn was shipped from HSBC's Mexican operations, first set-up with purchase of Grupo Financiero Bital. HSBC's own anti-money laundering director was said to have expressed concern that as much as 70 percent of "laundered proceeds" in Mexico were running through the bank's affiliate.
Nearly $20bn in HSBC transactions were found to have involved Iran or Iranian companies, the report said, with as many as 90 percent of them having no disclosure of ties to the sanctioned regime. Similar transactions were found linking HSBC to businesses in the Sudan, Burma and North Korea.
HSBC 's Gulliver said at the time that the bank "failed to spot and deal with unacceptable behaviour." He vowed to change the culture of the bank while admitting "our anti-money laundering controls should have been stronger and more effective." The bank issued a statement late Monday which said the Senate report contained "important lessons for the whole industry in seeking to prevent illicit actors entering the global financial system".