Just hours after Apple announced a press conference, where we expect to see the iPhone 5, smartphone rival HTC sent out an invite of its own, to an event on 19 September.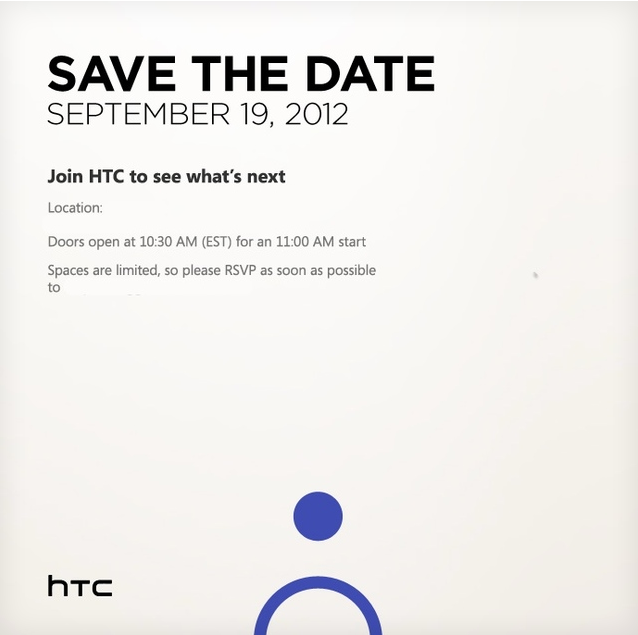 Also in New York and taking place exactly a week after Apple's media event, HTC has been equally tight-lipped regarding what the press conference will be about, although new Windows 8 smartphones are a distinct possibility.
The event will take place in New York at 11am local time, which is 4pm here in the UK and IBTimes UK will be covering whatever HTC has to announce.
September is gearing up to be a busy month for consumer technology, with Nokia expected to announce its own range of Windows 8 smartphones on 5 September, followed by a press conference from Amazon a day later.
Amazon is expected to launch a new range of Kindle ebook readers and an update to the Kindle Fire tablet. Although nothing has yet been confirmed, Amazon usually updates its Kindle range around this time of year.
Finally, Motorola and Intel are hosting an event on 18 September, where a range of Intel-powered smartphones could be seen.
Back to HTC, information apparently leaked by a company insider suggests that there will be three Windows 8 smartphones initially; the Rio will be at the bottom of the range with a 4in screen, 5-megapixel camera and a Snapdragon S4 Plus processor.
Above this, the Accord is said to have a 4.3in screen, 8-megapixel camera with 1080p video recording, 1GB of RAM and a dual-core processor.
Finally, the flagship model is said to be called Zenith and expected to feature a 4.7in display, 8-megapixel camera and a quad-core Snapdragon processor.
Of course, this is all based on speculation and rumour from unnamed sources, and HTC is yet to announce anything official - but with the media event just two weeks away, we haven't got long to wait.
Must read: