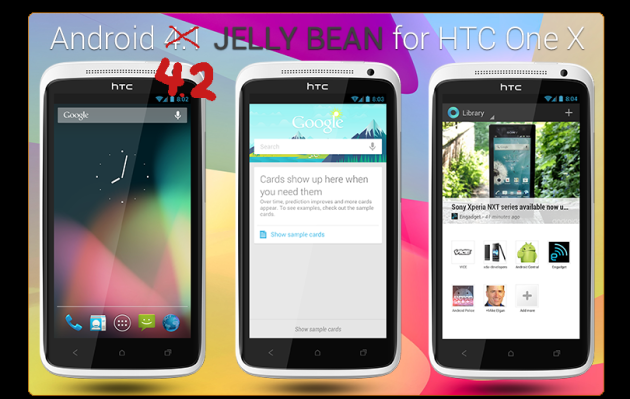 HTC's flagship smartphone, the One X, received the Android 4.1 Jelly Bean update officially, just a few weeks ago in October. Although the official release of next Jelly Bean iteration - Android 4.2 - is still awaited for the One X, the Android development community has once again stepped up to the rescue act by unleashing the latest version of Jelly Bean for the smartphone.
With due credit to XDA forum member pabx, the new Android 4.2 ROM brings a host of exciting features to boot including Swype-like keyboard, lockscreen widgets, Photo Sphere camera mode (takes 360 degree panoramic photos), quick settings toggles in the status bar, newer information cards in Google Now, Daydreams screensaver mode and enhanced performance in contrast to Android 4.1.
Users must however note that the new ROM might harbour a few untested bugs or broken features, as the ROM is still under development. Here is the complete list of features that are either found to be working or broken or not working:
Features Found as Working
Wireless
Phone calls
GSM Data (still needs some more testing)
Audio Output
Non-HD Video (eg: YouTube HD is broken)
GPS
Broken Features or Features Not Working
Camera
HD-Videos
Audio recording (= no VOIP, crashes the audio subsystem)
Bluetooth
Fails to boot on phones running HBOOT 1.31 (if you have hboot 1.31 and would like to have this fixed: please join our IRC channel)
Key Points to Note
The stock AOSP Based Android 4.2 Jelly Bean ROM and the instructions provided in this guide are applicable for the HTC One X model only and will not work with any other device. Verify your device's model number by navigating to Settings > About Phone.
Users must note that the ROM is based on stock AOSP Android found on Nexus devices and hence it will not feature HTC-specific features or native apps found in stock ROMs.
The instructions provided in this guide are meant for reference purpose only and do not cover any warranty claims involving device damage or issues arising out of using the stock AOSP based Android 4.2 firmware update. Users are advised to proceed at their own risk.
Pre-requisites
Verify that your phone battery is fully charged or has at least 85 percent charge to avoid unexpected device shutdown (due to battery drain) while flashing the Android 4.2 firmware update on your HTC One X.
Download and install HTC Sync on your computer to get the necessary drivers for your phone. Download HTC Sync from here. Skip this step if your phone drivers are already installed on the computer.
Ensure that your phone's bootloader is unlocked and rooted with ClockworkMod Recovery (CWM) installed on it. Skip this step if you have already rooted your phone with CWM installed.
Download the latest version - Android 4.2 Jelly Bean ROM - from here.
Download the Flash_Boot.zip file from here, which is needed to flash the boot image on the phone.
How to Install Android 4.2 Jelly Bean ROM on HTC One X
1. Copy the downloaded ROM zip file to the phone without extracting it.
2. Extract the Flash_Boot.zip file to the desired location or your desktop on the computer.
3. Launch the ROM zip file, which was downloaded earlier to the computer and extract the boot.img file from it. Now, copy the boot.img file to the folder where you extracted the Flash_Boot.zip file in step 2.
4. Power off the phone and boot into bootloader mode. To do so, press and hold Volume Down button while powering on the phone. Then, choose FASTBOOT option (use the volume buttons to navigate and power button to select) to enter fastboot mode. Now, connect your phone to the computer via the USB cable.
5. Browse to the folder containing the extracted Flash_boot.zip file in step 2. Double-click the flash-boot-windows.bat file to flash the required kernel.
6. Once the kernel is flashed, the pop-up window should automatically close. The message box might also indicate OKAY/finished and stay open, in which case you can close it manually.
7. Now, tap the power button on the phone to choose BOOTLOADER option. Then browse to the RECOVERY option, and select it using the power button to boot into CWM recovery.
NOTE: In recovery, use volume keys to navigate between options and power/home key to select an option.
8. Choose wipe data/factory reset, then hit Yes on next screen to confirm the action. This process will only delete your installed apps and settings, but will leave all other files and data intact on the SD card.
9. Now, select install zip from sdcard and then hit choose zip from SD card. Browse to the ROM zip file that you copied to your phone's SD card and select it. Confirm the ROM installation by choosing Yes on next screen.
10. Once the ROM is installed, click go back and then hit Reboot System Now to reboot your phone into Android 4.2.
Android 4.2 Jelly Bean is now successfully installed and running on your HTC One X.
[Source: The Android Soul]