Swimming on the same big boy side of the pool as Huawei's Ascend D quad, the HTC One X is the company's flagship quad-core device, and from what we've seen of it during our opening hands-on, there's a lot to get excited about.
Tech Spec
Creeping up towards the 'tablaphone' device spectrum, the One X packs a 720p HD 4.7-inch 1,280x 720 display. While we at the International Business Times UK are fans of plus-sized smartphones, be warned if you're used to using devices closer in size to the Apple iPhone's 3.5-inch display - the device will feel big.
But, the One X's screen isn't its main selling point, that honour goes to its 1.5GHz quad-core processor - which is backed up by the now standard 1GB of RAM. While the debate continues about whether quad-core is really currently needed on a smartphone - with certain naysayers claiming the more price friendly dual-core tech can more than handle the every day demands of a smartphone user - we're quite interested in it, not least because of the doors it opens for developers.
While the Android app market is currently pretty light on decent 3D games, the inclusion of a 4G chip will let developers get more creative. Specifically, we're hoping it will increase the number of hardcore games, as opposed to casual games on offer in the Android Market.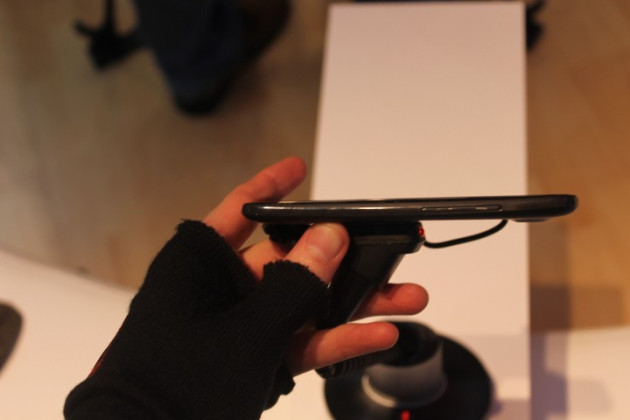 Camera, Storage and Battery
Past its quad-core chip, the One X boasts 32GB of internal storage and a pretty decent 8-megapixel camera rear facing. Backed up by a front facing 1.3-megapixel that can reportedly record at 720p the device's snapper also includes auto focus, smart LED flash, and BSI sensor (for better low-light captures) and 1080p HD video recording support.
In our hands-on with the camera we particularly liked that, thanks to the One X's ImageSense software, we could capture a photo while recording HD video - a useful feature if you spot something particularly classic while recording and want to put it in a frame.
Powering the show, the unit has a reasonable - though not astounding - 1,800mAh battery. As was the case with Huawei's Ascend D quad, we have our concerns over the battery, with the device's screens size and brightness looking set to be a massive power drain.
Look and Feel
In terms of design the One X is instantly recognisable as an HTC device. Measuring in a 34.36 x 69.9 x 8.9mm the device isn't small or skinny jeans friendly. Yet that said, in our time playing with it the One X never felt cumbersomely big - as certain other plus-sized smartphones like Samsung's Galaxy Note did.
Additionally, weighing in at just 130g the device felt surprisingly nice. This is thanks to HTC's decision to use polycarbonate - plastic - as opposed to metal for the device's casing. While we're always a fan of metal on a smartphone - both music and the material - the One X's curved edges, high-gloss sides and a soft-touch back do a decent job of ensuring the unit still felt high-end.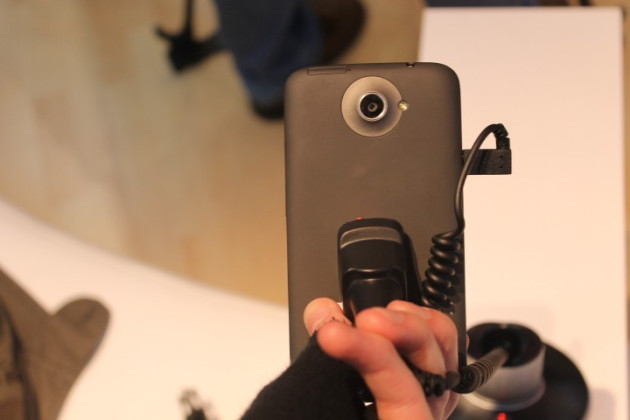 Operating System and Software
Like all HTC's One series, the X is set to be released running Google's latest Android Ice Cream Sandwich operating system. On top of this the unit will come loaded with HTC's custom Sense 4 UI. The unit will also feature NFC support and - best of all - Beats Audio tech. While we didn't get a chance to try out the Beats tech, come review time we're really looking forward to seeing just how good the One X's sound system and quality is.
Another nice touch by HTC across all its new One devices is the inclusion of DropBox support, with the S, V and X all coming with 25GB of free Dropbox storage, for two years.
Release Date and Price
HTC has confirmed that the One X will be in the UK around April and though there's been no official price from the company, retailers have already begun listing the device at around the £470 SIM-free price mark.
Check back with the International Business Times UK later in the year for a full review.