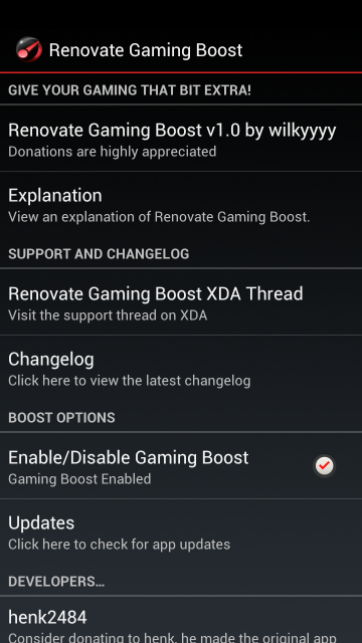 The HTC One X has not proved as good for gamers as had been hoped, with many experiencing significant lag during high-speed games that make demands on the smartphone's processor.
Widespread internet reports by users prompted a detailed explanation from the XDA developers' forum, explaining frequent game lag issues affecting the One X and the necessary steps to fix them.
The game lag was attributed to frequency scaling, which varies based on the number of cores in use. Essentially, although all four cores were in use, the game failed to recognise them as active and in some cases the clock speed was not optimised, leading to lag. The use of a system tuner to overclock the phone was recommended to solve the problem.
Now, a new CPU-boosting app - Renovate - does the overclock and optimisation automatically, to improve gaming performance. A senior member of the XDA forum - henk2484 - is being credited for the design work, while another member takes credit for successfully porting the source code to the One X. The entire tutorial and coding credit goes to hamdir.
The app allows users to enable or disable gaming boost mode with a single button command. Once enabled within the app, Renovate takes control of various hardware settings on the CPU.
"It sets all the cores to on demand, tweaks the sampling rate, up threshold and sampling down factor, enables gpu frequency scaling, switches to the deadline scheduler and tweaks the mnfrees," Wilkyy, a XDA senior developer noted.
General feedback indicates the app works well, although users have reported it drains the battery rather quickly. A resource-hungry game consumes full charge in less than an hour. However, the issue of game lag seems to have been solved.
System requirements
It should work on all kernels but this version is specifically made for faux004beta6..
How to install
Flash the .zip file in recovery mode
How to use
Before gaming open the app, grant root permissions then click on Enable. After you've finished gaming, just launch the app again and click to disable the boost.
Download links
RenovateGamingBoost_v1_signed.apk (install from SD)
RenovateGamingBoost_v1.zip (install from CWR)
RenovateGamingBoost_v1+StockScript.zip (install from CWR, use it if the app is not requesting SU)
[SOURCE: XDA Developers]