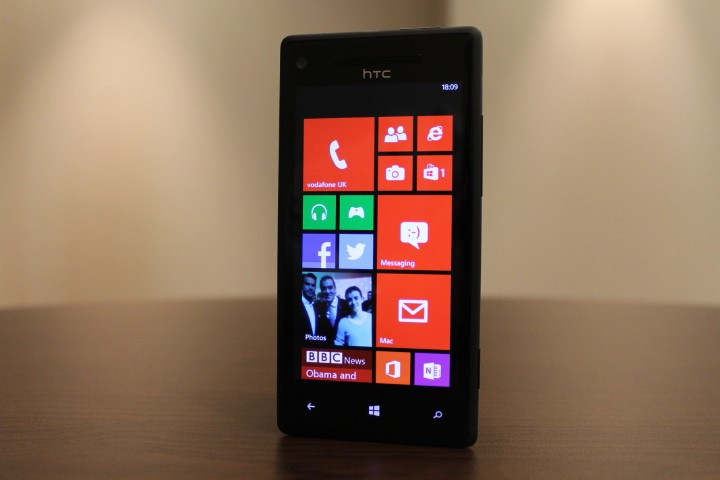 Key Features:
Windows Phone 8
4.3in display with 720 x 1280 resolution and 342 pixels per inch
Dual-core 1.5GHz processor with 1GB RAM
16GB storage
8-megapixel rear camera
Price as reviewed: £400 SIM-free
HTC Windows Phone 8X: Introduction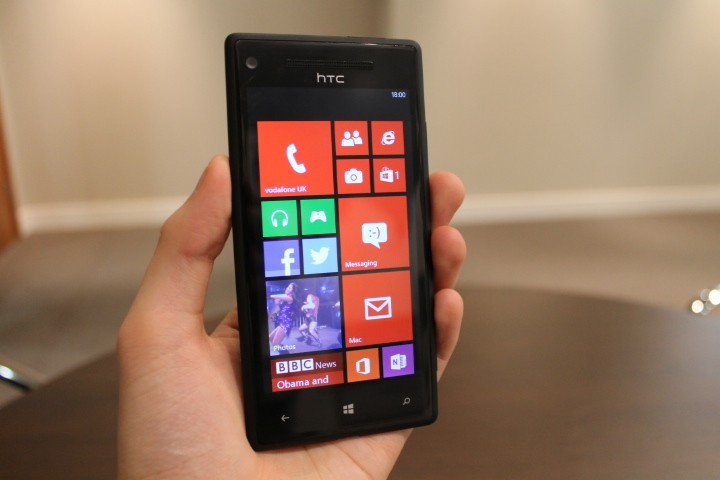 As the name suggests, the Windows Phone 8X by HTC runs the new Windows Phone 8 (WP8) operating system from Microsoft and is considered the flagship WP8 handset.
It features a 4.3in screen with an HD resolution of 720 x 1280 and a staggering pixel resolution of 342 pixels per inch (ppi), more even than the iPhone 5's 326ppi.
Powered by a 1.5GHz dual-core processor with 1GB of RAM, the 8X doesn't quite compete with other high-end smartphones (on paper, at least), but we're not looking too closely at the specs; we're looking at the operating system and asking if this phone can help Microsoft claw some attention away from Apple and Android.
HTC Windows Phone 8X: Design and Feel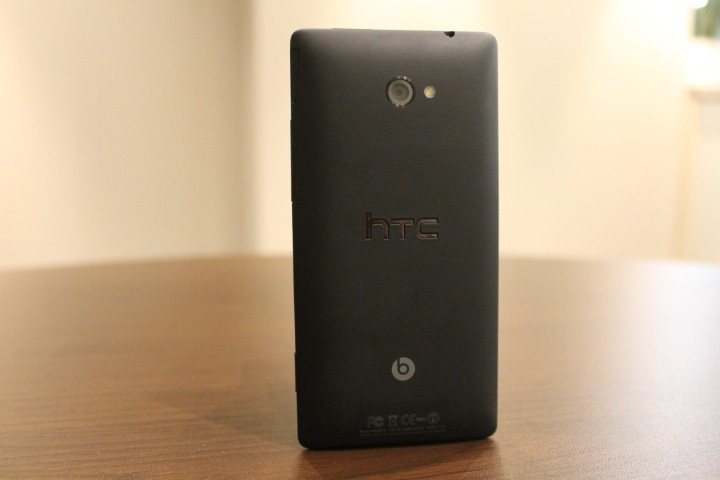 The first thing you notice about the Windows Phone 8X (we're shortening that to 8X from now on) is how light it is, its rubberised back and a surprising lack of bulk.
Weighing 130g, the HTC 8X is marginally lighter than the larger Samsung Galaxy S3 and exactly the same weight as the equally thin HTC One X.
Neither phone can compete with the iPhone 5's size-zero 112g, but we're fine with that and think anywhere between 120g and 130g is the sweet-stop for phones this size - and the 4.3in screen is just the right size, too.
HTC has made the 8X feel thinner than it actually is by designing some heavy tapering into its edges. Starting at 10.1mm in the middle, the back panel falls away to less than half that once it meets the screen's edge, helping to make the phone feel tight and sharp.
The 8X feels incredibly well-made. There's is very little flex no matter how much pressure you apply to opposite corners and the phone feels like it could be dropped (on its back, at least) without coming to any harm.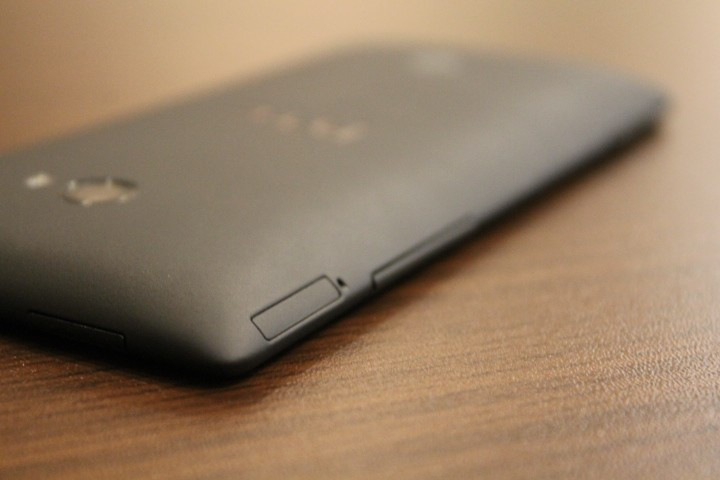 Buttons and ports are all where you would expect them to be, with power/screen-lock next to a headphone port at the top, a volume rocker, microSIM card tray and two-stage camera shutter button on the right, nothing on the left, and a microUSB port on the bottom edge.
Above the screen you'll find a 2.1-megapixel front-facing camera, which is a far higher resolution than we're used to on a phone's front, and there are three illuminated and capacitive touch buttons below the screen, these are back, home and search.
On the back, there is an 8-megapixel camera capable of shooting full 1080p HD video at 30 frames per second alongside an LED flash, and below that there is the HTC and Beats logos, and finally a loudspeaker.
We found the rubberised texture heats up under load more than glass- or aluminium-backed phones, and the screen-lock button feels too soft - we felt like we were squashing it into the phone rather than clicking it, but it's a small complaint.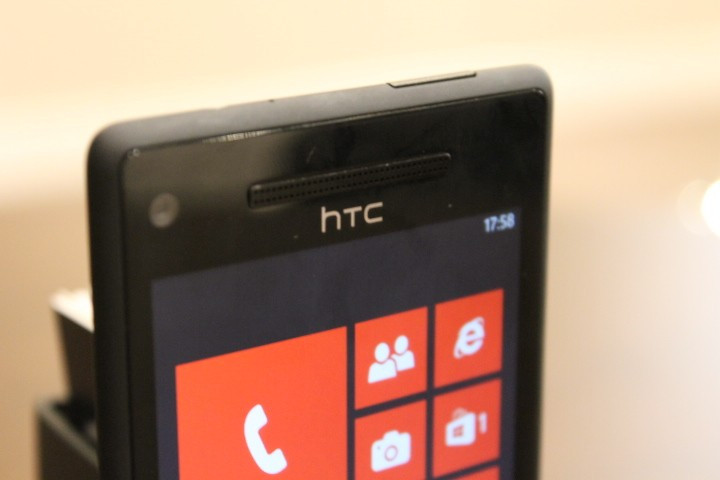 All in all, we think HTC has done a great job with the Windows Phone 8X. It's a well-made and good-looking smartphone that is comfortable to hold and at 4.3in we think the screen size is the perfect compromise between the slightly-too-small iPhone and monstrous Galaxy Note 2.
Our only complaint is that the rubberised finish has scratched off around the microUSB port (presumably where it has been caught by the connector) revealing glossy black plastic beneath.
HTC Windows Phone 8X: Hardware and Connectivity
Inside, the HTC 8X gets a Qualcomm 1.5GHz dual-core Snapdragon processor with 1GB of RAM and 16GB of internal storage, but sadly there is no way to increase this as the Taiwanese manufacturer has opted to not include a microSD card slot, which is a shame.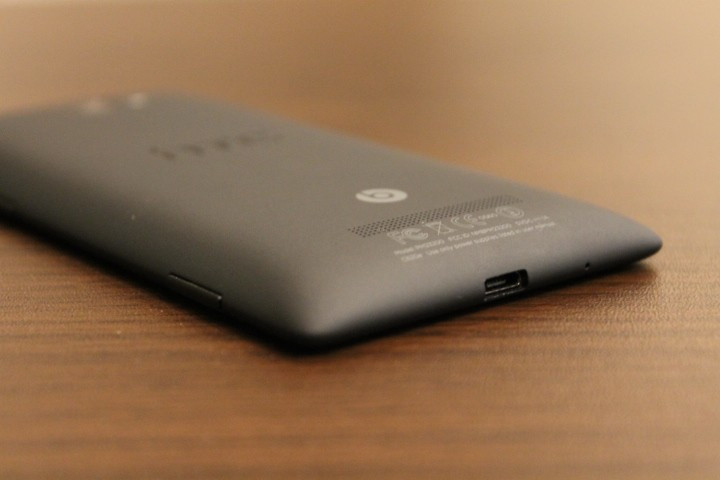 As with any other high-end smartphones today, the 8X gets dual-band Wi-Fi N, Bluetooth 2.1 with A2DP for streaming music to wireless headphones and speakers, GPS and HSDPA. 4G support is unfortunately missing in the 8X.
HTC Windows Phone 8X: Operating System and Performance
The HTC 8X is one of the first five smartphones to run Microsoft's all-new Windows Phone 8 operating system, with its tiled start screen and underlying code shared with Windows 8.
We've already given WP8 the once-over in our in-depth review, so to save you from having to read all of that again here we'll attempt to summarise.
For readers used to iOS and Android, Windows Phone 8 takes some getting used to. Its tiled interface at first looks a mess, but once you dive into customising it, altering the sizes and positions of every tile, you soon realise that Microsoft is onto something here.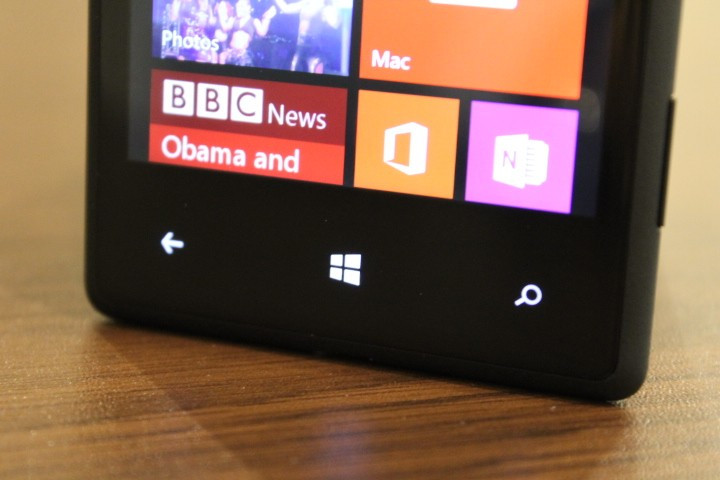 The tiles (app icons) that you use most can be made large and placed higher up, and each is live (or at least will be when developers update them), meaning they will display information about the application they represent.
Unread emails, text messages, tweets and missed calls display in the respective tiles, while a list of every app installed is found with a swipe to the left.
Android and iOS users may be quick to say that Windows Phone is worse, when in fact it is merely different, and after a few days we (coming from an iPhone) got used to it and started to enjoy using WP8 quicker than we thought we would.
HTC - as with fellow Windows Phone 8 hardware providers Samsung and Nokia - has added very little of its own garnish to the new operating system; all that is added is an HTC app that includes weather, stocks and news. Nothing exciting and nothing to distract from the rest of the system.
As we said in our Windows Phone 8 review, during a week with the HTC 8X it rebooted itself three times, once while being used and twice more (in the same afternoon) while sat locked on our desk.
We don't know if it's a problem with WP8, the phone or a misbehaving application, so we're not sure where to place the blame, but with the operating system being brand new and a huge rewrite from Windows Phone 7, we're not too surprised to find small issues, but we still hope it'll be fixed quickly.
Another small issue we had was with the 8X's temperature. The device got quite warm while being used, something we suspect is exagerated by the rubberised back, which feels warmer to the touch than glass, aluminium or glossy plastic.
The 8X has an 1800mAh battery, which sadly wasn't enough to power the phone through a full day of average use without the operating system resorting to battery saver mode, which stops any apps from running in the background (apart from playback through Xbox Music) and halts automatic syncing on all of your email accounts.
We like that the phone does this - although battery saver can be turned off if you prefer - and it kicks in with 20 percent of your battery remaining. Unfortunately, most days for us this was on our train home at around 6pm, so we wouldn't expect the phone to make it through to the next morning without being charged.
For users who don't need automatic email syncing, or have just one account and don't spend their entire day refreshing Twitter and Facebook feeds, then it might be possible to extract more than a day of life out of the 8X, although we honestly think two full days is out of this phone's reach - but then we're all used to charging our phones every night now, aren't we?
To sum up, Windows Phone 8 is an attractive, responsive and well-thought out operating system, but with a chronic lack of applications available at launch, due to Microsoft not realising the software development kit to all developers until these phones went on sale.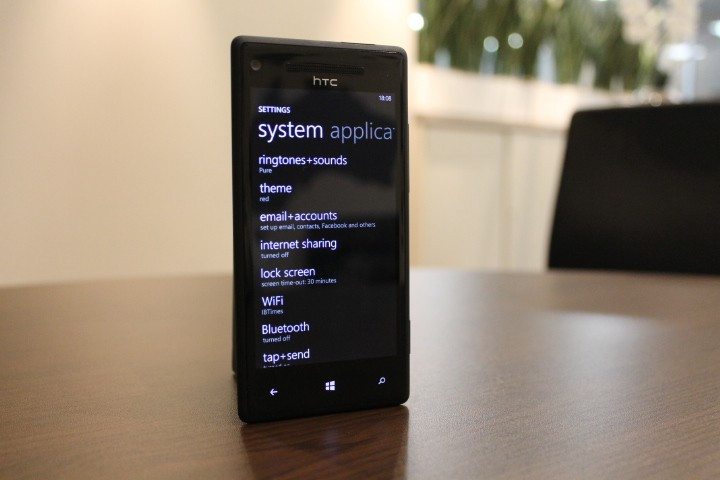 We hope developers - and Microsoft's own Xbox team - will get behind Windows Phone 8 quickly and develop some quality applications and games for it before consumer interest turns back to its rivals.
Finally, the 8X gets Beats Audio technology, which is claimed to improve the quality of your music and includes a more powerful amplifier to help drive large headphones. As with all Beats tech we have tried before, with the 8X it makes your music louder, with no real improvement in quality.
HTC Windows Phone 8X: Display
There is no other way to say this: the HTC 8X's screen is brilliant and boasts the highest pixel density of any smartphone on sale today.
Measuring 4.3in diagonally, it fits somewhere between the 4in iPhone 5 and 4.8in Samsung Galaxy S3, while boasting a resolution of 720 x 1280 and a pixel density of 342 per inch.
Protected by Gorilla Glass 2, the display doesn't feel quite as close to our fingertips as the iPhone 5 with it's in-cell technology, but it's a close call, and the HTC feels very responsive.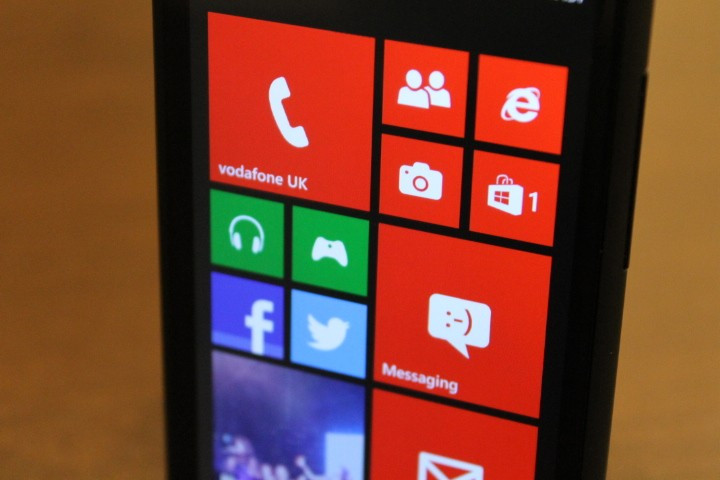 Bright, bold colours are the name of the game with Windows Phone, and to that end the 8X's screen doesn't disappoint, offering up excellent saturation and contrast, with impressive blacks.
Brightness is set to adjust automatically by default and does a good job of adjusting to how well lit the environment is, or if you prefer the brightness can be adjusted to one of three levels (low, medium and high), with the highest being almost uncomfortably bright for indoor use, and perfectly usable outside in sunlight.
We can't pick fault with the 8X's screen at all; bright, evenly lit, accurate colours, responsive and probably the perfect size. Smartphone screens don't come any better than this.
HTC Windows Phone 8X: Camera
The 8X gets an eight megapixel camera which can shoot 1080p full HD video at 30 frames per second and has an LED flash, geo tagging and touch-to-shoot, which means you can tap any part of the scene to focus on it and take the photo.
In theory, the tap-to-shoot function is a smart idea but occasionally the camera is a little too keen to take photos and does so before the auto-focus has done its thing, resulting in blurred photos.
This can be fixed by using the two-stage shutter button instead. Being two-stage means that you depress the button halfway to focus the camera, then fully to take the shot, just as you would with a proper camera.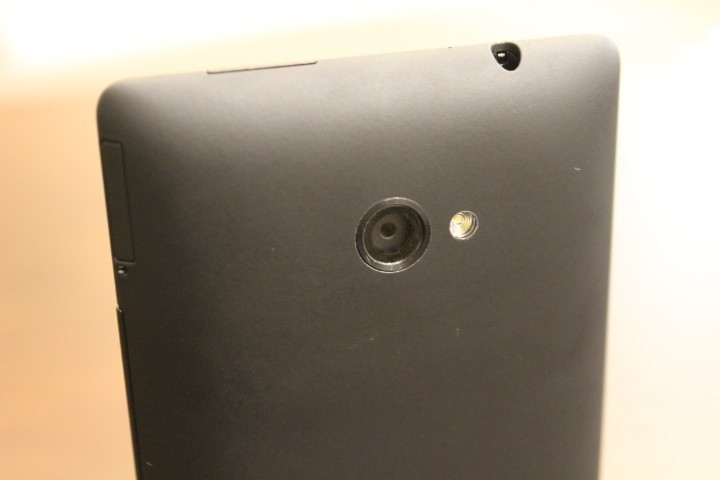 Pressing the shutter button launches the camera app, and pinching the screen zooms in and out.
The front-facing camera offers an unusually high resolution of 2.1-megapixels and can even record 1080p video. Skype calls will never be the same again.
Although not as advanced as the options in most Android camera apps, the HTC 8X offers the usual range of grey, sepia and negative effects, the ability to change the resolution from anything between VGA and 8 megapixel, and white balance can be adjusted, although instead of confusing numbers you can choose from Cloudy, Daylight, Incandescent or Fluorescent - which is a nice touch.
Exposure, contrast, saturation and sharpness can all be adjusted, but again Windows Phone 8 keeps it simple by offering options between Lowest, through Normal, to Highest for each setting.
Finally, ISO ranges from 100 to 800 (or it can be left to automatic) and face detection can be turned on or off.
Video recording gets the same range of effects, quality adjustable from VGA to 1080p, and the same options for white balance, contrast, saturation and sharpness.
We found the 8X's low-light performance to be quite poor, with exposure varying significantly from one shot to the next, but it's no worse than shooting at night with other smartphones.
Daylight performance was better, but this still isn't a phone camera to write home about. Photos taken on a fairly clear day were pale and washed out, with colours failing to really stand out like they do from the Samsung Galaxy S3's camera. Added to that, photos of the sky came out with a purple hue to them.
They say the best camera is the one you have with you, and while of course this still applies, and the 8X is fine for snapping quick photos (that will probably be smothered in an Instagram filter anyway), but for anyone wanting more, you'll want to carry a dedicated camera.
Verdict:
The HTC 8X is an excellent smartphone. Well-designed, sturdy while remaining thin and light, with an excellent screen and impressive performance. Windows Phone 8 isn't ready to match iOS and Android just yet though, as the chronic lack of apps is a serious problem and there are a few other small problems that need ironing out.
We would like to have seen a better battery life, as we struggled to make the phone last a full 24 hours, and the back of the device heats up more than others do.
Otherwise, HTC has produced a very good phone here, and one that is worthy of being called the Windows Phone 8 flagship. The baton now falls to Microsoft to give this phone the applications it deserves.
Scores
Screen: 10/10
Design: 9/10
Camera: 7/10
Operating System: 8/10
Build Quality: 9/10
Overall: 9/10
The Good:
Excellent screen
Thin and light
Windows Phone 8 is attractive and intuitive
The Bad:
Battery performance is poor
Back cover heats up
Occasional random reboots - issue with WP8 is be addressed
Camera sample shots: