Hugh Jackman reveals secret to a long marriage: 'Happy wife, happy life'
Hollywood A-lister Hugh Jackman has one of the longest-lasting marriages in Tinseltown so he knows a little about relationships. The 47-year-old star has now offered some words of wisdom on the secret to a happy marriage.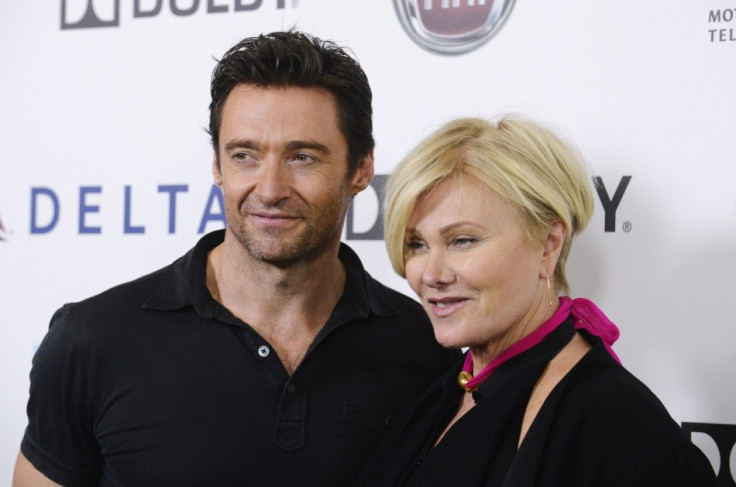 Actor Hugh Jackman (L) and his wife Deborra-Lee Furness have been married for almost 20 years.
Reuters
Ahead of he and his wife Deborra-Lee's 20th wedding anniversary in April, the X-Men star made an appearance on Australian morning show Sunrise where he shared his secret. When asked if there was a slogan he lives by, he replied "Have a go", before adding: "The other one, the most important one, is drummed into me every day. 'Happy wife, happy life'. That's the slogan. We're about to celebrate our 20th."
The mantra definitely seems to be working because the family man has been happily married for nearly two decades. Jackman tied the knot with Deborra, 60, in April 1996 in Melbourne after meeting on the set of Australian TV show Correlli. The couple have two children together.
He previously gushed about his other half during an appearance on The Ellen DeGeneres Show describing her as "the greatest thing" to ever happen to him. "It gets better and better, I can honestly say that" he said.
Recalling the earlier days of their romance he said: "She was the star and I had this major crush on her. Everyone did. The whole crew had a crush on her and I was so embarrassed by that, I didn't talk to her for about a week.
"I had a dinner party and I invited her over and about 20 other people. And she said, 'What's the matter, have I annoyed you? You're not talking to me any more. What have I done wrong?' and I said – I'd had a couple [of drinks] – and I said 'Oh look, I've got a crush on you, I'll get over it.' And she went, 'Oh really,' and I was like, 'Oh this is bad.' And she goes, 'Yeah, I got one on you too.' And I'm like, 'Oh great!' So that was it."
© Copyright IBTimes 2023. All rights reserved.