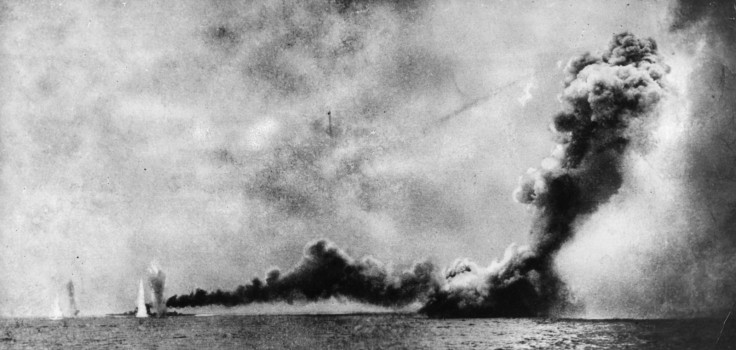 Hundreds of people assembled to commemorate the centenary of the largest naval battle of World War One. The historic occasion is officially being marked in the Scottish towns of Rosyth, Fife and South Queensferry, West Lothian, paving the way for a week of commemorative events.
Members of the royal family were among those paying their respects on 28 May. Princess Anne and her husband, Vice-Admiral Sir Tim Laurence, were joined by Scottish First Minister Nicola Sturgeon and former Scottish Conservative leader Baroness Annabel Goldie in laying wreaths at Rosyth Parish Church earlier.
The laying of the wreaths was marked by a remembrance service where local schoolchildren gave readings. "This centenary commemoration is an opportunity for us to honour and pay tribute to the many thousands of sailors from both sides who lost their lives during the Battle of Jutland," said Sturgeon.
"The sacrifices made by those who fought in this battle, the largest naval encounter of the First World War, and by other seafarers throughout the conflict must never be forgotten," the Scottish leader added.
The major naval battle was fiercely fought over the course of 72 hours between 30 May and 1 June 1916. The Battle of Jutland claimed 6,094 and 2,551 British and German lives respectively.
The Battle of Jutland was the most significant naval combat of World War One, which took place off the coast of Denmark between 1914 and 1918 and involved a total of 250 ships. Both sides claimed victory in the battle, which saw the sinking of 14 British and 11 German vessels.
Councillor and Fife's Depute Provost, Kay Morrison said: "These commemorations provide an important opportunity for communities to come together to honour those who sacrificed their lives during the Battle of Jutland, one of the most significant naval battles of the First World War.
"The events in Fife and South Queensferry are also about remembering the sacrifices made by all of those who contributed to the war effort, and ensuring that their compelling stories are told for generations to come," she added. "Our naval heritage is an integral and valued part of Rosyth's history. Scotland, and Rosyth's naval dockyards, played a vital role in the UK's war efforts and the focus for these commemorations is reconciliation ."
On 31 May, a commemorative event will be held in Orkney to mark the centenary. A service will be held at St Magnus Cathedral in Kirkwall and descendants of service personnel will be joined by members of the royal family as well as the UK government.