A bomb disposal team have successfully detonated a World War One bomb in a Liverpool park after hundreds of homes were evacuated in the Walton area of the city. The undetonated device was found in a back garden in Byng Road, Walton, at 4.20pm on 20 May by a team of gardeners who were laying turf.
The bomb was safely detonated three hours later, around 7.30pm, by bomb disposal experts who had dug a hole for the device at the nearby Walton and Clubmoor Recreation Ground. It was then covered with white sandbags before the Royal Logistics Corps Bomb Disposal team counted to 30 to detonate the bomb.
Footage taken from the scene showed one brave member of the team carrying a bright red box that containing the bomb before placing it in the ground. The explosion flung dirt, mud and soil into the air with onlookers watching from a safe distance.
The team had established a huge cordon around the area with the help of 10 police cars and vans with many homes evacuated, whilst the procedure was taking place. A shelter centre was set up at nearby Walton Sports Centre that many of the nearby .
Liverpool Echo photographer Ian Cooper, watched the drama unfold, he told the newspaper: "They counted down, then one of the soldiers from the Army's explosive ordnance disposal (EOD) team shouted, 'Stand by, firing!'"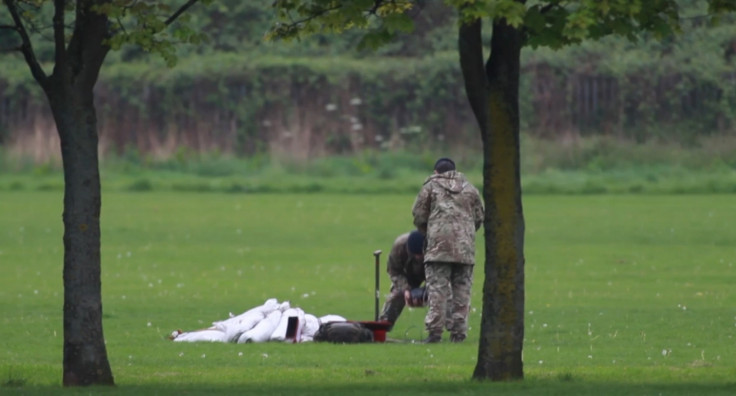 "There was a big bang, and sand from the bags and some of the earth from the ground went flying everywhere. There was a cheer from the soldiers afterwards. People were watching it all from their cars or upstairs windows."
A spokesman from Merseyside Police said: "The device, believed to have been a First World War bomb, was removed from the property by the EOD and taken to a park where a controlled explosion has been carried out. All affected residents have been allowed to return to their homes and the police cordon and road closures have been lifted."