Turkish artillery fire and coalition air strikes led by the US against Islamic State (Isis) in northern Syria has killed 104 militants, Turkey's state-run Anadolu Agency reported on 28 May. The attacks came a few hours after three rockets launched from Syria struck a town in southern Turkey, wounding five people on 27 May.
Citing unnamed Turkish military sources who were speaking on condition of anonymity, the news agency reported that the Isis (Daesh) jihadists were killed just as they were "on the verge" of firing rockets towards neighbouring Turkey.
The military sources added that the shelling and air campaigns destroyed seven buildings used as headquarters by IS, as well as four rocket installations. The claim could not be independently verified, and Turkey has not offered an explanation as to how it can count casualties in Syria.
Earlier today, it was reported that two rockets were fired from Syria, one of which stuck an empty field in the border province of Gaziantep, Anadolu reported. The other rocket landed in the garden of a building situated close to Gaziantep, according to the private Dogan news agency. Reports suggest no casualties were caused, as nobody was at the scene when the rockets came down.
The Turkish border town of Kilis is situated about 60km (37 miles) north of Aleppo and has been regularly targeted by IS jihadists since mid-January. In some areas, the distance between Kilis city centre and the Syrian border is less than 6km (four miles).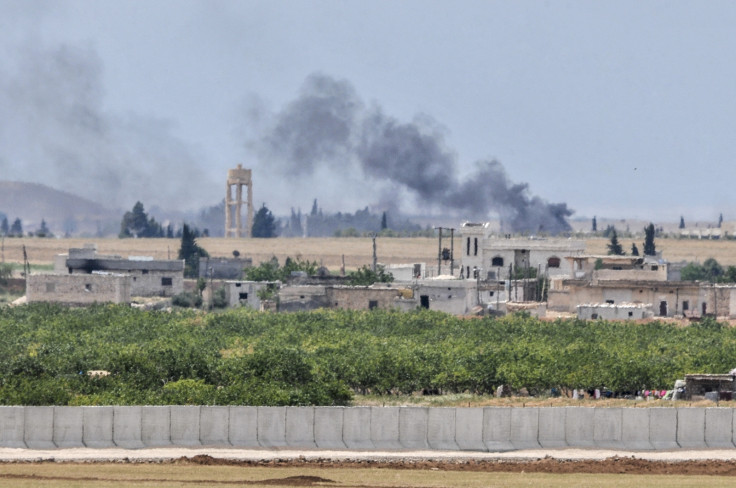 On 16 May, the state-run news agency reported that Turkish shelling and US-led coalition air strikes had killed 27 IS fighters just north of Aleppo, Syria. The IS terrorists were reportedly "on the verge of firing rockets towards Turkey" in that instance too.
A total of 21 people, including Syrians seeking refuge in Turkey, have been killed, while 70 others have been injured.