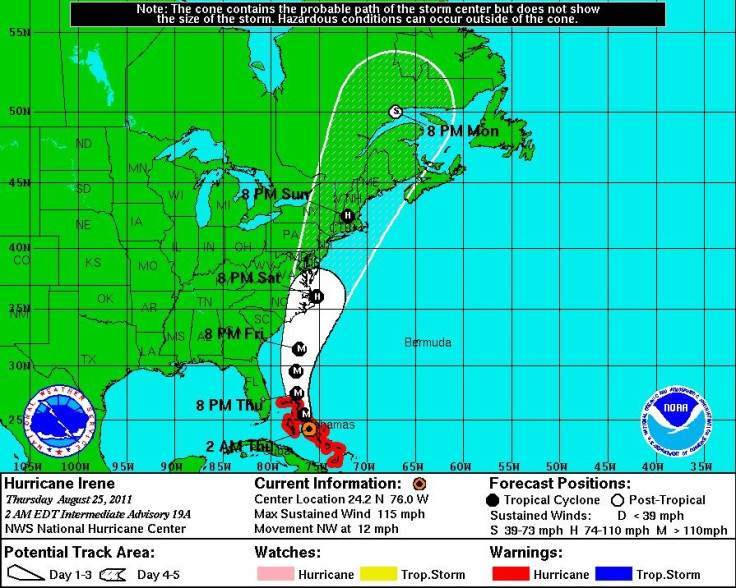 Hurricane Irene, the first hurricane of the 2011 Atlantic season, battered the Bahamas Wednesday night and is expected to gather power as it moves on the North Carolina coast and threatens the densely populated U.S. Northeast by the weekend.
Mandatory evacuation orders for parts of North Carolina's Outer Banks are expected Thursday morning as state emergency officials prepare for the storm's arrival.
Tourists are being asked to exit Dare County, including Manteo, Nags Head, Duck and Kitty Hawk, while residents have for now been told they can stay but should prepare.
Hyde County, also in the Outer Banks, had a mandatory evacuation for all visitors and a voluntary evacuation for residents Wednesday, but emergency officials warned residents will get mandatory evacuation orders from 5 a.m. Thursday.
Irene hit the central Bahamas early Thursday, battering the islands with winds of up to 150 mph, rain and a dangerous storm surge, the U.S. National Hurricane Center said, forcing tourists to flee while major cruise lines cancelled Bahamas stops.
A significant amount of rain is expected in Quebec on Sunday or Monday, the Canadian Hurricane Centre's Chris Fogarty said.
"The exact center of the storm may actually stay pretty close to the coastline during the day on Saturday and then become a big threat for New England and perhaps Long Island on Sunday," said Bill Read, director of the U.S. hurricane center.
At least one person died when Irene hit Puerto Rico this week, bringing torrential rains and leading President Barack Obama to declare an emergency in the U.S. Caribbean territory.
New York Gov. Andrew Cuomo said Wednesday he had ordered the state's Office of Emergency Management to prepare for Irene's impact.
"We're not paying attention just to the eye of the storm. We're looking at how wide it is, how large it is," Laura Southard, a spokesperson for the Virginia Emergency Management Department, said.