Hurricane Maria has quickly strengthened from a Category-4 into a "potentially catastrophic" Category-5 storm, the National Hurricane Center has announced.
Maria, which is following in the wake of Hurricane Irma, is making its way towards Dominica in the Caribbean's Leeward Islands as it eyes the island of Puerto Rico.
In its advisory at 8pm (ET) on Monday (18 September) the centre said Maria is 15 miles (24km) east-southeast of Dominica. It is moving toward the west-northwest near 9mph and is expected to continue in this way through Wednesday (20 September).
The Category-5 hurricane, with maximum sustained winds near 160mph with higher gusts, is set to move near Dominica and the adjacent Leeward Islands in the next few hours and then approach Puerto Rico and the Virgin Islands on Tuesday (19 September) night and Wednesday.
Maria may continue to strengthen, the hurricane center warned.
"A dangerous storm surge accompanied by large and destructive waves will raise water levels by as much as six to nine feet above normal tide levels in the hurricane warning area near where the centre of Maria moves across the Leeward Islands and the British Virgin Islands," the advisory said.
The hurricane will also bring in heavy rains which could cause "life-threatening flash floods and mudslides". The US and British Virgin Islands and part of the Leeward Islands could see 10 to 15 inches of rain, with isolated 20 inches, while Puerto Rico could get 12 to 18 inches of rain, with isolated 25 inches.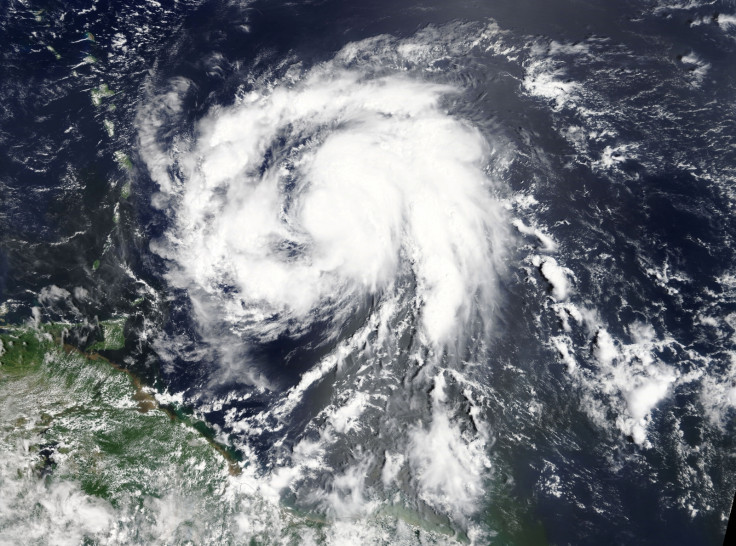 Maria is forecast to hit Puerto Rico exactly two weeks after Hurricane Irma tore through the US territory, ABC News noted. Irma left three dead in Puerto Rico.
"We want to alert the people of Puerto Rico that this is not an event like we've ever seen before," Governor Ricardo Rossello told reporters, according to CNN. Rossello urged residents to execute emergency plans immediately. "Now is the moment to save lives," he said.
According to ABC News, officials in Puerto Rico said 450 shelters will be opened starting on Monday afternoon. They warned of potential catastrophic damage and the possible collapse of the island's "vulnerable" electrical system.
"Flood-prone areas must be abandoned," Public Security Secretary Héctor Pesquera said. "If not, you will die."
The governor has requested a federal emergency declaration, ABC News reported. Maria is forecast to stay away from Florida and the US mainland.