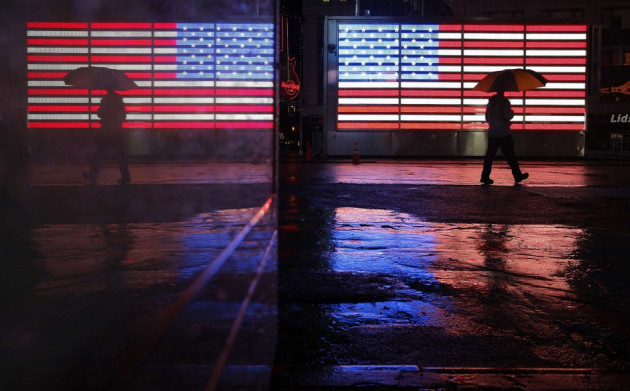 Super-storm Sandy has forced the airlines to cancel flights, stock markets to close trading and retailers to shut shops, but analysts suggest that it will not have a significant effect on the US economy as a whole.
Initial estimates suggest that the total damage will be somewhere between $10 bn (£6.2 bn) and $20 bn (£12.4 bn), potentially making it one of the worst 10 US hurricanes in terms of economic damage.
"Assuming the storm simply disrupts things for a few days and it doesn't do significant damage to infrastructure, then I don't think it will have a significant national impact," Mark Zandi, chief economist at Moody's Analytics told Associated Press. But Zandi added that the damage could be more if the storm hits a major port or an oil refinery.
Flights in the Northeast have been suspended for two days. Reports suggest that about 12,500 flights between Washington and Boston have been cancelled and the total number of cancelled flights could surpass the numbers during Hurricane Irene in the previous year.
Trade group The Airports Council International is reported to have said that operations in the East Coast airports could take up to a week to get back to normal even if the damages turns out to be small.
Insurance companies may have to shell out more than they did for the Hurricane Irene. The Associated Press reported, citing Morgan Stanley that the damages could be higher as the storm is affecting "one of the highest concentrations of wealth in the world".
Major retailers are also expected to face a drop in sales that could possibly continue to the holiday season, as consumers might decide to reduce spending.
Trading in major US Markets was suspended for two days on safety concerns. Initially, the New York Stock Exchange had decided to allow electronic trading, but later reversed the decision.
Commenting on the impact of the storm on markets, Ric Spooner, chief market analyst at CMC Markets told Market Watch that although the storm could have an immediate effect on the economy, it will be compensated by a boost in activities to rebuild.
"As markets are forward-looking, they often move fairly quickly to anticipate the positive rebuilding phase after a natural disaster," he added.