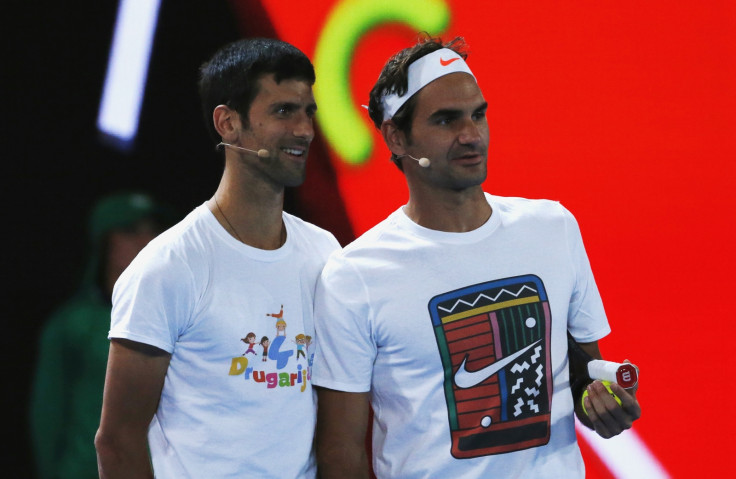 Roger Federer has surprised a number of people including himself with his form in 2017 which has seen him win three of the four tournaments he has played. The Swiss has added an 18th singles Grand Slam title to his kitty while also completing the sunshine double with titles in Indian Wells and Miami.
Novak Djokovic however, was not among the people surprised with the Swiss ace's 19-1 win-loss run that he has managed this season. The Serbian world number two admitted that he expected nothing but the 'highest level of performance' from Federer despite his rival coming into the season after spending the last six months of 2016 sidelined with a knee injury.
Federer has decided to skip all the clay court tournaments leading up to the French Open on 28 May with his only appearance on clay this year set to be at Roland Garros. Djokovic believes that the Swiss star's achievements in 2017 allows him the privilege of choosing the tournaments he wants to play, but has no doubt that despite the long breaks, he will perform at his best whenever he steps on court.
"I'm always saying that I don't expect anything else from Roger but the highest level of performance, whenever, wherever," Djokovic said, as quoted by Tennis World USA. "I don't think it can shake him that much or disturb him that he didn't have too many matches. Obviously, he knows his body best. He knows his game best. I'm sure he knows what he's doing. This year he's the best player so far."
"He's been playing unbelievable. Well, he decided not to play anything on clay courts before Roland Garros. I mean, he has the luxury of choosing what he wants to play. I mean, what he did this year is phenomenal, absolutely. It doesn't really make a difference, I think. Wherever he shows up, you know he's going to come out ready to perform his best," the Serb added.
Djokovic returned to action at the ongoing Madrid Masters after missing the previous tournament in Barcelona and progressed to the quarter-finals following his win over Felicoano Lopez. The Serbian, who faces Kei Nishikori next, has not gone past the last eight stage in his last four tournaments.
"I'm still finding my way to that consistency level and quality of tennis that I'm looking for. I'm aware that I'm not playing at my best," he admitted. "But I definitely believe in myself and the process. Eventually the game will come together."