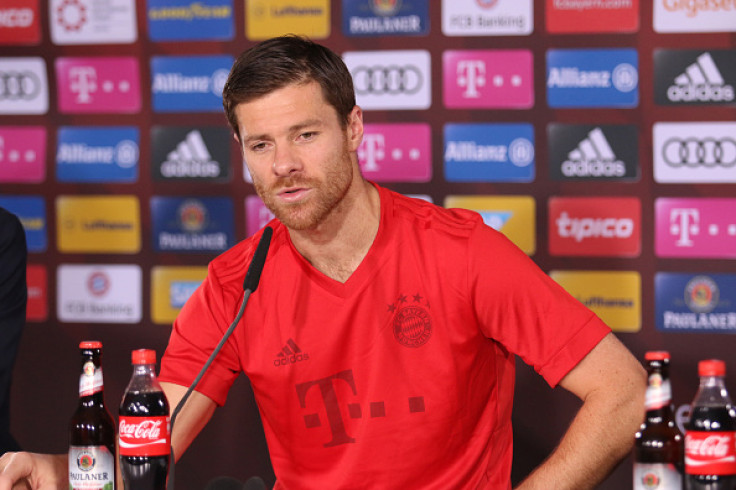 Xabi Alonso revealed that he was close to moving to Arsenal in 2009 but the Gunners fell short of Liverpool's valuation by £3m ($3.74m).
The north London club's loss was Real Madrid's gain as the former Reds midfielder went on to enjoy a successful spell at the Spanish capital club before moving to Bayern Munich, where he currently plays.
Apart from Arsenal, Italian giants Juventus also made a move to sign Alonso, but offered the same amount as Arsene Wenger's side which was rejected by Liverpool. The 35-year-old midfielder, who is set to retire from professional football at the end of the season, is widely regarded as one of the best midfielders of a generation.
Alonso spent five years with Liverpool before departing for Real and it was then that Arsenal and Juventus made an approach. Then Liverpool manager Rafa Benitez was ready to part with the World Cup winner after identifying Gareth Barry as a replacement for the Spaniard.
"I was really close to Juventus and I was close to Arsenal," Alonso told the LiverpoolEcho, as quoted by the Daily Mail. "But, it was just £3m. Liverpool were asking £18m and both offered £15m – so that's why it didn't happen."
The Bayern midfielder was part of a Liverpool team that made two Champions League finals of which they won one against AC Milan before losing against the same team two years later. However, Alonso admitted that his biggest regret is not being able to have challenged for the Premier League title, despite having one of the best squad's in England at the time.
"It hurts because I think we had a good enough team to win the title," Alonso added during his exclusive interview with the Liverpool Echo.
"That team in 08/09 was really good. Very compact. Pepe (Reina), Daniel (Agger), Carra, Fabio Aurelio, Alvaro (Arbeloa), Dirk (Kuyt), (Albert) Riera..... the connection between Stevie and (Fernando) Torres was unbelievable," the World Cup and European Championship winner explained.
"We were so close. That team should have won trophies. At that time the Premier League was by far the best league in the world, no doubt about it."