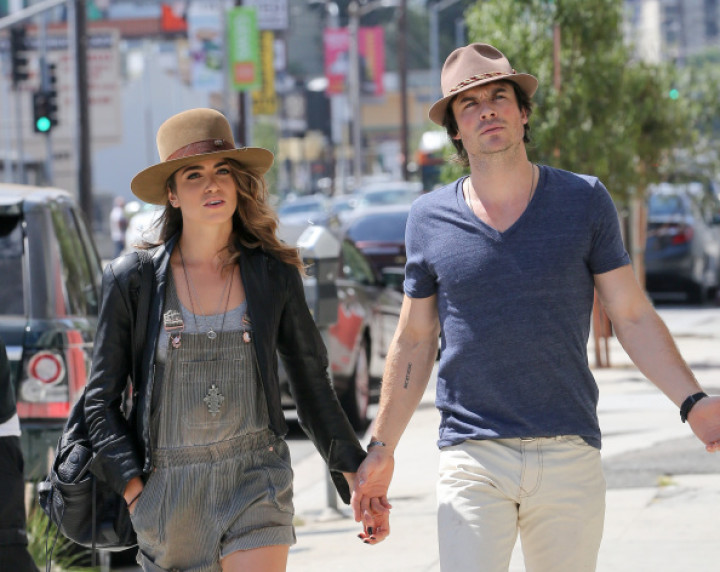 Ian Somerhalder is allegedly jealous of girlfriend Nikki Reed's relationship with former husband Paul McDonald.
Reed, who is well known for her role as Rosalie Cullen in the Twilight franchise, tied the knot with McDonald in October 2011. They met at the Red Riding Hood premiere in March 2011.
However, in May, the 26-year-old actress officially filed for divorce from McDonald almost two months after they revealed they had split.
According to Star, the 35-year-old Vampire Diaries star is not comfortable with Reed and McDonald working together, even after their divorce.
"It's driving Ian crazy. He's having a hard time trusting that nothing romantic is going on," a source told the tabloid.
Somerhalder and Reed were first romantically linked in late July after they were spotted shopping at the Farmer's Market in Los Angeles.
They even adopted a horse together in August, which they named Eagle.
Earlier this month, Somerhalder confirmed their relationship on Instagram when he lashed out at few of his fans for bashing Reed.
"You HATE NIKKI REED? Really? Do you know her? Hmmmm, I'm not sure that you do. Look on her Instagram feed or twitter and all you will see is a compassionate and beautiful human being," Somerhalder wrote. "Please put your negative energy elsewhere. You don't even know the person you're talking about," he posted.
"Do you care about me? Ask yourself that question. What's the answer? Is it yes? If it is—then please be happy for me. Stop this nonsense—you're spreading horrible energy into the world. Do some research of the person you say sucks or you HATE. You'll find that she's a magical person doing great things in the world.
"I'm sickened and saddened by the fans' response to all this. Many fans have stood up people like you and tried to empower you with some compassion. If we all thought a little or [learned] a little about people before we spoke about them, the world wouldn't be so upside down and in the worst place in history. If you hate Nikki then you must hate me...That's sad. Have an amazing day!" he concluded.
Somerhalder previously dated Vampire Diaries co-star Dobrev, for more than three years, before splitting in May last year.