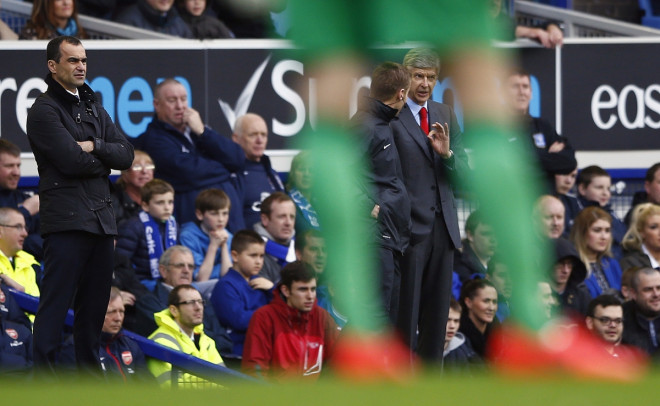 Arsenal legend Ian Wright has urged the Gunners' board to allow Arsene Wenger leave the club and replace him with Everton manager Roberto Martinez.
The Frenchman's contract at the Emirates runs down at the end of the season and he is yet to sign a contract extension. The Daily Mail had earlier reported the Gunners' boss could not sign a new deal and quit the club in the summer.
The north London side suffered a 3-0 defeat at the hands of Everton at Goodison Park on Sunday. The latest loss has seen Arsenal sit just one point ahead of the Toffees in fourth place, with 64 points.
However, Everton has a game in hand and a victory for Martinez's men could see them go two points clear of Arsenal and jump to fourth spot. The former Arsenal striker believes the appointment of Martinez as Wenger's successor will help the club move forward.
"That's the kind of manager that you want, a good young manager that has proven himself tactically, he knows what he's doing. It's got to be that kind of man, Roberto Martinez, he's the perfect one. If someone was to ask me who I want, I'd say Roberto Martinez," Wright told BBC Radio 5 Live.
"That's the kind of manager you've got to be looking at to take Arsenal forward. I feel that like a lot of people out there it is very hard to think of it (Arsenal without Wenger)."
"As they say on social media be careful what you wish for, but we're in a situation now where Arsenal fans are starting to look into this massive void, and it's not looking good. This stage of the season the players should be finishing on a high, but they're running out of steam," the Arsenal legend stressed.
Arsenal have gone without silverware for nine years and are favourites to win the FA Cup this season. The Gunners face Wigan Athletic in the semi-final at Wembley this weekend.
With five games remaining in the league this season, Wenger claims his side's chances of finishing this campaign in top-four is under threat.