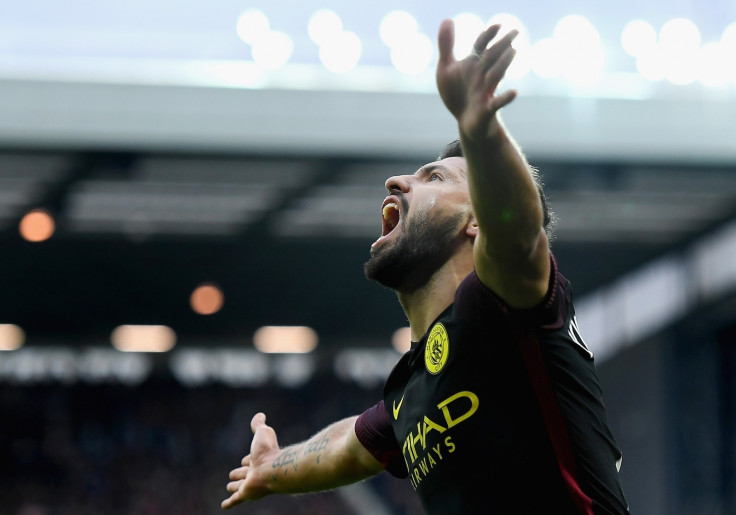 Arsenal would be all-but guaranteed to win the Premier League title if they signed Sergio Aguero from Manchester City, according to Ian Wright. The Argentina international has scored 13 goals in all competitions already this term, but speculation over his future at the Etihad Stadium has been sparked by Pep Guardiola's inconsistent selection of the forward.
Aguero scored twice on his return to the City team after failing to start three of City's previous four games, which included the Champions League thrashing by Barcelona at the Nou Camp and the English Football League Cup loss at Manchester United. Guardiola insists the 28-year-old has a future at the club – but speculation has mounted over his role.
Spanish publication Don Balon suggested, in the wake of uncertainty over Aguero's place in the City first team, that Arsenal, Chelsea and Tottenham Hotspur could launch a move for the player, who has scored 149 goals in 221 appearances for City. Wright has endorsed the move and wants Guardiola to continue to frustrate Aguero – allowing his former side to launch a shock bid.
"What I would like to happen is Pep continue to mess around with Aguero and Arsenal buy him and win the league off the back of that," he told BT Sport. "Simple as that." Wright's demands came less than 24 hours before the Gunners defeated Sunderland 4-1 at the Stadium of Light, with Alexis Sanchez and Olivier Giroud both scoring twice.
Guardiola has been keen to downplay speculation Aguero could become subject to interest from the likes of Arsenal, insisting he remains vital to the City cause. "I'd like to convince Sergio how important he is," the two-time Champions League winner said, according to BBC Sport, after Aguero's brace in the 4-0 win at West Bromwich Albion.
"We need him a lot. When he shows that brilliance and belief Sergio is exceptional. We want to try and help him to be better and better. He is fantastic. He is part of the history of this club but I would like to help him still. That is my target – help him to feel how important he is for us in in every game. He is one of the best. And above all that he is one of the nicest people I have ever met. I love working with the nice guys, and Sergio is one of them."