Arsenal went top of the Premier League following their win over Sunderland, but the euphoria was short lived as Manchester City beat West Bromwich Albion 4-0 to make the top spot their own on goal difference. The Gunners went top last week as well, following their 0-0 draw with Middlesbrough, but City were there to spoil the party as they matched the Gunners with a draw against Southampton.
Liverpool are also on the same points as Arsenal and City following their win over Crystal Palace and the top four are currently separated by only three points, with Chelsea yet to play this weekend. However, Wenger believes that it is too soon to make any calls and that there are 28 games still left where the best team will prevail in what looks like a very competitive league this season.
On Arsenal going top, Wenger told Arsenal's official website, "That's where everybody wants to be, so I will not complain. But it's too early and it's too tight as well. There are so many good teams in the league. We go game after game and it's a good feeling when you play first and you win. At least you have one good day!"
The Gunners were handed a setback when Jermain Defoe scored from the spot to make it level in the second half, but an inspired substitution of Olivier Giroud saw him score two quickfire goals to put the result beyond doubt. Aaron Ramsey, who also made his first appearance since October, picked up an assist for Alexis Sanchez's second goal of the game.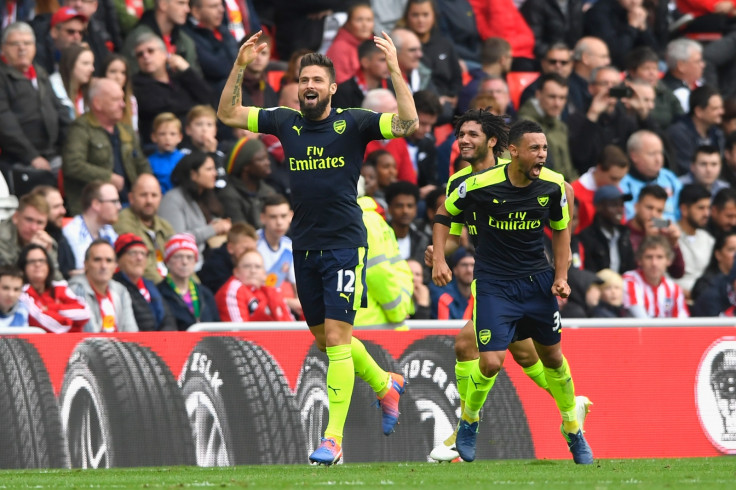 "I would have signed for a 2-1 at that time, but the last 10 minutes were relaxing. The first two balls Giroud touched were goals, and that shows you when you have quality on the bench, it's easy to make good decisions. With Giroud back, Ramsey back, Xhaka not suspended anymore, overall I think we are in a good position," the Frenchman said.