Click Here to Read Full Match Report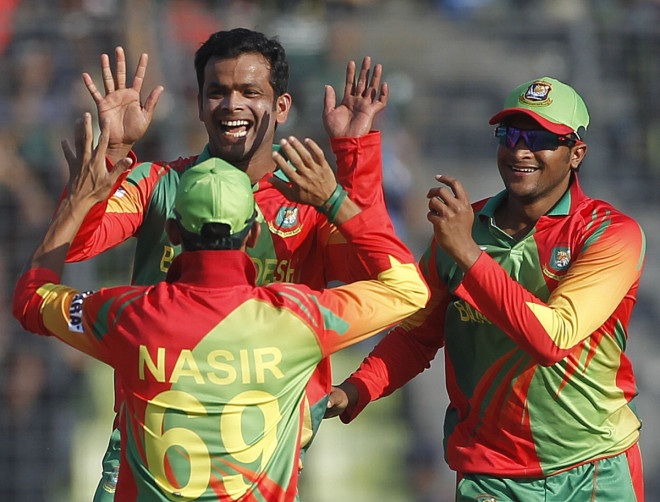 13:53: That's it from us for now. Please join us for the next match as India take on Australia in the second Group 2 fixture scheduled for the day.
Summary:
Pakistan 190-5
Ahmed Shahsad 111*
Umar Gul 3-30
Bangladesh 140-7
Shakib Al Hasan 38
Abdur Razzak 2-20
Pakistan win by 50 runs as Bangaldesh are out of the 2014 T20 World Cup.
13:50: A brilliant all round performance from Pakistan, first with the bat and then backed by brilliant display with ball and in the field. The win has kept Pakistan still in the hunt for a place in the last four of the T20 World Cup.
13: 49: Bangladesh will be disappointed with the overall performance today and during the T20 World Cup. The defeat means they are out of the the competition.
Over 20: Bangaldesh 140 for 7: Mortaza has veen managing regular boundaries, which Bangladesh top order batsmen failed to do so. He goes wide outside leg stump and sends the ball back for second successive four. Mahmudullah faces the final legal delivery of the match. He finishes with a single.
Over 19: Bangladesh 129 for 7: Mortaza clears mid-off and finds a boundary. Mortaza manages a double through midwicket. Nine of the over. Six more legal deliveries remaining in the innings.
Over 18: Bangladesh 120 for 7: Bangladesh are still rotating the strike as they have realised they are far away from sealing a victory. Mortaza finishes the over with a boundary.
WICKET! Rahman 0 c Kamran Akmal b Gul
Pakistan are looking to finish the formalities quickly as Bangladesh need 79 runs from 18 balls.
WICKET! Hossain 23 st Kamran Akmal b Ajmal
Over 17: Bangladesh 112 for 6: Hossain starts the over with a cheeky boundary behind the keeper. Mahmudullah joins the party as he smashes a flat six over midwicket. Hossain departs as he mis-reads the flight of the ball.
Over 16: Bangladesh 100 for 5: A six from Hossain, followed by a couple of singles. Bangladesh reach 100 runs.
WICKET! Shakib 38 c Umar Akmal b Gul: Gul's delivery takes a top edge, giving a simple catch to Umar Gul who was inside the circle.
Over 15: Bangladesh 91 for 5: Gul back into the attack and Shakib puts the ball into the gap for a boundary. Successive boundaries for Bangladesh as Shakib walks down the track and puts the ball behind mid-off, who was inside the circle.
Casual approach from Shoaib Malik results in him dropping a sitter. That was of Shakib's mis-hit. He manages a double. 10 runs from the over so far.
Bangladesh need 110 runs from 6 overs
Over 14: Bangladesh 81 for 4: Afridi's fast delivery takes a quick outside edge of Shakbib's bat as Kamran Akmal puts down the catch. Bangladesh are not able to get any big overs and with Gul and Ajmal still having five overs between them, it looks like they will struggle in reaching their target.
Over 13: Bangladesh 74 for 4: Four runs from the first four deliveries. Shakib finishes the over with another single. 5 runs from the over.
Over 12: Bangladesh 69 for 4: Narrow escape for Shakib as Kamran Akmal is just a late by a fraction of a second for stumping chance. He responds with a six from the next ball as he comes down the ground.
Shakib is trying to take things in his own hands now as he sends another one for maximum. Two sixes in a row. Pressure back on Babar? He bowls a fat yorker. Shakib ends the owner with a single.
There has been a lot of dull faces in the crowd as they know a defeat today will see Bangladesh go out of T20 World Cup.
Over 11: Bangladesh 55 for 4: Singles and dot balls will only increase pressure as Pakistan are not giving any chance to their opponents. 2 of the over.
Over 10: Bangladesh 53 for 4: Nasir Hossain walks into the crease. 50 comes up for Bangladesh and this match looks like a one way traffic. Singles and doubles will not do the job for Bangladesh.
WICKET! Mushfiqur Rahim 2 lbw Babar The ball was gsosing to hit the leg stump. Good call from on-field umpire.
Over 9: Bangladesh 47 for 3: Afridi picks up a wicket as all three dismissals happened when Hafeez introduced a new bowler. Singles will not do the jon for Bangladesh as boundaries have dried off. Skipper Mushfiqur Rahim and Shakib have a task to save their team.
WICKET! Rahman 4 c Kamran Akmal b Afridi: Rahman misreads Afridi's quicker delivery as he knicks it to the keeper. Simple catch for Kamran Akmal. Things are getting worse for Bangladesh now.
Over 8: Bangladesh 44 for 2: Zulfiqar Babar replaces Ajmal, despite the latter picking a wicket in his first over. Rahman tries to find a boundary, but his short falls just short of a fine-leg fielder. Single to finish the over.
Over 7: Bangladesh 40 for 2: Shakib abd Rahman are rotating the strike as they manage four runs from the seventh over.
Bangladesh have managed 36 runs from the powerplay while losing two wickets.
Over 6: Bangladesh 36 for 1: Saeed Ajmal into the attack and Anamul charges the spinner of his first ball down to long-on for a boundary. However, Anamul gives a simple catch to Ajmal for a cheap dismissal. Close call for Rahman as he manages to keep his foot inside the line before the bails are taken off by Kamran Akmal.
WICKET! Anamul 18 c&b Ajmal
Over 5: Bangladesh 32 for 1: Umar Gul is introduced into the attack and is the most crucial bowler for Pakistan along with Ajmal. Gul strikes from his second ball and sends Tamim back to the pavilion. Just 2 runs and a wicket from the over.
WICKET! Tamim 16 b Gul: Tamim walks down the pitch and misses the ball completely, before it hits the stump.
Over 4: Bangladesh 30 for 0: Anamulhad to be quick as he avoids being run-out by while taking quick single. Tamim finds the gap between the two players as he managed a double. Fine-leg was up and square-leg was wide and Tamim pulls a short deilver for a boundary. Ends the over with a single. 10 of the over.
Over 3: Bangladesh 20 for 0: Anamulsmashes the ball over long-on as the ball falls just before the boundary line. He finishes the over with a single with a drive.
Over 2: Bangladesh 13 for 0: Sohail Tanvir is introduced into the attack by Pakistan. Anamul puts the ball past the second slip as he finds his first boundary. Tamim swings his bat and get a top edge. The ball lands in no man's land behind short fine leg. They pick two from that shot.
Over 1: Bangladesh 6 for 0: Hafeez bowls the first over. Tamim smashes the ball for a boundary as Bangladesh get their first runs on the board. Two more singles from the over.
Bangladesh have a tough task ahead of them to seal a victory, chasing a mamoth total.
Bangladesh need 191 to win
Ahmed Shehzad remains unbetaen at 111 from 61 deliveries, which includes 5 sixes and 10 fours.
Over 20: Pakistan 190 for 5: Afridi starts the final over of Pakistan's innings witha boundary. Poor fielding saw them taken a quick double from the second pall as he nudges the ball down the third-man.
A mis-hit from Afridi, still manages a double. Pakistan are 12 runs short of reaching 200 with three more balls left. Two legal deliveries and long-off drops a sitter of Shehzad. Another life for the opener. Madsood finishes with a single.
WICKET! Afridi 22 c Tamim b Al-Amin
Over 19: Pakistan 180 for 4: Mortaza back in action and Shehzad sends the ball into the stands. Shehzad was caught by Tamim in the deep, but it was off a no-ball. He is back into the crease as it is a free-hit for Pakistan.
Afridi is in strike for the free hit and he makes no mistake in smashing his first six over the cover. He puts the ball over the rope as it's the third six of the over. Pakistan has already scored 19 runs from the first three balls.
A rare dot ball in the middle, which is followed by a single. Shehzad finished the over with a boundary.
Ahmed Shehzad scores his first T20 international century and becomes the first Pakistan to reach the milestone.
Over 18: Pakistan 156 for 4: Five runs from the over as Shehzad's single from the last ball helps him reach his century.
WICKET! Malik 26 St Rahim b Shakib: Manages to beat the batsman from a wide ball as Rahim makes no mistake in taking the bails off even before Malik to make his way back into the crease.
Over 17: Pakistan 151 for 3: Al-Amin is trying to take pace off the ball. Just two runs from the first three deliveries. Shehzad's double helps Pakistan reach 150. He is looking for a centruy and is being cautious in his batting now. A square cut for a single and Shehzad keeps the strike.
Over 16: Pakistan 146 for 3: Shehzad tries to chip the bowl over the keeper and misses once again. He has not been successful is even making a contact with the ball once. Disappointing from Mortaza as he bowls wide, which misses the keeper and goes for 5 byes.
Shehzad punches one for a boundary, followed by another mis-hit which once again falls in no man's land. He is just 13 short of a century. Malik joins the action and he puts one past the boundary line.
Over 15: Pakistan 130 for 3: Shakib is back in action as he is trying to take pace of the ball. Shehzad's mis-hit goes high in the air and lands in no man's land. Seven of the over.
Over 14: Pakistan 123 for 3: Shehzad and Malik are quick between the wickets. Shehzad is walking away from the wicket as he has been struggling against the spinners today. Malik scores his first boundary, smashing the ball in the gap into deep midwicket.
Hussain's misfield results in another boundary for Malik. That brings up the 50 runs partnership.
Over 13: Pakistan 110 for 3: Rahim replaces spin with a medium pacer. Shehzad has woken up again as he sends the bowl over the fence for six. Pressure on the bowler as Shehzad nudges the bowl in between two players to backward point. 100 comes up for Pakistan.
Shehzad is in no mood to waste time as he sends the ball over deep midwicket. His second six of the over. He finishes the over in style with another four on the offside. 22 from the over.
Over 12: Pakistan 88 for 3: Pakistan are rotating the strike as they are finding it difficult to find boundaries. Seven runs from the over as Mahmudullah finishes his second over.
Abdur Razzak has been impressive after making into the playing XI. He completed his quoate of four overs picking two wickets.
Over 11: Pakistan 82 for 3: Spinners are doing the job as Razzak is bowling his final over. Shehzad is still in the centre as he completed his half-century. Razzak finishes with figures of 2-20 from his 4 overs.
Over 10: Pakistan 75 for 3: Good comeback from Bangladesh as they pick up two wickets in quick succession. Crowd errupts as the new batsman Shoaib Malik and Shehzad are once again rotating the strike. Five from the over.
WICKET! Umar Akmal 0 c Tamim b Mahmudullah: He loses his balance as Umar Akmal tries to hit over the point. Unsuccessful and gives a simple catch to Tamim.
Spinners are dominating the game and Rahim introduces another spinner. Hands the ball to Mahmudullah now.
Over 9: Pakistan 70 for 2: Shehzad punches the ball down to mid-on as Pakistan rotate the strike against Razzak. He gets another break through as Pakistan lose their second wicket.
WICKET! Hafeez 8 st Rahim b Razzak: Misreads the ball as he does not bother making an attempt to make it back. He knows he's gone by a mile.
Over 8: Pakistan 65 for 1: Mushfiqur brings Al-Amin back into action. Shehzad does not waste anytime as he sends the ball over the covers for a six. Shehzad is trying for a Dil-Scoop and misses in two occasions in this over. 11 runs from the over.
Over 7: Pakistan 54 for 1: Boundaries have dried up after the introduction of spin. Pakistan are just rotating the strike by taking singles. Four runs from the over.
Over 6: Pakistan 50 for 1: Four runs from the over as that brings the end of powerplay. Spinners are doing brilliantly for Bangladesh, as they have conceded only 16 runs from three overs, taking a wicket of Kamran Akmal.
Over 5: Pakistan 46 for 1: Just four runs from the over and a wicket of Kamran Akmal. Good come back frm Bangaldesh. Danger man Shehzad is still in the middle as Mohammad Hafeez joins him after Kamran Akmal's dismissal.
WICKET! Kamran Akmal 9 c Rahman b Razzak: Rahman takes a super catch as Kamran Akmal's half-hearted shot gives Bangladesh their first break through.
Over 4: Pakistan 42 for 0: Mushfiqur Rahim introduces spin and hands the ball to Shakib Al Hasan. Now Kamran Akmal joins the party as he manages his second boundary. That is followed by another misfield from the keeper, resulting in 3 runs. Just a single managed from the fourth ball.
Over 3: Pakistan 34 for 0: Shehzad scores two boundaries, with the second one beating the man at deep square leg. He punishes Mortaza as he smahes the ball to mid-on for his third four. He finishes the over in style with a six. 18 runs from the over.
Over 2: Pakistan 16 for 0: Shehzad sends the bacll to backward square leg as he punishes Al-Amin for bowling outside leg stump. He continues with another boundary as he hits straight down the ground. Single to finihs the over as Shehzad keeps the strike.
Over 1: Pakistan 5 for 0: Shehzad takes a swift single in his second ball as Pakistan are off to a start. Kamran Akmal took four deliveries to make contact with ball and he smahes through the cover point it for a boundary.
10:31: Mashrafe Mortaza will start the proceedings for Bangladesh as he's geared up to bowl.
10:29: Pakistan openers Kamran Akmal and Ahmed Shehzad walk into the field.
10:22: Players making their way to hear the National Anthem of two countries just before the start of play.
TEAM NEWS
BANGALDESH: Tamim Iqbal, Anamul Haque, Shamsur Rahman, Shakib Al Hasan, Mushfiqur Rahim (c & wk), Nasir Hossain, Mahmudullah, Ziaur Rahman, Mashrafe Mortaza, Abdur Razzak, Al-Amin Hossain
PAKISTAN: Kamran Akmal (wk), Ahmed Shehzad, Mohammad Hafeez (C), Umar Akmal, Shoaib Malik, Sohaib Maqsood, Shahid Afridi, Sohail Tanvir, Umar Gul, Zulfiqar Babar, Saeed Ajmal
10:05: Abdur Razzak comes in for Sohag Gazi as it is the only change for the hosts.
10:03: Pakistan has only one change. Sohail Tanvir replaces Bilawal Bhatti
TOSS: Pakistan win the toss and Mohammed Hafeez decides to bat first.
9:58: Bangladesh have won against Pakistan only once across all formats - the win in 1999 World Cup.
9:55: Pakistan are third in Group 2 table, with two points from two games. Bangladesh ar bottom of the table, having lost the first two fixtures.
9:53: Pakistan lost their opening fixture to Inida. They bounced back against Australia in the second T20 tie, winning the first match of the competition.
9:51: Bangladesh have lost both their Group Stage fixtures. The first one being against the defending champions West Indies, while the second was to India on Friday.
Good morning and welcome to IBTimes UK's LIVE coverage of the Group 2 clash between Bangladesh and Pakistan from the ICC Twenty 20 World Cup. We are scheduled to get started at 10:30am BST.