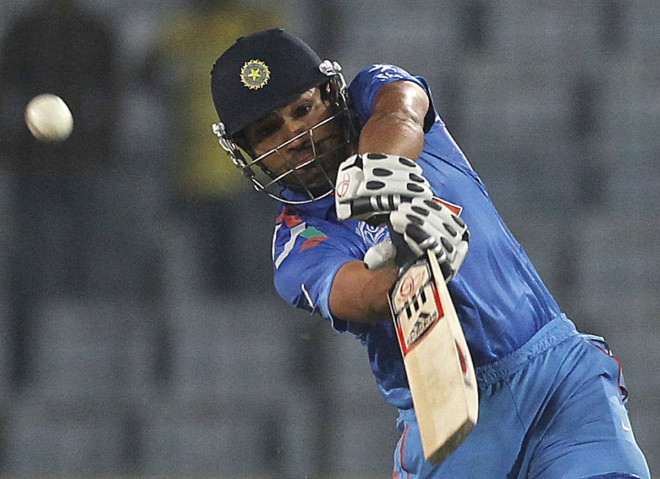 4:40: A rather easy win for India then; they secure themselves a spot in the semi-finals largely thanks to the dynamic partnership of Rohit Sharma and Virat Kohli, who racked up a very respectable 113 between them before MS Dhoni sauntered in to seal victory with an impressive 22 of his own.
India win by 8 wickets with 9 balls remaining
Over 19: India 144 for 2: Dhoni finishes in exquisite style by thumping a tremendous six off Ziaur's bowl for his 22nd from 12. India have seen this off in ease with eight wickets with nine balls remaining.
Over 18: India 133 for 2: Kohli takes a single to bring Dhoni back on strike as India begin to inch their way over the finishing line through a succession of singles after a clean over from Mashrafe Mortaza
Over 17: India 129 for 2 Al-Amin bowls to Dhoni who sweeps a powerful outside edge that just stays within the barrier for a four. Another poor deliviery perfectly tees up Dhoni again in the final ball of the over who swings another easy four to take India within ten of the win.
Over 16: India 117 for 2: MS Dhoni comes in for the departed Rohit who hits a couple of singles to get warmed up.
Wicket! Rohit c Nasri b Mortaza 56: Rohit is gone with 26 needed for the win after directing his effort straight into the arms of Nasir Hossain at backward point
Over 15: 112 for 1: Kohli also completes his half century after smacking an effort towards the backward point beyond a chasing fielder for four. India need 27 from 30 balls.
Over 14: 104 for 1: Mahmadullah now bowling for Bangladesh but Rohit adds two more singles to take his tally over 50 with India just needing 35 more from 36 balls.
Over 13: India 97 for 1: Just the five from the 13th over but India barely need to break into a sweat at the moment. Rohit lifts two infield for two more in Shakib's final over.
Over 12: India 92 for 1: Four more singles for Inida before Kohli steers yet another boundary clear for nine in the over.
Over 11: India 83 for 1: India take six singles fromfrom Shakib's latest over as some Bangladesh fans start to head for the exits.
Over 10: India 77 for 1: Hopeful appeals for a run out on Kohli are ignored before he adds another four midwicket. A couple of singles later he hits another four as India finishing with 13. It's all a bit easy for India at the moment; they are sailing towards their target of 139 without much trouble.
Over 9: India 64 for 1: Ziaur comes in and Bangladesh are suddenly presented witha great opportunity as Rohit whacks a liooping one into the direction of two eager folders. The pair get their wires crossed and crash into each other as the ball drops in field for a four. Rohit influcts further punishment on Bangladesh hitting the last ball out in the same direction for one more to tyake nine from the ninth over.

Over 8: India 55 for 1: Another over and it''s the same story, Rohit and Kohli remain largely untroubled after adding another five, despite the best efforts of off-spinner Sohag Gazi
Over 7: India 50-1: India hit the half century mark with ease as Rohit and Kohli continue to rack up. The latter hits a single before another fine four that rolls out towards the boundary before closing the over with a couple of singles.
Over 6: 39 for 1: Shouts of lbw on Kohlie are ignored before Kolhi gets a boundary through midwicket. Rohit adds another as he hits an awkward effort that rolls for a four. India starting to build momentum through this partnership.
Over 5: 29 for 1: Bangladesh think they've got another wicket in the final ball of the over after Rohit smashes one high up into the air before the catch is taken, but, despite the fireworks going off around the venue, it was a free hit and no wicket. Prior to that Kohli struck a magnificent six for himself.
Over 4: India 18 for 1: Kohli gets off the mark with a measured knock down to the third man that brings him two. Shakib comes into the attack to bowl amd Rohit takes a single.
Over 3: India 13 for 1: Rohit hits India's first boundary and follows that up with an impressive six
Wicket! Dhawan b Al-Amin 1: India lose their first man as Al-Amin gets the wicket after Dhawan chops onto the stump
Over 2: India 6 for 0: Sohag Gazi almost catches Shikhar Dhawan who edges just past his stumps. The pace and spin of the Bangladesh bowl contains India to another three.
Over 1: India 3 for 0: Mortaza to start with the ball for Bangladesh and Rohir's outside edge just about evades two fielders as he chalks up two singles. Calls (all from the crowd ) for out ring out as Rohit effort drifts outside off stump, but he's just missed it. Another single later and India take three from the opening over.
3:10: 139 looks like a relatively straight forward target for India to work towards but they made life difficult for themselves in chasing down similar scores against Pakistan and West Indies.
India need 139 to win
20th over: Bangladesh 138 for 7: Mishra can't complete his hat-trick as Mahmudullah plays out the dot following his two swift wickets, but Mortaza ends the innings with a six
Wicket! Ziaur c Jadeja b Mishra 0: Jadeja takes the catch after Ziaur batted straight to long-off.
Wicket! Nasir st Dhoni b Mishra 16: Misha's sharp delivery on his final over is enough to catch Nasir out as he misses the ball and Dhoni completes the job.
Over 19: Bangladesh 131 for 5: Two overs remaining and Bangladesh have done well to beat 130 after being reduced to 82 for 5. Nasir cracks a low full toss through for four but are limited to a few singles as India respond by slowing their delivery to great effect.
Over 18: Bangladesh 124 for 5: Bangladesh push on as Nasir Hossain hits a two and one before Mahmudullah gets another four off Shami's delivery
Over 17: Bangladesh 117 for 5: Mahmudullah picks up where he left and hits a brilliant six. A couple of singles later he hits it through backward point for four, 12 runs from that over.
Over 16: Bangladesh 98 for 5: Ashwin comes back in for India and a poor delivery is paid for as Mahmudullah bats another four turning away from him hard off the back foot. Eight taken from that over.
Over 15: Bangladesh 90 for 5: Nasir takes a single from Jadeja's over as Mahmudullah hits a four. The batsmen was a tad lucky there after his edge was pounced upon by Dhoni, but the batter's foot is just behind the line
Over 14: Bangladesh 85 for 5: Not that you will be surprised by this, but Bangladesh are missing the influence of Anamul a tad as the 14th over produces a meagre three singles after Mahmudullah came in.
Over 13: Bangladesh 82 for 5: Anamul brings his total for the day over the 44 mark with a couple of singles. Another drive just about evades Dhoni before the brilliantly named batsmen goes before he gets the chance to hit a half century.
Wicket! Anamul b Mishra 44: Headline writers across the world sigh as Anamul is caught out be fantastic delivery from Mishra.
Over 12: Bangladesh 74 for 4: Jadeja comes in as a couple of singles for Bangladesh and Amanul hits another excellent drive that clears the covers for another six.
Over 11: Bangladesh 67 for 4: An outstanding six from Amanuel that clears 84 meters gets the over to a great start and Shami adds to the tally after finding an excellent gap off the third man for another four before Rahim's dismissal.
Wicket! Rahim c Kohli b Shami 24: A hugely risky hit from Rahim sails straight into the open arms of Kohli and an excellent over from Bangladesh takes a sour turn.
Over 10: Bangladesh 56 for 3: Mishra coms in for India and consigns Bangladesh to just five singles in the 10th as Annamul is nearly caught out by a fierce leg-spinner from Mishra.
Over 9: Bangladesh 51 for 3: Rahim hits a fierce effort away from the third man off the edge to add a boundary and hits another four straight after with a sweeping drive.
Over 8: Bangladesh 43 for 3: Anamul again leads for Bangladesh, meeting new bowler Amit Mishra's delivery for a single before hitting another four. Almost single handedly , Anamul is restoring a bit of faith amongst the Bangladesh batting order.
Over 7: Bangladesh 35 for 3: Bangladesh add another eight runs as Anamul gets a slightly fortunate four with a thick edge that just about evades Dhoni while newcomer Jadeja adds three singles.
Over 6: Bangladesh 27 for 3: Bit better from Bangladesh. Ashwin resumes for India and Amanul hits the first boundary since that breathless start to their innings and blocks the next three
Over 5: Bangladesh 22 for 3: Again, just a single run from the over, three have gone already for a total of six runs in the past two despite that quickfire start.
Wicket! Shakib b Kumar 1: Shakib Al-Hasan is gone too after just one ball as Bhuvneshwar Kumar gets the ball between his bat and pad to send him out.
Over 4: Just the one run and two wickets in that fourth over and India have significantly stalled the opposition here.
Wicket! Shamsur c Rohit b Ashwin 0: Bowler Ashwin racks up another wicket as Shamsur's afternoon with the bat is ended rather quickly after hammering his first ball straight intot he hands of Shamsur.
Wicket! - Tamim c Raina b Ashwin 6: Silence reigns as Tamin is caught out by Suresh Raina. And it all started so well...
Over 3: Bangladesh 20 for 0: Bangladesh's blushes are spared after a comedy run out that left Tamim stranded halfway down the pitch. Thanks to some poor fielding from India chiefly from Shikhar Dhawan's sees the chance go.
Over 2: Bangladesh 15 for 0: India's Ashwin comes and the added spin and speed on his bowl has its desired effect. Suddenly there is a chance for a run out as Tamin runs for a single but Dhoni can't pick the ball up cleanly and the chance is gone. The Bangldesh batsmen add just a single each in the second over.
Over 1: Bangladesh 13 for 0: Tamin hits a boundary in his second ball to get Bangladesh off to a swift start and Harque follows up with one of his own, connecting with a low drive on the bounce. He soon racks up another, the best of the lot, clipping another boundary off his pads in the first over.
1:40: Tamim Iqbal and Anamul Haque approach to crease to cheers around the stadium as Bangladesh get us started.
1:36: After the national anthems we almost ready to get started with Bangladesh to bat after India won toss.
1:21: After results earlier today, a win for India will be enough for them to go through. Bangladesh meanwhile need something to keep their hopes of staying in this competition alive.
1:18: India have remained unchanged with Bangladesh bringing Shamsur and Nasir back into the starting fold.
India win the toss again and MS Dhoni decides to bowl first.
TEAMS:
Bangladesh: Tamim Iqbal, Anamul Haque, Shamsur Rahman, Shakib Al Hasan, Mushfiqur Rahim*†, Nasir Hossain, Mahmudullah, Ziaur Rahman, Sohag Gazi, Mashrafe Mortaza, Al-Amin Hossain
India: RG Sharma, S Dhawan, SK Raina, Yuvraj Singh, V Kohli, MS Dhoni*†, R Ashwin, RA Jadeja, A Mishra, B Kumar, Mohammed Shami
1:12: As a result of that late finish in Dhaka, India v Bangladesh will begin at 1:40 (GMT).
1:08: After hitting a six to seal a West Indies win with two balls left their captain Darren Sammy was rather pleased with his side's performance.
We have not won the tournament yet but our team was so pumped up for this game. To come on and play as we did was a very good effort. Australia played well. but a couple of our bowlers bowled economically and we backed ourselves to chase down 180-odd." [via BBC Sport]
1:05: Australia now must win their remaining two games and be dealt a serious slice of luck to escape their group.
1:02: Chris Gayle leads the celebrations as the West Indies team rush onto the field and, barring a miracle, Australia are out! Looking at some of their figures from today including Watson 2-1-11-0, Starc 4-0-50-2, Bollinger 4-0-34-1, it can come as no surprise.
12:58: That's it! West Indies beat Australia by six wickets and Darren Sammy does it in emphatic fashion, smashing a six with two balls to spare finishing with 34 runs off 13 balls
12:55: Today's earlier fixture between West Indies and Australia and it is going to the wire. West Indies are chasing 179 for the win. The Windies were cruising with Chris Gayle at the crease, but when he departed for 53 things began to stutter slightly.
12:53: India meanwhile can greatly enhance their chances of qualifying for the semi-finals today. With four points to their name after beating Pakistan and the West Indies, they could achieve that today should other results in Group 2 go in their favour.
12:49: Bangladesh arrived at the party in timid fashion but after losing heavily to West Indies, all is not lost. Despite the devastating defeat, the hosts showed signs of turning the corner particularly through the performances of their bowlers. From that chastening defeat to Hong Kong, slow progress has been made, albeit with a few gaps still in place.
12:45: Good afternoon and welcome to this afternoon's LIVE coverage of the Group 2 clash between Bangladesh v India from the ICC Twenty 20. We are scheduled to get started at 1:30 (GMT)