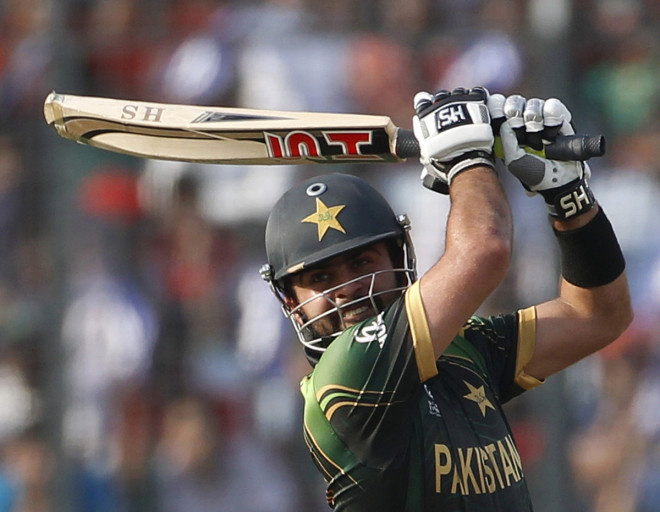 5:30: That's it! West Indies seal a spot in the semi-finals thanks to a comprehensive victory over Pakistan! A flurry of wickets within the first few overs set a precedent after sublime batting from Dwayne Bravo and Darren Sammy and Pakistan's resistance was unspectacular at best as they were bowled all out for 82. West Indies will meet Sri Lanka in the semi-finals.
West Indies win by 84 runs - Pakistan all out for 82.
Wicket! Babar c Simmons b Santokie 4: Babar doesn't last much longer as his big sweep is taken by Lendl Simmons inside the boundary to seal a West Indies victory!
Over 17: Pakistan 79 for 9: It's looking fairly bleak for Pakistan. This could be the last over of the afternoon.
Wicket! Ajmal b Russell 1: Russell returns to bowl and makes quick work of Ajmal. Gul and Babar now need 88 from 18 balls to have any hope of catching the West Indies.
Over 16: Pakistan 78 for 9: Another sublime over from Narine leaves Pakistan's hopes of closing the gap in tatters, needing 92 from 24 balls.
Wicket! Afridi st Ramdin b Narine 18: Afridi is now the fourth Pakistan batsman to be stumped after another clever delivery from Narine.
Wicket! Tanvir c Sammy b Narine 14: Tanvir looks replicate Afridi's big six in the previous over but it falls short and is gathered by Chris Gayle a meter inside the boundary.
Over 15: Pakistan 74 for 6: Tanvir hits a four off Dwayne Smith's first ball before Afridi smashes a tremendous six over mid-wicket to bring his personal tally to 18 from 11
Over 14: Pakistan 63 for 6: Narine's bowling causes problems for both batsmen who take just six from the over.
Over 13: Pakistan 57 for 6: Shahid Afridi has the bat for Pakistan but it will take something special from him to close West Indies' advantage. But he gets started straight away, smacking the ball square leg for six from Samuel's delivery. Afridi is lucky not to be run out immediately afterwards after he's struck wandering out of his crease, but Santokie's delivery misses.
Over 12: Pakistan 48 for 6: Chris Gayle brilliantly anticipates Masquood's low drive and leaps across to collect and prevent a potential four at the start of the over before the Pakistan batsman is dismissed. Left handed Sohail Tanvir steps in and hits a six to leave his side chasing119 from 48 balls.
Wicket! Maqsood st Ramdin b Narine 18: Maqsood becomes the third Pakistan batsman to be stumped this afternoon as signs of frustration begin to creep into their game.
Over 11: Pakistan 42 for 5: Maqsood is struck by the ball in the face off a difficult bouncer but recovers in time to strike a decent four on the following ball, before blasting another single.
Wicket! Hafeez c Gayle b Russell 19: Hafeez skies one and it looks ominous from the moment it leaves his bat. Chris Gayle is on the scene to easily catch it and further deplete Pakistan.
Over 10: Hafeez wins another single but West Indies appeal for a stumping in the following ball on Maqsood but after going to the umpire it is ignored after replays confirm his foot was behind the line. Masqood finally sends one flying out to the boundary but it's just kept inside the boundary to limit him to a single.
Over 9: Pakistan 32 for 4: Andre Russell takes over bowling duty for West Indies and limits the opposition to another four singles. Pakistan need 135 from 11 overs
Over 8: Pakistan 28 for 4: It's Badree's last over and Maqsood and Hafeez manage five singles from it. They appear to have steadied the ship slightly, but there's a long road ahead of Pakistan.
Over 7: Pakistan 23 for 4: Pakistan finally begin to respond as Maqsood drops to one knee and smashes Samuel's delivery clear mid-wicket for an impressive six, the first boundary his side have collected this afternoon.
Over 6: Pakistan 13 for 4: Sohaib Maqsood comes through the sixth over unscathed but Pakistan are in need of something special here.
Wicket! Malik st Ramdin b Badree 2: Badree picks up his third wicket within six overs as Malik is stumped after left reaching outside off stump
Over 5: Pakistan 11 for 3: Pakistan have edged their way to double figures as Hafeez, now joined by Malik, knocks a careful single into the leg side, but it's still very tentative from them as Malik chalks up another on the final ball.
Over 4: Wicket! U Akmal st Ramdin b Badree 1: Umar Akmal follows his brother out through Badree's delivery
Over 3: Pakistan 8 for 2: Santokie's delivery is causing problems all the time for Pakistan. His use of pace and move to cut across the right hander has limits them to a five in the third started through Hazeez, who doubles his score with a two through square leg, and moves to five with a single.
Over 2: Pakistan 3 for 2: Umar Akmal comes in and tenatively hits a single as Pakistan attempt to compose themselves after that awful start. Hafeez follows up with a single for himself but his side are still reeling.
Wicket! K Akmal c Bravo b Badree 0: Samuel Badree claims Kamran Akmal on his third ball after the Pakistan batsman lifted a tame effort straight into the grateful arms of Dwayne Bravo.
Over 1: Pakistan 1 for 1: What a start for West Indies! Mohammad Hafeez comes in after Shehzad's dismissal. Santokie is looking to send him packing in swift fashion too but he manages to safely see out the over.
Wicket! Shehzad lbw b Santokie: A full length delivery from Santokie catches Shehzad lbw on the first ball!
4:07: West Indies open with left-arm seamer Krishmar Santokie, with Ahmed Shehzad and Kamran Akmal opening up for Pakistan.
End of Innings: Pakistan chasing a target of 167
Over 20: West Indies 166 for 6: Andre Russell steps in for the departed Bravo as Sammy hits a lucky two after a seemingly miss hit strike. On the last ball Sammy hits on more two deep mid-wicket to give Pakistan a target of 167.
Wicket! Bravo run out 46: Tanvir's delivery hits Bravo who drops his bat as a result but Sammy closes in on a single Kamran Akma reacts quickest to hit the stumps and bring an end to Bravo's exhilarating run.
Over 19: West Indies 152 for 5: Bravo picks up where he left off hitting abother six before the repeating the trick in his very next ball! Sammy now wants in on the act, and smashes a 97 meter monster before directing a low four clear to the boundary. 21 from the 19th over.
Over 18: West Indies 128 for 5: A tremendous shot from Dwayne Bravo gets their 18th over off to a blistering start with a monstrous six that clears 90 meters. He follows it up with another that clears midwicket to chalk up another six and adds a four after sending one over backward point, taking 21 runs from Gul's over. Pakistan had masterfully controlled the innings prior to this over but have been rocked by a tremendous response from the West Indies and Bravo.
Over 17: West Indies 107 for 5: Kamran's premature shouts for out are rightfully ignored and Sammy hits a useful two on the follow up throw before directing another four towards the boundary that Sohail Tanvi is unable to chase down.
Over 16: West Indies 95 for 5: Bravo smashes a four on Babar's ball for a four and Sammy repeats the trick, albeit in contrasting style, swinging a massive back-lift to hit clear of midwicket. Renewed impetus from West Indies here who really must go for it now.
Over 15: West Indies 84 for 5: The Bravo/Sammy partnership is restored after their success against Australia and get things off and running with three low singles. Big shouts led by Ajmal for lbw on Sammy in the last ball of the over but they are immediately waved away by the umpire.
Over 13: Another over and another wicket for Pakistan. Skipper Darren Sammy comes in for West Indies to help meet a estimated target of 140.
Wicket! Ramdin c U Akmal b Babar 5: After just three singles Ramdin's afternoon with the bat is over as Umar Akmal pounces on a miss hit sweep.
Over 12: West Indies 74 for 4: The newly introduced duo of Bravo and Ramdin are faced with the returning Babar but calmly steady the West Indies ship with four well hit singles.
Over 11: West Indies 69 for 4: Pivotal over for Pakistan which saw Samuels and Simmons both go. The latter struck an impressive six early in the over but their middle order has since been halted. Still no sign of Darren Sammy for West Indies.
Wicket! Samuels b Afridi 20: And another! Samuels walks off as Afridi bowls him out, striking the edge of the stumps.
Wicket! Simmons run out (Gul direct hit) 31: Pakistan appeal for an lbw on Simmons who takes off for a quick single but he's run out by a direct hit from Gul
Over 10: West Indies 61 for 2: Off-spinner Saeed Ajmal's introduction further quells the West Indies bat as they muster a meagre two in the 10th over.
Over 9: West Indies 59 for 2: Simmons guides a low single to take his tally 30. West Indies fail to hit a four in this over put edge their way to 59.
Over 8: West Indies 51 for 2: Right-arm paceman Umar Gul takes over and and limits Simmons to a couple of singles before troubling him with a bouncer that Simmons on the hand. It doesn't seem to bother him however as he hits an exquisite 78 meter six as West Indies break the 50 mark.
Over 7: West Indies 43 for 2: Shahid Afridi enters for Pakistan and his brand of bowling immedaitely has the desired effect as Simmons and Samuels struggle to deal with the rapid changes in pace and scrape together a few singles.
Over 6: West Indies 39 for 2: Tanvir returns to bowl his third over and after racking up a couple of singles Martin Simmons crunches another off the base of the bat to add another four in the third ball of the fifth over. There's been six fours and one six from the West Indies in a slightly sporadic start to their innings
Over 5: West Indies 32 for 2: Left handed spinner Zulfiqar Babar takes over for Pakistan but it does little to stop Simmons smashing his first six mid-wicket before following it up with a powerful four.
Over 4: West Indies 22 for 4: Tanvir completes the fourth over in style, getting another past Samuels' outside edge after dismssing Smith. He responds with a couple of powerful strokes, but is unable to convincly add to his tally in short-innings.
Wicket! Dwayne Smith c K Akmal b Tanvir 8 (22-2) : Smith hits a single but is caught out by the swinging delivery of Tanvir on the next ball.
Over 3: West Indies 21 for 1: Lendel Simmons steps in for the departed Gayle but immediately hits a right sided effort out towards the boundary before hitting a three through the covers. Shahid Afridi and Umar Gul give chase for Pakistan and brilliantly slide in unison to retrieve the ball, but in doing so leave themselves short to get it back. It looked nice, though. Smith and Simmons both remain unfazed by the wicket.
Wicket! Chris Gayle st K Akmal b Hafeez 5 (10-1): Gayle walks off afte r abig appeal from Pakistan Gayle for a stumping as he edges forward at Hafeez and lifts his back foot. Huge wicket for Pakistan.
Over 2: West Indies 10 for 0: Opener Chris Gayle steps up and adds another four with a low drive to the boundary after an overly inviting bowl from Tanvir. A couple of singles follow but Gayle is uable to get off and running after that bright opening as West Indies hit 10 after two overs.
Over 1: West Indies 4 for 0: Mohammed Hafeez gets Pakistan started with some off-spin on the delivery but Dwayne Smith hits a safe four through a lofted drive on the third ball in the first over.
2:30: And we are ready to get started here. Victory will give either Pakistan or West Indies passage the semi-finals of the ICC T20 World Cup.
2:21: We are moments away as the national anthems ring out around the Shere Bangla National Stadium
TEAMS
West Indies: Dwayne Smith, Chris Gayle, Marlon Samuels, Lendl Simmons, Dwayne Bravo, Denesh Ramdin (wk), Darren Sammy (capt), Andre Russell, Sunil Narine, Samuel Badree, Krishmar Santokie.
Pakistan: Kamran Akmal (wk), Ahmed Shehzad, Mohammad Hafeez (capt), Umar Akmal, Shoaib Malik, Sohaib Maqsood, Shahid Afridi, Sohail Tanvir, Umar Gul, Zulfiqar Babar, Saeed Ajmal.
West Indies win the toss and choose to bat.
2:02: West Indies captain Darren Sammy says there is a simple game plan in place this afternoon to ensure his side are not heading home tomorrow.
We looked at putting runs on the board, hopefully we can put them under pressure chasing. Hopefully we can stay calm and execute properly, we can have a great game of cricket and be victorious."
1:55: We are about 15 minutes away from getting started at the Shere Bangla National Stadium with the toss expected in the next few minutes.
1:50: Pakistan v West Indies is essentially our quarter final, a meeting of two of the competition's most adept sides in this format who have enjoyed remarkably identical campaigns thus far; opening losses to India, big wins over Bangladesh and narrow wins over Australia. Today's winner will join India in progressing from Group 2, but the loser will be be on a plane home tomorrow.
1:30: Australia have salvaged some pride from their dismal ICC campaign, they have just sealed a win over Bangladesh by seven wickets with 15 balls remaining.
1:20: Good afternoon and welcome to IB Times UK's LIVE coverage of Pakistan v West Indies. We are scheduled to get started at around 2:15 (BST)