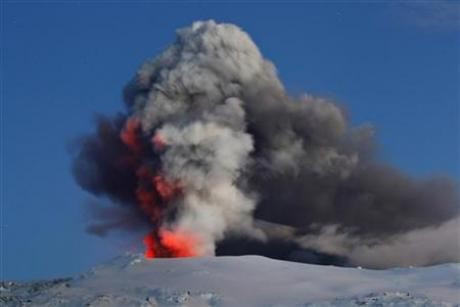 Icelandic residents fear that a volcano about to erupt could make a bigger impact on the world than last year's eruption at Eyjafjallajokull.
The Katla volcano is the fourth largest volcano in the world and surrounding an area of 220 square miles topped off with a six mile crater. Katla has the potential to cause catastrophic flooding as it melts the frozen surface which surrounds the area sending billions of gallons of water into the Atlantic Ocean, the BBC reported.
The Katla volcano, located under icecaps in the south-eastern part of Iceland, has been experiencing increased activity since July, when a flood was released under the Mýrdalsjökull glacier and down the Múlahvísl River.
Since then, several hundred smaller earthquakes have taken place within the area of the caldera which resulted in an earthquake with a magnitude reaching 3.9 on the Richter scale. This increase of seismic activity has led to fears than an eruption may be imminent.
Katla is one of the Iceland's most frequently erupting volcanoes, usually occurring once every 80 years.
Iceland Katla Volcano Eruption: Most Devastating Volcanoes to Hit the Planet
"The July 9 event seems to mark the beginning of a new period of unrest for Katla, the fourth we know in the last half century," says Professor Pall Einarsson, speaking to the BBC.
"The possibility that it may include a larger eruption cannot be excluded," he said. "Katla is a very active and versatile volcano. It has a long history of large eruptions, some of which have caused considerable damage."
The last big eruption took place in 1918 and lasted for 24 days, causing a meltdown so powerful that icebergs were washed away in the resulting floods. More recent eruptions occurred in 1955 and 1999 but did not break the ice cover.
An eruption in 1755 produced volumes of water that was equal to all the world's rivers combined.
Scientists have been keeping a close eye on Katla amid fears that these latest disturbances may result in a large scale eruption. Comprehensive details were not available at the time of the 1918 eruption, making it impossible to compare seismic activity between then and now.
Twenty eruptions have been documented between 930 and 1918 at intervals of 13-95 years. Works by historic literature known as the Sagas have meant that Iceland's volcanic eruptions have been documented for the past 1,000 years.
In 2010, the relatively small eruption of the Eyjafjallajokull volcano caused widespread disruption all across Europe as volcanic ash was spewed several miles into the air, resulting in cancelation of flights.