Samsung will begin selling a 4K, Ultra HD (UHD) Blu-ray player from the start of 2016, it was announced today (3 September 2015) at Berlin's IFA 2015 technology show. The announcement marks a milestone in the gradual rollout of the new film and TV resolution into our homes. Also revealed during its IFA press conference, the Blu-ray player will also act as a streaming device for 4K content from Netflix, YouTube and Amazon Instant Video.
While UHD (also known as 4K) screens are plentiful on the high street today, high-resolution content to watch on them has been much more difficult to come by. Samsung hopes that a UHD Blu-ray player will help solve this chicken-and-egg problem; its first model, the company said, will cost less than $500 (£350).
Samsung also used its first of two Berlin events to unveil a range of new SUHD (super ultra HD) televisions, which have higher image quality from the same UHD resolution as their older stablemates. The TVs will have HDMI 2.0a connectivity, which works with HDR (high dynamic range) video, further boosting picture quality.
Samsung's SUHD televisions are on display all over the company's massive IFA booth, which IBTimes UK will be exploring in more detail over the coming days. Both curved and flat screens are on display, and Samsung says that half of all UHD TVs it sells are curved.
Following today's announcement, Samsung's SUHD range will comprise 28 different models spanning in screen size from 48in to a massive 105in. A huge 8K screen is also at Samsung's booth, but with four times the resolution of UHD, we can't imagine it will be on sale any time soon.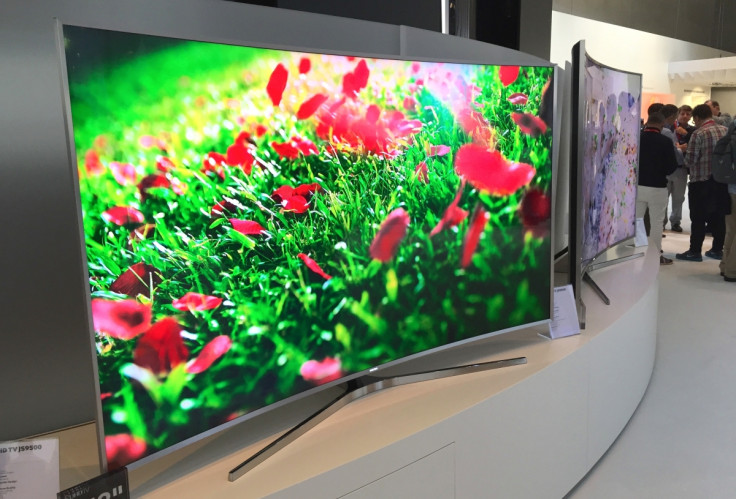 During Samsung's presentation, the Blu-ray Disc Association announced that Kingsman: The Secret Service will be the first 20th Century Fox film to be sold on Ultra HD Blu-ray, but a price for such discs hasn't yet been revealed; expect films at launch to cost around £20. The discs carry such a hefty price tag because they can hold up to 100GB of data – a must when each frame of a UHD film is four times larger than that of one shot in regular HD. The new discs also have space for higher-quality sound using Dolby's new Atmos system, which includes channels for ceiling-mounted speakers.
As has been the trend at IFA for several years now, 3D is almost completely missing in action while manufacturers work out how to make objects pop out of our televisions without us first needing to wear bulky glasses.
Later today (3 September), Samsung will hold a second press conference to reveal the Gear S2 smartwatch. IBTimes UK will be attending to bring you our hands-on first impressions.