UK Internet connections capable of streaming Ultra HD 4K (4096 × 2160 resolution) video content are at a concentration of 21%, according to the Akamai Q2 2014 State of the Internet Report.
Akamai states that sustainable connection speeds above 15Mbps are required for Ultra HD 4K adaptive bitrate streams, as these typically require bandwidth between 10 and 20Mbps. The findings do not account for other "readiness" factors, including availability of 4K-encoded content or 4K-capable televisions and media players.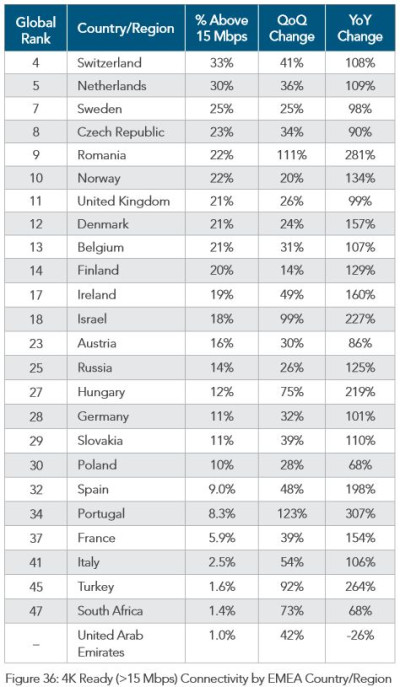 Around three-quarters of the surveyed Europe, Middle-East and Africa (EMEA) countries had more than 10% of their connections to Akamai at speeds above 15Mbps in Q2 2014.
The top three countries (Switzerland, the Netherlands, Sweden) had more than a quarter of their connections at those speeds. The lowest levels were in Turkey and South Africa, both below 2%.
Akamai began tracking Ultra HD readiness in its Q1 2014 report, and states that the observed long-term trends are extremely encouraging, suggesting improved adoption of high-speed broadband connectivity across the region over time.
Worldwide, 51 countries/regions qualified with some percentage of Ultra HD 4K readiness, with 12% of connections globally at or above the 15 Mbps threshold.
Year-on-year, the global 4K readiness rate nearly doubled, growing by 98% to 12% of all connections at 15Mbps or above, according to Akamai.
The UK's average broadband internet connection speed is 11.1Mbps and the average peak speed is 46.6Mbps - a 33% improvement year-on-year. The global average connection speed is 4.6Mbps, and the global average peak connection speed is 25.4Mbps, according to Akamai.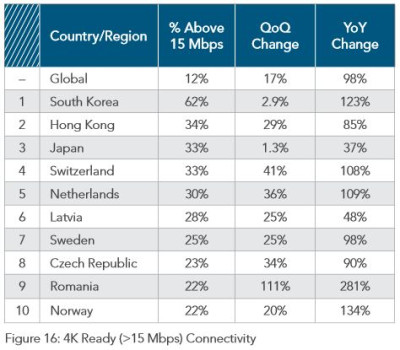 The Akamai State of the Internet reports uses data gathered from across the Akamai Intelligent Platform, one of the world's largest distributed computing networks.