Walk into any high street electrical store and you'll be greeted by a wide range of 4K Ultra HD televisions, as manufacturers turn up the brightness and crank up the contrast ratio to convince you to splash out on a technology claimed to be four times better than HD.
But are these enormous 4K televisions worth the money - not least since we've all just shelled out for HD and then 3D - and is there actually anything to watch on them?
I took delivery of a 65in Samsung JU7000 television, which supports Ultra HD, to find out.
---
Firstly, UHD televisions are, on the whole, absolutely massive. The TV industry seemingly can't get enough of itself and won't settle until we all have televisions which are as wide as our sofas.
This 65in model - as wide diagonally as I am tall - costing £2,749 (€3,880) intimidated at first, but just as with smartphones, it's incredible how quickly your eyes get used to the larger screen. Going back to my 'meagre' 42in TV is going to be an equally strange experience.
The backward step will also be an exercise in port management. The Samsung has just a power socket and one single port on its back, into which connects a splitter with four HDMI ports, an optical audio socket, and two USB ports. This makes plugging in new devices much easier when you don't have to reach precariously around the back and risk knocking it over.
Here's a quick breakdown of what I plugged in, along with their current ability to play 4K video.
Xbox One - No.
PlayStation 3 - No.
Sky HD box - No.
Amazon Fire TV Stick - No.
MacBook Pro - Yes, via YouTube and Vimeo, but it struggled.
Instead of feeding the television with 4K content from a console or set-top box, you can use its own Smart TV apps, like YouTube and Netflix. Connecting wirelessly to my Sky router kept failing, but plugging in an Ethernet cable did the trick; a quick software update later and the television was ready to go. But 4K bliss was still a stumbling block away.
A lesson in software design
Smartphones, tablets and laptops have spoiled us rotten in recent years. Their user interfaces are often clearly labelled, simple to use and fast. But televisions have never really needed to offer more than the very basics - just tell us what channel this is, what's on now and what's on next. Even Sky+ and Virgin media boxes are incredibly basic and rather dated compared to anything you get on a tablet or games console.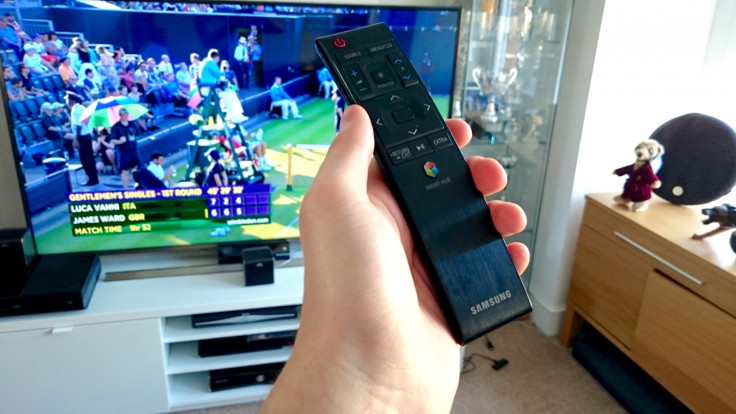 The Smart TV revolution was meant to change all this, but having used the Samsung I'm not convinced. I loved the remote (above) which can be used as a pointer and cursor to quickly point and tap at the on-screen keyboard, but the user interface generally felt slow and clunky. I was expecting something closer to the slickness of a tablet or a games console, but never mind - it's functional enough, if not attractive, and I was soon logged into my Netflix account.
I can see your wrinkles, Frank. All of them.
Netflix is one of the few places providing 4K or Ultra HD video - save for sub-five-minute trailers and the like on Vimeo and YouTube. UHD Netflix costs £8.99 per month, £2 more than the regular HD service.
There isn't much 4K content on Netflix just yet, but headliners Breaking Bad and House of Cards are a good place to start. I fired up House of Cards - only the second and third seasons are in 4K - and headed to the start of season two; the one with *that* plot-twist.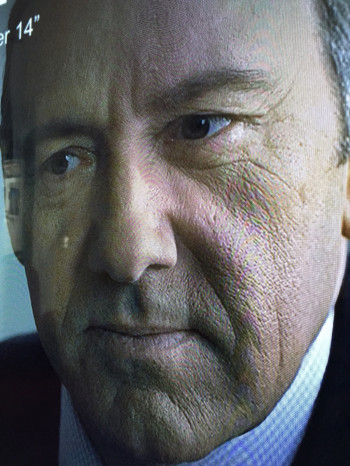 It buffered for a moment, I crossed my fingers, and the stream began to play in stunning clarity. Netflix says you need broadband of at least 25Mbps, but on half that I was able to watch a full episode without a single pause or drop in quality. I really could see Frank Underwood's face in more detail than anyone would ever want to, and everything else looked just superb.
My internet connection usually hovers around the 10-15Mbps mark and was able to cope with UHD streaming, but perhaps this was because I was the only person in the house that day.
A second attempt with my housemates around caused the stream to fail; it didn't kick down to HD or lower, it just went off and Netflix told me the content was unavailable. I'd imagine extra bandwidth would fix this, but few of us have 80Mbps fibre just yet.
Netflix series Daredevil, Better Call Saul, Marco Polo and The Blacklist are also in 4K, as are a small (but growing) selection of films.
Amazon Instant Video
Amazon's Instant Video service has a small selection of 4K content on its Smart TV apps for select Sony, Samsung and LG televisions. Content from Instant Video includes Alpha House, Transparent, Orphan Black and Mozart in The Jungle, plus films like Hitch and The Amazing Spider Man. Ultra HD content here isn't compatible with every 4K TV though, and sadly the Samsung JU7000 is one which misses out for now.
YouTube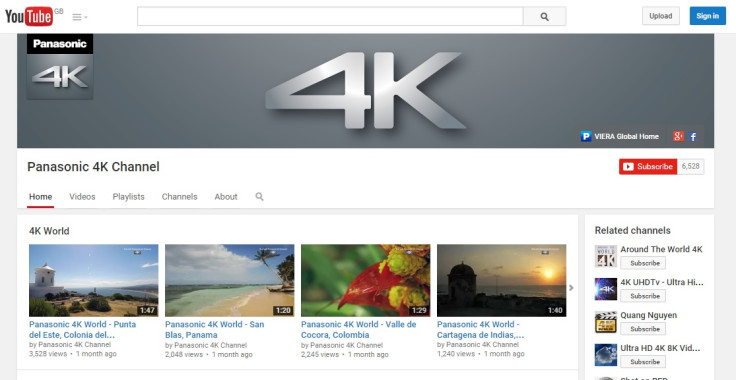 YouTube supports 4K (and even 8K) videos, but obviously you aren't going to find any feature length films or TV shows on there - and it's a similar story with Vimeo. There are lots of amateur videos shot on GoPros and with 4K drones which look spectacular, but there are only so many nature documentary trailers and shots of skylines and fireworks you can watch; that, and navigating through YouTube on TV a without a mouse and keyboard is a clunky affair. The same goes for iPlayer and All 4 on Samsung's Smart TV interface; both are better through an Xbox or PlayStation, and they buffered less too.
What else is on?
In short, the answer to this question is: Not a lot. Blu-rays of course look excellent, as they would on any 65in HD screen, but 4K discs aren't yet available, and games - even on the newest consoles - aren't 4K either.
There are no 4K channels being broadcast in the UK. BT says it will show the Community Shield football match in UHD resolution on 2 August, so perhaps the channel is preparing to broadcast more soon. But look what happened to Sky 3D. The channel died earlier this year and broadcasters are wary of trying to convince customers so soon after its demise that investing in another vastly expensive television will be worth it for a single channel.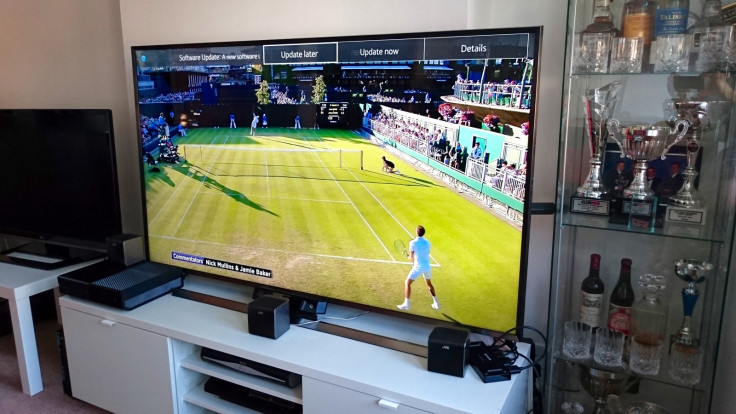 HD quality varies - but SD is surprisingly okay
Where HD video from Blu-rays look great, the same can't be said for every HD channel. BBC's HD offering didn't always look great stretched across the gargantuan screen; sports looked good, but other programmes were often grainy.
An HD stream from Eurosport Player on my Xbox 360 looked great, but suffered from a lower frame rate than the SD channel on Sky. Here, my housemates and I found the smoother SD preferable. That was the case with other SD channels too; obviously, they are no where near as sharp as HD or 4K, but are surprisingly adequate when I thought they'd look awful on such a large display.
What have we learnt? And should you buy an Ultra HD TV?
The price of Ultra HD televisions is a fraction of when they arrived in 2012. That's good, obviously, but buyers must be fully aware of how little there is to watch right now.
Shops will tell you how sharp and bright UHD is by showing off fake, simulated comparisons to a lower resolution; believe this and you will be sorely disappointed when your local news looks exactly as it did the day before.
You could argue that buying a 4K TV now is an investment in the future - and from now on that argument should hold water - but 4K TVs bought in 2013 and 2014 are unlikely to offer a frame rate high enough to show UHD broadcasts when they finally arrive. Lead engineers from both the BBC and Sky have warned of this problem.
So should you buy one? The Samsung here costs around £1,000 more than a regular Samsung HD TV of the same size. Of course there are many factors to consider, but that's the ballpark figure an average shopper will be greeted with. If manufacturers could guarantee that such a TV will work with all future Ultra HD broadcasts, then the price is worth paying as a form of future-proofing - but there aren't yet enough UHD standards in place to say for sure what the minimum requirements will be.
There is a real possibility that older 4K TVs will not be able to display 4K channels.
Once Ultra HD is here - on Blu-rays, games and broadcasts - it will look absolutely stunning, but for now it feels a bit like an expensive and limited luxury, not the quantum leap High Definition was.
Let's make all channels HD and let's switch entirely from DVD to Blu-ray. Then we can tackle Ultra HD.