As mobile coverage improves and home phone start to become a thing of the past, the iFusion iPhone dock attempts to bridge the gap between the products of Alexander Graham Bell and Steve Jobs.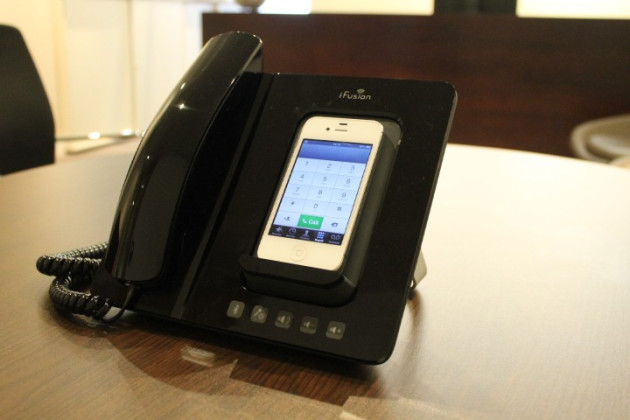 Although the iFusion cannot be connected to your landline, as we had first hoped, the device instead offers an interim solution, a traditional desk phone that connects to the outside world through your iPhone (3G, 3GS, 4 and 4S).
Erring on the side of familiarity instead of using a bold new design, the iFusion's handset looks just like any other landline phone you've ever used. It's chunky, sturdy and can be held comfortably between your ear and shoulder while typing - a must for any busy office worker.
Less familiar - at least for a desk phone - is the iPhone dock protruding out from the unit. The dock charges your phone, hooks up its audio to the headset, and also means you can play your iPhone's music through the iFusion's internal speaker, or through speakers connected to the 3.5mm audio jack around the back.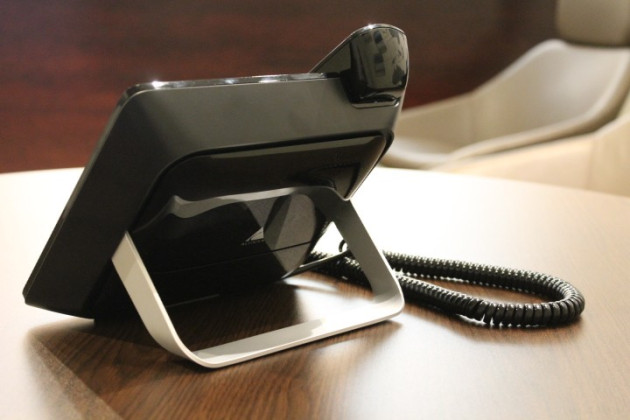 Also hidden beneath a flap at the back is a USB port, so the device can be connected to your computer to keep the iPhone in sync with iTunes, which is all very handy if your speakers, computer and phone are all close by - such as in a home office.
Constructed from glossy plastics - and available in black or white - the iFusion sadly isn't the last word in quality, as we found the plastic handset to scratch easily when we carried it home in our satchel, which is a shame.
Once sat on your desk though, the iFusion looks good, although our black review unit was a magnet for fingerprints and dust.
Below the iPhone dock are five touch-sensitive buttons to control the volume, mic and Bluetooth connection.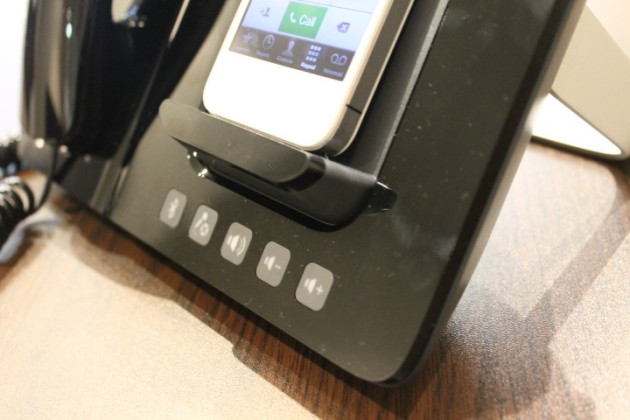 We found the headset speaker to be louder than the iPhone, and the internal speaker to be better than when our iPhone is on loudspeaker, too, so for those reasons alone the iFusion is worth considering; of course you should remember that call quality is based on reception, so you'll want to be sure you have good coverage at your home or office before buying the device.
A slight annoyance we found with the iFusion was that our iPhone is not docked as securely as we would like, relying on just the 30-pin connection itself to keep the phone in place. This means it leans back and rests against the unit, producing a harsh vibrating sound when the phone receives a notification - especially annoying if you receive many tweets and emails per day.
Jumping into your phone settings and turning off vibrate obviously solves this, but a more sturdy dock would have been appreciated.
We also noticed our iPhone to get very hot while charging. This probably isn't a huge problem, but expect your iPhone to be much warmer than usual when you unplug it from the iFusion.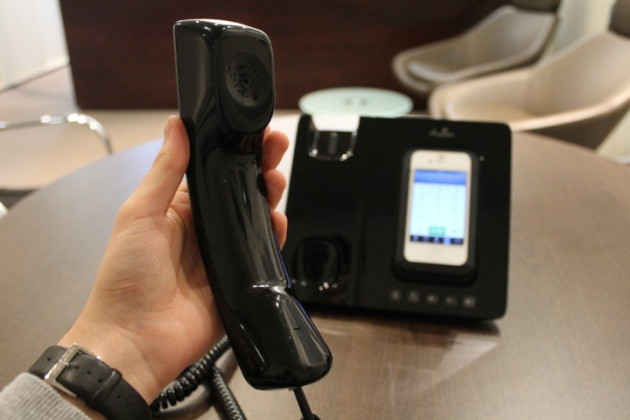 The speaker is loud and clear though, so those notifications that do come through sound better than they do through the iPhone's own speaker.
We liked holding the handset to make calls, and found it much more comfortable for long conversations than holding our iPhone, bu at £130 you would have to be on the phone at your desk an awful lot to consider buying the iFusion, and the ease with which it scratched and chipped is a shame.
Overall, the iFusion is a decent stab at providing a comfortable and traditional phone for your iPhone to dock into, it's familiar and easy to use, and attaching it to your computer and speakers is a nice bonus.