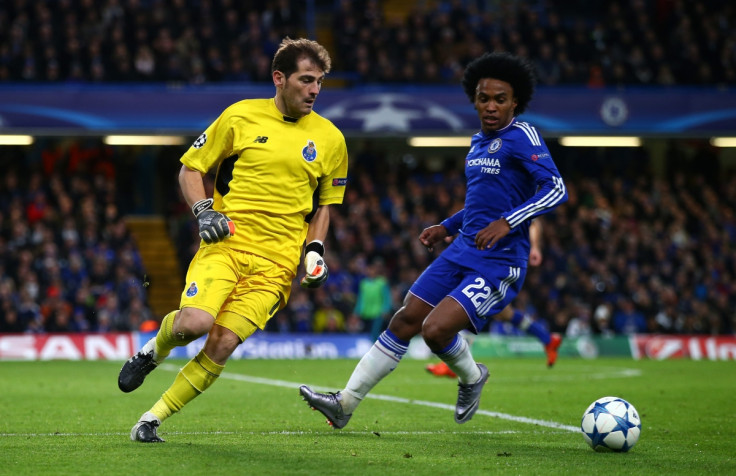 Iker Casillas has shrugged off criticism seemingly aimed at him by the official Chelsea website in the build-up to the Champions League clash between Porto and the Blues on 9 December. Speaking after the 2-0 defeat – which saw the Portuguese eliminated from the competition – the Real Madrid icon admitted he was "sick" of repeated questions about his strained relationship with former boss Jose Mourinho.
Chelsea's website focused on the mistakes Casillas had made in his team's 2-0 defeat against Dynamo Kiev, urging Blues players to test him "as much as possible".
"The match was a personal nightmare for former Real Madrid goalkeeper Iker Casillas, who flapped unconvincingly at the ball for Kiev's winning goal," Chelsea said on their official website, adding: "Iker Casillas has at times looked susceptible on long-range shots and crosses and the home side will surely be under orders to test his mettle as much as possible tonight."
Spain press interpreted the words about Casillas as a remnant of his sour relationship with Mourinho during their time together at the Santiago Bernabeu.
But asked by El Chiringuito about whether he felt bothered by the Chelsea comments, Casillas said: "You know what happens. This is football and I understand journalism has to meet the demands of what people want but obviously I don't mind and I'm not interested in what a website says.
"I stick to playing football, whatever form I'm in. But my hope is to keep playing. I respect whoever has written that but I'll take with me the good atmosphere around the stadium, then fans supporting the team. We should take the positive things."
Mourinho himself appeared to take a new dig at his former keeper in the aftermath, claiming that Porto elimination could be good for Casillas as he now "can win the only trophy he hasn't won – the Europa League".
Asked during another interview with Radio station Onda Cero about his relationship with Mourinho, Casillas said: "I'm sick of this. I understand the curiosity but there is not much to keep discussing about it. He has his career and I have mine. I didn't not come here to compete with Mourinho and he does not want to compete with me either. We have different challenges and we are in different teams with different targets. I just care about my team."