Apple's 'baffling censorship problem' has left app developers and comic publishers unsure about what they can submit to the App Store, after an issue of space fantasy comic Saga is blocked for containing adult content.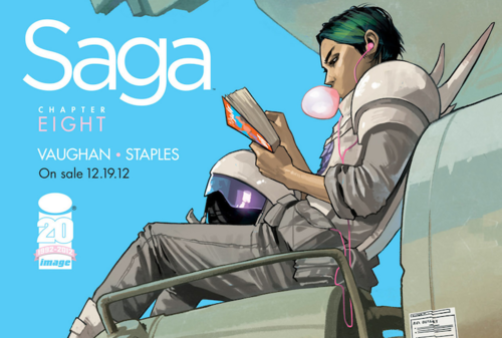 [UPDATE, 11 April]: Comic distribution platform Comixology, which handles the Saga series for Image Comics has released a statement saying reports of Saga issue 12 being banned by Apple are untrue.
Comixology CEO and co-founder, David Steinberger, said the following:
"As a partner of Apple, we have an obligation to respect its policies for apps and the books offered in apps. Based on our understanding of those policies, we believed that Saga #12 could not be made available in our app, and so we did not release it today.
"We did not interpret the content in question as involving any particular sexual orientation, and frankly that would have been a completely irrelevant consideration under any circumstance...it should be clear that Apple did not reject Saga #12."
Steinberger went on to say that his company's interpretation of Apple's policies was mistaken, and Saga issue 12 is now available through the App Store.
Original story, 10 April.
Edition 12 of the comic, which is distributed through an iPhone and iPad application, was not allowed to be published because it contained two scenes of gay sex. Explicit adult content is banned under Apple's terms and conditions, but previous issues of Saga have been granted access to the App Store, despite having similar content.
Ron Richards, director of business development at Image Comics, told IBTimes UK: "Censoring of apps is definitely a problem, especially for apps that contain content [such as comics, books, magazines].
"We find this particular instance baffling since Saga has contained sexually explicit imagery in previous issues and those were approved, and the same issue [edition 12] is approved for sale within Apple's iBookstore with no issue whatsoever."
Saga writer Brian K. Vaughan said in a blog post: "As has hopefully been clear from the first page of our first issue, Saga is a series for the proverbial 'mature reader.' Unfortunately, because of two postage-stamp sized images of gay sex, Apple is banning tomorrow's Saga #12 from being sold through any iOS apps.
"This is a drag, especially because our book has featured what I would consider much more graphic imagery in the past, but there you go."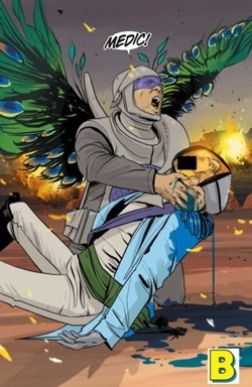 Richards added that such censorship "is not something I would ever want to see in a free market, so I'm glad that we have alternatives to this single marketplace."
AppGratis
Earlier this week, iOS app developer Simon Dawlat turned his phone on to discover 75 missed calls relating to the sudden pulling of his 12 million-user app, AppGratis, from the App Store, leaving his 45 employees unsure what to do next.
Dawlat soon learned that his app had been pulled from the App Store for violating two of Apple's terms and conditions, despite his identical iPad version being approved for the store just a week earlier.
AppGratis works with developers to offer their apps for free for a limited time and had seen huge growth over recent months, raising $13.5m (£8.8m) of investment in January this year, and seeing up to one million downloads of the free apps it offers each day.
Dawlat wrote in a blog post soon after his app was removed: "Friday, April 5th was the day Apple decided to pull AppGratis out of the App Store, leaving our 12 million iOS users wondering where one of their favorite apps had gone, my 45 employees wondering if they'd still have a job next week, my partners and investors in shock, and myself with an absolutely crazy situation to deal with, thousands of miles away from our headquarters."
Dawlet added that his company is "far from finished" and he is looking to find a solution.
Apple did not reply to an IBTimes UK request for comment.