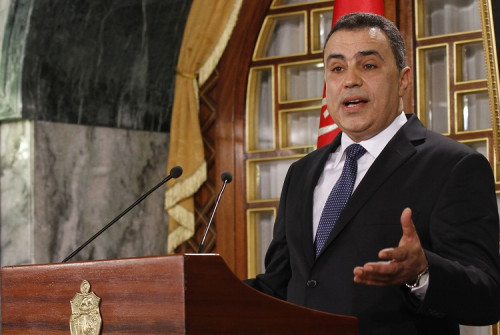 The International Monetary Fund has approved a $507m loan to Tunisia - the second tranche to be disbursed from a $1.7bn credit agreement made at the start of 2013.
The approval of the funds was preceded by a new caretaker government, led by independent figure Mehdi Jomaa, being sworn into office.
The IMF agreed to loan the cash to Tunisia provided the country keep its deficit under check, reform its public banks and establish new financial legislation.
The government in Tunisia plans to issue around $1.8bn (£1.1bn, €1.3bn) in new foreign bonds during 2014 in a major step to help its economy to recover after the 2011 uprising that overthrew Zine El-Abidine Ben Ali.
"We have operations to issue bonds this year, including bonds worth $880m with a guarantee from the United States and $1bn with the guarantee of Japan ... we have approval of the two governments and we will seek to do most of these operations in the first half of 2014," Tunisia's central bank governor Chadli Ayari told Reuters.
In addition, a 700m dinar ($435m) sukuk will be guaranteed by the Islamic Development Bank, according to Ayari.
The Tunisian government will issue this first sukuk bond guaranteed by the Islamic Development Bank between April and May, he added.
Ayari said the IMF will disburse the remaining 1.3bn Tunisian dinars ($809.44m) later this year.
High living costs and a lack of economic opportunities are still the big concerns for many Tunisians despite the political progress the country has made relative to others in the region.
The banks governor stated that target inflation in 2014 is 5.4%, compared with 6.1% in 2013, adding that the bank is ready to raise interest rates again within months if consumer prices continue to rise.
Tunisia's central bank raised its benchmark interest rate to 4.5% from 4% in December, the second rise in 2013 to curb inflation, which reached 6.5% in March last year.
"We are ready to intervene again and hike benchmark interest rate over the months if inflation remains high, but we have also to stop the increase in public wages this year and launch austerity in the state budget to contribute to the reduction of inflation.
"If political stability continues, we can achieve 3.5%. But it will not be enough to reduce unemployment," said Ayari.