IMF Arrives in Ghana as Country's Economic Decline Continues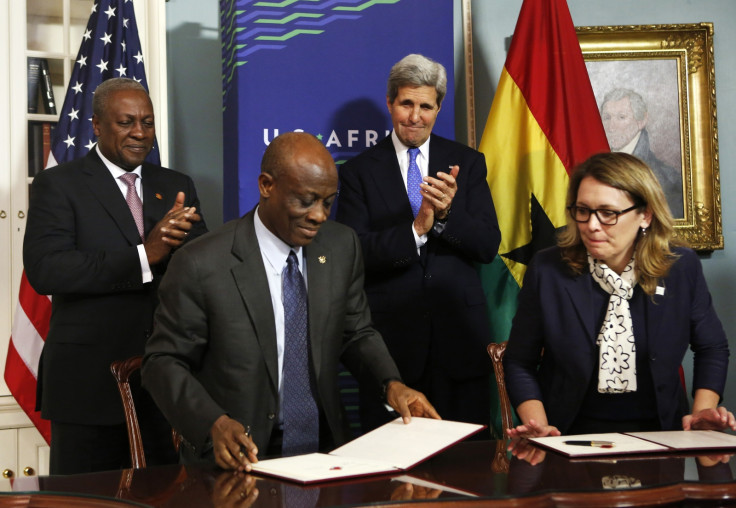 It was for years the poster boy of Africa's emerging economies, but today Ghana welcomes economists from the IMF for 10 days of meetings designed to deliver short-term financial support to the West African nation.
Having enjoyed halcyon days of political stability and economic growth upward of 8%, driven largely by offshore oil discoveries (which turned out to be less than anticipated), Ghana has been troubled in recent years by depreciation of the cedi (which lost 40% of its value against the dollar in the first eight months of 2014), rising inflation (which peaked at 15.9% in August) and rising public sector costs, with wages the biggest contributor to its 2012 public sector deficit of 11.8%.
Given the overblown state of the national budget, it's unlikely that the IMF will veer from its preferred economic prescriptions of fiscal tightening and privatisation. Indeed, in a recent statement it said that "in light of Ghana's significant fiscal and external balances, government [should] target a larger and more frontloaded fiscal consolidation". Usually, this comes in the form of tax hikes and spending cuts.
The IMF has arrived in response to a formal request from the Ghanaian government in August, and it's no stranger to the bureaucratic corridors of Accra. Ghana has been a long-term borrower of IMF capital, drawing-down around $3.45bn in 10 instalments since 1984.
But given the country's recent economic successes, this mission has come in for some strong criticism. Critics, led by the country's trade unions, blame Ghana's current problems on the structural reforms the IMF insisted on in return for the money, which included the removal of subsidies, public sector job cuts and reduction in government spend.
The criticism prompted the following response from IMF chief Christine Lagarde: "Structural adjustments? That was before my time. I have no idea what it is. We do not do that anymore. No, seriously, you have to realise that we have changed the way in which we offer our financial support. It is really on the basis of a partnership."
The country, despite its woes, can claim to be in better economic health than during the 1980s and 90s, when the IMF previously touched down on Ghanaian soil.
The delegation arrives just days after Ghana sold a $1bn Eurobond, which attracted interest from banks to the tune of $3bn and at a price of 8.125%, carried a much lower coupon than analysts had expected. The finance will be used for the "development of infrastructure, refinancing, counterpart funding and new capital", according to Minister for Finance, Seth Terkper.
Tullow Oil is said to be considering investing $1bn in a second floating production, storage and offloading (FPSO) in Ghana, while the Ghanaian Cocoa Board (Cocobod) signed a $1.7bn syndicated loan with a group of international banks on 12 September. Cocobod raises a syndicated facility every year, but the fact that the loan was oversubscribed by 15% shows that there is still confidence in Ghana among the international finance sector.
In a statement confirming its visit to Ghana, the IMF said: "At the request of the Ghanaian authorities, a team from the IMF will visit Accra on September 16 to 25 to conduct discussions on a possible IMF-supported program. On August 8, IMF Management received a formal request from the Ghanaian authorities to initiate discussions on an IMF-supported program. Discussions will continue during the coming weeks, including at the annual meetings of the World Bank and IMF in Washington DC in October.
"The IMF mission, led by Joël Toujas-Bernaté, will meet with government officials, private sector, and the donor community."
© Copyright IBTimes 2023. All rights reserved.