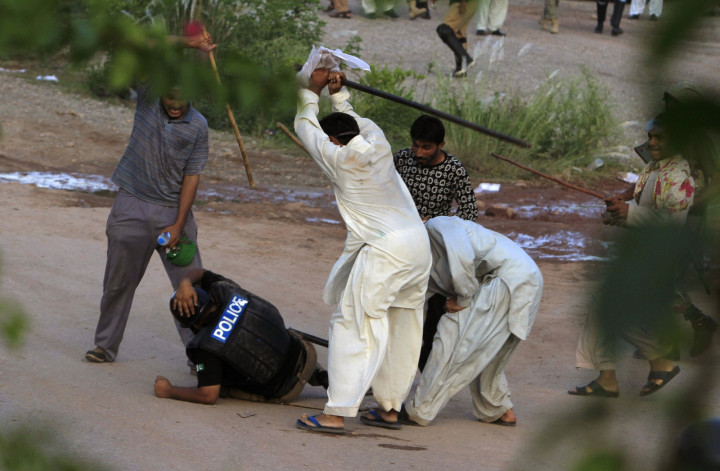 Pakistan could struggle to meet promises it made to the International Monetary Fund in return for a multi-billion dollar bailout, according to government officials.
Anti-government protests have brought parts of the capital Islamabad to standstill, as demonstrators fought running battles with state security services.
Some have staged sit-ins near the country's parliament and even overran parts of Parliament House on August 30 after crashing through the outer fence.
Amid the chaos, an IMF team cancelled a planned visit to Pakistan, and the country's commerce minister said the government could fail to deliver the agreed reforms as a result.
"The government has very painstakingly been building a house of international confidence, and the foundation of this was the IMF package and abiding by our reforms' promises," Khurram Dastgir Khan told Reuters news agency.
"But... our struggles of 14 months have gone up in smoke in a matter of 14 days. We are pushed to a point where we have to go back to the drawing board," the minister said.
Protesters loyal to the former Pakistani cricketer Imran Khan and opposition cleric Tahir ul-Qadri had camped out in the Pakistani capital for two weeks, before advancing on government buildings.
Both the leaders have called on the government to resign, saying that last year's landslide election victory was rigged and that the system is corrupt and favours a select, elite group.
The country's Prime Minister Nawaz Sharif has refused to resign, saying he will protect democracy in Pakistan. His 2013 election was the first democratic transition of power in the country's history.
The crisis has temporarily halted two planned visits from foreign heads of government, while Sharif has expressed concerns that China's President Xi Jinping could cancel his visit due in September.
"These people should realise they have disrupted the journey to progress," Sharif told reporters. "We want to set up many energy plants and electricity projects in Pakistan in partnership with Chinese corporations. They may also be disrupted."
A year ago, the IMF agreed to lend Pakistan $6.6bn (£4bn, €5bn) over a three-year period. The release of the funds was dependent on the government passing wide-ranging reforms, including privatising a range of state companies.