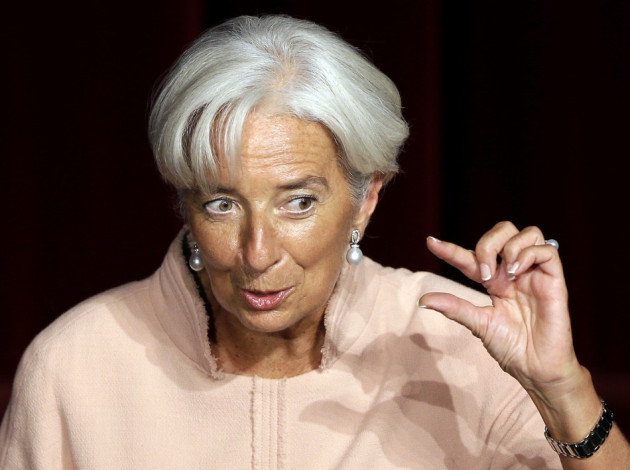 The International Monetary Fund has lowered its forecast for global growth as factory output around the world slows and policy makers fail to ignite consumer demand.
The Fund now expects the global economy to grow at a rate of 3.3 percent this year, trimming its previous assessment by 0.1 percent. It expects healthier growth in 2013 of around 3.6 percent but that forecast is around 0.3 percent lower than in its previous assessment. The figures were first reported in the German financial newspaper Handelsblatt.
In Europe, where the IMF has pledged more than $103bn in rescues for Greece, Ireland and Portugal, the Fund expects a full-year contraction of 0.4 percent this year before rebounding modestly to 0.2 percent growth in 2013.
"The further cooling of global economic growth this year and next year is accompanied by a significant increase in downward risks," Handelsblatt quotes the IMF as saying. "Decisive political steps to stabilise confidence" are needed, the article says, both the Eurozone and the United States."
Global investors responding to a September Bank of America Merrill Lynch fund manager survey said they were growing increasingly concerned about the impending "fiscal cliff" in the US, a reference to an automatic programme of spending cuts and tax increases worth more than $600bn that will automatically kick-in on 1 January.
Just over 35 percent of the respondents to the benchmark poll cited the impending fiscal trigger in the US as the biggest "tail risk" to their investment performance, two percentage points higher than the European debt crisis.
Bill Gross, the founder and co-chief investment officer of PIMCO, the world's biggest bond fund, was even more concerned. Writing in his monthly Investment Outlook bulletin, Gross says total US debt, including the $16tn in outstanding Treasury bonds, sits at more than $76tn when future obligations including Social Security, Medicare and Medicaid are included. Gross says only a comprehensive programme of spending cuts and tax increases worth at least $1.6tn each year for the next decade - around four times larger than the current "Grand Bargain" proposed by the US government's bipartisan Super Committee - will succeed in lowering that amount.
"Unless we begin to close this gap, then the inevitable result will be that our debt/GDP ratio will continue to rise," writes Gross. "The Fed would print money to pay for the deficiency, inflation would follow and the dollar would inevitably decline. Bonds would be burned to a crisp and stocks would certainly be singed; only gold and real assets would thrive."
Politicians and central bankers around the world have been struggling to find solutions for what appears to be a coordinated economic slowdown after sharp falls in manufacturing data last week threatened the pace of recovery in the world's most important markets and helped push the jobless rate in Europe to an all-time high.
Data from China, Europe and the United Kingdom have all indicated marked contractions for the month of September, with slowdowns also reported in Norway and Switzerland. The figures will make grim reading for policy makers around the world as they grapple with a sagging global economy that remains mired in the debts Europe's government finances and the legacy of bank rescues from the 2008 financial crisis.
The IMF's assessment for China GDP in 2013, Handelsblatt reported, fell to 8.2 percent from 8.4 percent. India's growth will slow to 6 percent next year and Brazil to 4 percent, the Fund expects, a reduction of 0.6 percent and 0.7 percent respectively from the its previous assessment.