Imperial Tobacco Group, the world's fourth-biggest cigarette maker, is focused to deliver excellent growth in earnings and also believes that it is well-placed to build on its success.
The group is scheduled to release its trading update for the six months to 31 March, 2012 on Thursday and also confirmed that for the FY 2012, its overall financial position and operational performance is in line with the management's expectations.
CEO Alison Cooper says: "Our continued focus on realising opportunities from our total tobacco portfolio supported by innovation and price optimisation has delivered underlying tobacco net revenue growth of 3 percent in the first quarter. Combined stick equivalent volumes of our key strategic brands Davidoff, Gauloises Blondes, West and JPS were up 3 per cent and net revenues up 10 per cent with our focus on consumer relevant innovation and new formats driving growth in these brands in cigarette in emerging markets and fine cut tobacco in the EU. Delivering the planned acceleration in our underlying sales momentum whilst continuing to realise cost and cash opportunities remain our priorities such that we are well placed to create further value for our shareholders this year."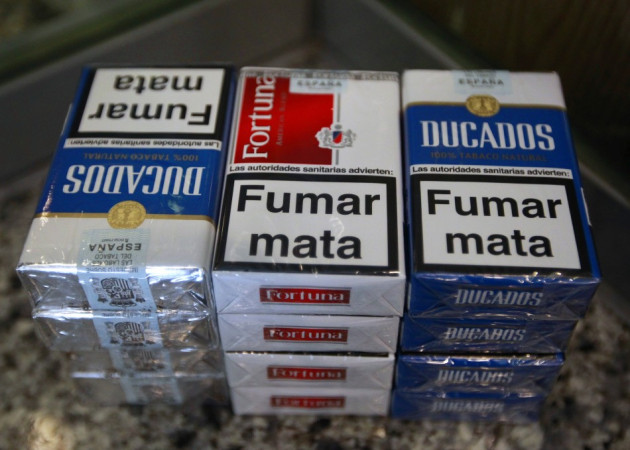 Supporting the group sales development programme, Imperial has been optimising its revenue investments, reallocating the investment focus across its footprint to maximise its returns.
The group says it continues to focus across the EU on balancing market share and profitability and, having built important superior cut tobacco positions particularly in central Europe, have ceded share in some markets in order to further build its long term category margins through price optimisation. In non-EU, the group continues to capitalise on the considerable development potential of its luxury Cuban cigar portfolio with outstanding performances in Russia and China driving rising market volumes up 14 per cent.
In logistics the operating environment remains challenging, particularly in Spain, and the group continues to focus on cost management, business integration and improvement of new services to enhance profitability.
The group's half year results ending March 31, 2012 are expected to be announced on Tuesday, 1 May, 2012. The interim dividend will be paid on 17 August, 2012 to shareholders who will be on the register at July 20, 2012.
Below is a summary of sector comparisons in terms of price earnings, earnings per share, dividend per share, dividend yields, return on equity and price-to-book ratio. The table explains how the company is performing against its peers/competitors in the sector.The table below represents top four companies based on market capitalisation.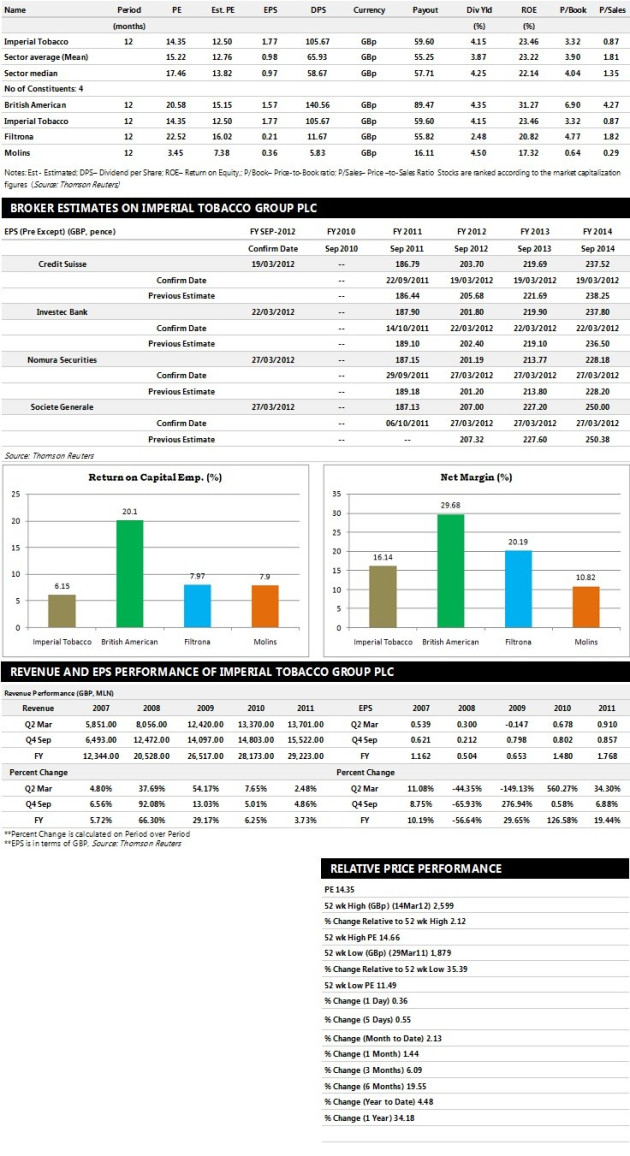 Brokers' Views:

- Societe Generale recommends 'Buy' rating on the stock with a target price of 2,900 pence per share
- Berenberg Bank assigns 'Hold' rating with a target price of 2,600 pence per share
- Investec Bank (UK) gives 'Hold' rating with a target price of 2,660 pence per share
- Credit Suisse assigns 'Outperform' rating with a target price of 2,660 per share
Earnings Outlook:

- Nomura Securities estimates the company to report revenues of £8,113 million and £8,398 million for the FY 2012 and FY 2013 respectively with pre-tax profits (pre-except) of £2,276 million and £2,400 million. Earnings per share are projected at 201.19 pence for FY 2012 and 213.77 pence for FY 2013.
- Societe Generale projects the company to record revenues of £8,230 million for the FY 2012 and £8,630 million for the FY 2013 with pre-tax profits (pre-except) of £2,354 million and £2,565 million respectively. Profit per share is estimated at 207.00 pence and 227.20 pence for the same periods.
- Investec Bank expects Imperial Tobacco to earn revenues of £7,966 million for the FY 2012 and £8,259 million for the FY 2013 with pre-tax profits of £2,705 million and £2,891 million respectively. EPS is projected at 201.80 pence for FY 2012 and 219.80 pence for FY 2013.