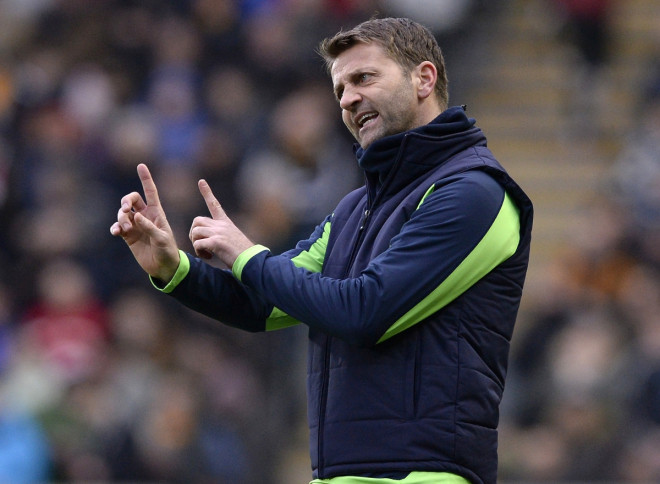 Tim Sherwood has refused to back down from his scathing criticism of his Tottenham Hotspur squad and has warned his players that many of them are now playing for their futures.
Spurs take on Benfica in the Europa League on Thursday before Sunday's north London derby against Arsenal as the club bid to respond to their embarrassing 4-0 defeat to Chelsea last week which saw Sherwood turn on his players following their "gutless" performance at Stamford Bridge.
With two pivotal fixtures that could go some way in defining their season, the Tottenham manager has urged his players to heed his words and step up to the challenges awaiting them.
"They are men. I'm a manager, not a babysitter," Sherwood told a press conference. "We just try and win as many games as we can. We want to win games. How can I take my eye off a London derby against Arsenal but this next one (against Benfica) is more important.
""Will it (his criticism) have a galvanising effect on the players? I hope so. They know how I am and how I felt about what happened. We are moving on, you can't dwell on it. They are all men, they all appreciate that I am singing it from the heart, not from the script – I am not an actor, I work on impulse. "
Last weekend's defeat prompted further uncertainty surrounding the former midfielder's future at White Hart Lane. The man widely tipped to take over at the club this summer in Louis van Gaal has suggested he would be interested in the Tottenham job when he leaves his post as Holland manager after the World Cup, but Sherwood has insisted he is planning for a long tenure at the club.
"I've an 18 month contract and I thoroughly expect to be here a lot longer than that. I've spoken with Daniel (Levy) and I'm planning for next season, who I want to keep, who I want to bring in."
Sherwood then warned his under-performing stars that he is ready to make wholesale changes to his squad this summer should things not improve.
"A lot of players here are playing for their future and I think they realise that now. I'm going to have a good look at the whole squad and see who I need to keep and who I need to bring in. They have that chance between now and the end of the season to prove they want to play for a giant club like Tottenham.
"I'm never going to take a step back. I'm just going to shoot from the hip. That's what I'm like.
"At any club, you'll see a lot of players all over Europe, all over the world, they think they've outgrown a club, that's not the case. People play money to watch clubs, it's in their blood, and I think players owe them 100 percent."