Inateck is not a name many would list if asked what their favourite speaker brand was but the German company has made a name for itself selling goods such as Bluetooth speakers, Kindle covers and USB hubs, among other electronic products.
The Inateck BTSP-10 Plus, though a mouthful to say, is a compact Bluetooth speaker not to be overlooked – and a steal at £50.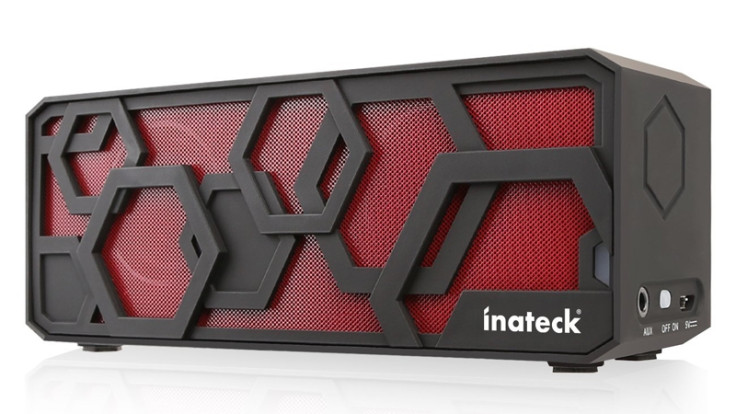 Look
Rectangular in design with dimensions of 165 x 60 x 50mm, the 390g Inateck speaker is a lot heavier than it looks. It packs some pretty good audio hardware for the price too, with two 3-watt precision-tuned drivers. The design will not be to everyone's taste but I personally liked the industrial look. Paired with hexagons covering the speaker grill, it is a speaker I can see looking good next to a colourful gaming PC set up. It feels slightly rubbery to the touch and sits sturdily on any surface, making it a nice addition to a desk or shelf.

Use
As with many Bluetooth speakers (this one uses 4.0, by the way), minimalism is at the forefront, as most of the controls are handed over to your input device. If you do not fancy connecting via Bluetooth, there is also an AUX input. Along with a Micro-USB slot for charging, that completes the list of sockets on the speaker. There are three buttons on the top of the device - two for volume, one for Bluetooth connectivity - and an on/off switch on the side.
Connecting to the speaker is one button press away: hold down the Bluetooth button for six seconds and connect your device. Some would say that is one press too many, when other speakers require no button-pressing at all, but again, look at the price and consider what you are getting for it.
Battery life is fairly impressive, lasting up to 15 hours, depending on if you are using Bluetooth or AUX and how loud the volume is. I found that to be more than adequate and you can also still use the device while charging, so it is never completely out of use.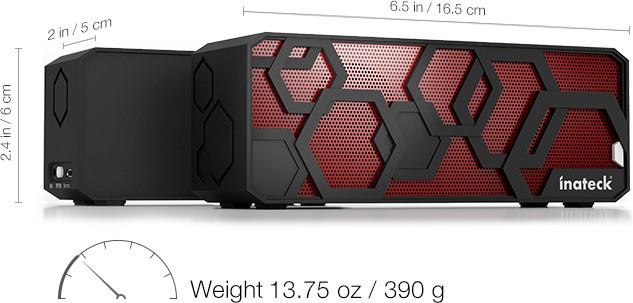 Sound
There will always be some compression when using Bluetooth but I never found it to be particularly noticeable and the sound is clear and vibrant. It dealt well with all the music I chucked at it and I was particularly impressed with the clarity of the sound. Considering it is such a small device, this is a massive plus and the multi-band compressors and high-performance composite diaphragm will have something to do with is.
Turn the speaker on its head and you will find another speaker grill that acts as a sub-woofer of sorts for the device, giving some impressive bass. Throwing some dance tracks at it, the sound was punchy and held up well even as the volume increased. Once you are at the higher end of the volume, there is a slight drop in quality, but it is unlikely you will buy this speaker if you want to fill an entire house with music.
Verdict
I have come across many Bluetooth speakers in my time and there is always a noticeable gap between the low-end and high-end. The BTSP-10 Plus sits neatly in the middle but with the cost of a low-end speaker. A fantastic device if you are going camping, on the road, or just need a decent source of sound for your room, with no-frills, super-easy connectivity. It will bring your music to life much better than the majority of laptop speakers will and it looks pretty neat too.
More about the Inateck BTSP-10 Plus
4