Software pioneer and fugitive John McAfee has confirmed he is hiding out in Guatemala and will give a press conference.

A story which is more Hollywood pot-boiler than real-life drama, involving subterfuge, murder, drugs, North Korean passports and a once-lauded software pioneer could find some resolution tomorrow as John McAfee is planning to hold a press conference in Guatemala.
McAfee has been on the run from authorities in Belize since 11 November, when his neighbour Gregory Faull was found with a bullet wound in his head. What has followed over the last four weeks has been a akin to a soap opera, played out in public, as McAfee has garnered huge media attention, updating his blog more than 50 times since.
Rather than staying out of the limelight and under the radar, McAfee has sought out media attention, granting interviews on the phone to select journalists and even inviting CNN to interview him on camera last week - all the time evading Belize police who want to question him in relation to the murder.
It seems as if McAfee's need to remain in the media spotlight could have been his downfall. In recent days McAfee has been trailed by a pair of journalists from Vice magazine, and yesterday they released a picture of editor-in-chief Rocco Castoro with McAfee in an unspecified location.
However someone managed to extract the data from the image which gave away the location as Guatemala. McAfee tried to cover this up by claiming he had manipulated the xif data on purpose, to put people off his trail, but today he admitted it was a mistake:
"Yesterday was chaotic due to the accidental release of my exact co-ordinates by an unseasoned technician at Vice headquarters. We made it to safety in spite of this handicap," he said on the blog.
McAfee says he is planning to speak to Guatemala officials today and plans on holding a press conference tomorrow.
Spotlight
It seems as if McAfee's need to remain in the spotlight has finally caught up with him, but his blogs over the past four weeks give an insight into a man who seems racked with paranoia and who is not sure what to do next.
His blog, The Hinterland, began on 17 November, six days after the murder of Gregory Faull. It began not with a mention of Faull or why McAfee decided to go on the run from the Belize authorities, but with a post complaining about his treatment by the press.
He mentioned two journalists in particular, Jeff Wise from Gizmodo and Josh Davis from Wired, and how in his opinion they had stitched him up. It seems odd that this would be his opening gambit as he tried to persuade the world he had nothing to do with Faull's death.
In a post nine days later entitled An Apology to Jeff Wise, McAfee admits he incorrectly accused Wise of cheating on his wife while on a reporting trip to his ranch in New Mexico.
In another early post he gives background information on the Belize government, in particular about the Prime Minister Dean Barrow, pointing to articles related to purported human rights violations and corruption. It may have been a coincidence, but two days prior to that post, Barrow called on McAfee to give himself up, labelling him "bonkers" and "extremely paranoid."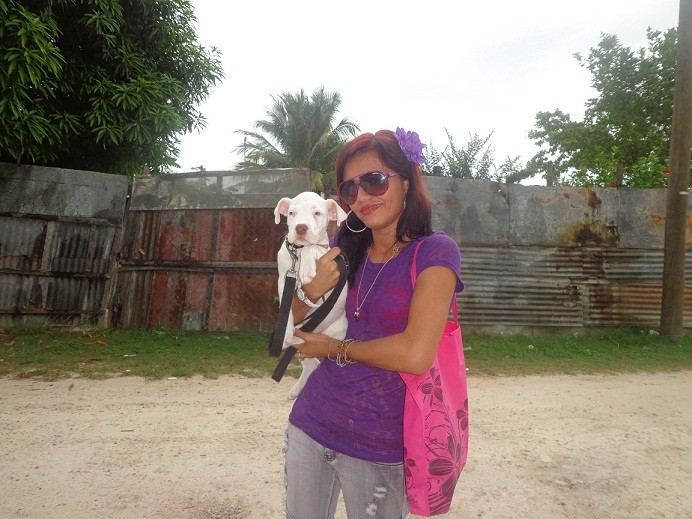 The blog entries range from paranoid-fueled rants to the sweet and tender missives about his 20-year-old girlfriend (above). Speaking about his current girlfriend Sam - who is on the run with him - 67-year-old McAfee says: "I have known her for a year and a half and in that time I have been astonished at her courage, determination, energy and intentions. She is generous and compassionate and she has become a large part of my conscience."
Diguise
In one of the more unbelieveable entries, McAfee details how he returned to his house in Belize, two days after going on the run, in disguise:
"The first day I coloured my full beard and my hair light grey- almost white. I darkened the skin of my face, neck and hands carefully with shoe polish and put on an LA Saints baseball cap with the brim facing backwards and tufts of the front of my hair sticking out unkempt through the band. I stuffed my cheeks with chewed bubble gum stuck to the outside of my upper and lower molars - making my face appear much fatter. I darkened and browned my front teeth. I stuffed a shaved down tampon deep into my right nostril and died the tip dark brown - giving my nose an awkward, lopsided, disgusting appearance."
On other days he disguised himself as a street food vendor and a drunk German tourist with a bandaged face wearing Speedos.
He claims to have spoken to the caretaker of Mr Faull's house, writing in the style of Dashiell Hammett, portraying himself in the role of a hard-boiled detective in the vein of Sam Spade, collecting and filing vital information as if he was part of a Hollywood film noir.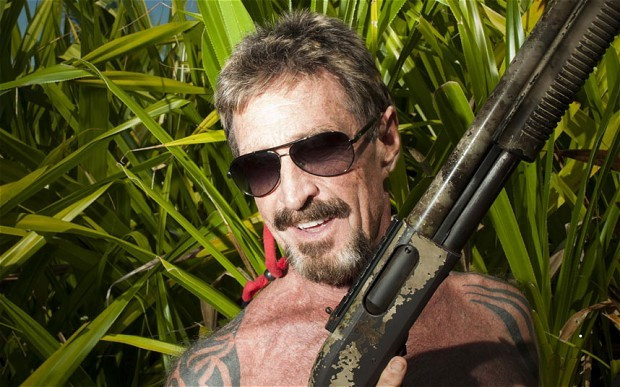 He recounts what could be interpreted as police planting evidence at hios Belize home, the digging up his four dogs which he previously claimed were poisoned in a night-time raid by Belize secret services.
McAfee even gives his own thoughts on why Faul was killed referencing a real estate deal gone sour.
Common Thread
A common thread running throughout McAfee's 50-plus posts on this blog is one of paranoia and of a world out to get him. He is constantly looking over his shoulders and preparing for the worst. He claims that even if he is captured, he was pre-written enough words for his blog to continue indefinitely.
He alludes to some great unknown scandal which he is currently unable to speak of; he speaks like a man who is dying to say something, but is not quite sure what it is or how to say it.
In his interview with CNN he admits to being a "foolish man", adding that if he wasn't he wouldn't be in the situation he is in right now.
McAfee has done a good job of whipping up a media storm around his persona, with many labelling him mad, deranged or worse. But it all seems like a conjuror's trick of distraction, making everyone forget about the matter at hand - the murder of Gregory Faull.
Only John McAfee knows if he had anything to do with the death of Gregory Faull, but having gone on the run, he cannot blame people for jumping to the conclusion that he has something to hide.
His off-the-wall antics since going on the run have only added fuel to the fire, and McAfee knows this. If the press conference does go ahead, then it is likely to only raise more questions rather than answer them, and it will be a long time - if ever - before we get to the bottom of the increasingly confusing case of John McAfee.