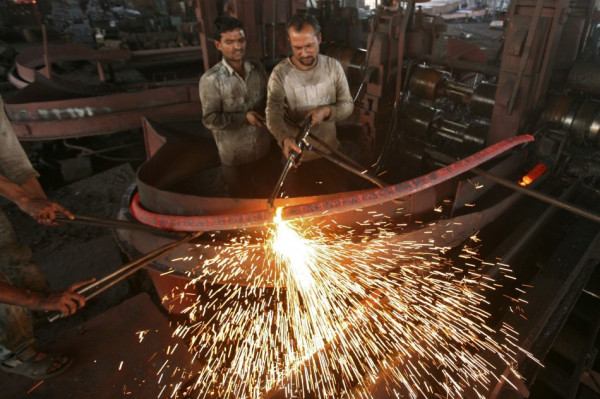 Ratings agency Fitch has warned India its economy could slowdown further and long-term growth potential could drop if structural reforms that encourage investment are not hastened.
"India's third-quarter (July-Sept) GDP reading Friday demonstrates the slowdown in the country's performance," the agency said in a statement, adding, "Recent reform proposals, while potentially growth-supportive, need time to work and face political risks to their implementation."
India's Gross Domestic Product (GDP) slowed to 5.3 percent in the three months ending September, compared to the previous quarter. Fitch expects the economy to slow to 6 percent in the fiscal year ending March 2013, down from 6.5 percent in the current year and go on to 7 percent in 2014. GDP stood at 8.4 percent in the financial year that ended March 2011.
In June the agency revised India's status from Stable to Negative at BBB- .
The latest Purchasing Managers Index (PMI) reading from HSBC showed that India's manufacturing gained to 53.7 in November, indicating that conditions may be improving in Asia's third largest economy.
But Fitch suggests that although the PMI provides optimism, tough fiscal policies amid high inflation restrict the scope for more efforts from the authorities to support growth. The Reserve Bank of India has kept its interest rates unchanged since April, citing rising prices. India's inflation stood at 7.45 percent in October.
But the ratings agency noted that the Indian government has made significant moves to revive growth of late.
Limits to Foreign Direct Investment (FDI) were increased in some sectors, including multi-brand and power. A plan to set up a National Investment Board with the Prime Minister at the helm, to speed up major projects, is also underway. Further, the government has revealed a five-year plan to reduce its fiscal deficit to 3 percent of the GDP by 2016-17.
"But political and implementation risk remains considerable. Several proposals still require legislative approval, and policy reversals cannot be ruled out," said Fitch.
Political impasse has dragged reform efforts in the country. After fierce objection from opposition parties, the decision on FDI in retail is set for a vote in Indian Parliament's upper and lower houses this week. Although the government appears to be confident that it can retain the reform, reports suggest that it does not have enough numbers to win the vote in the upper house.