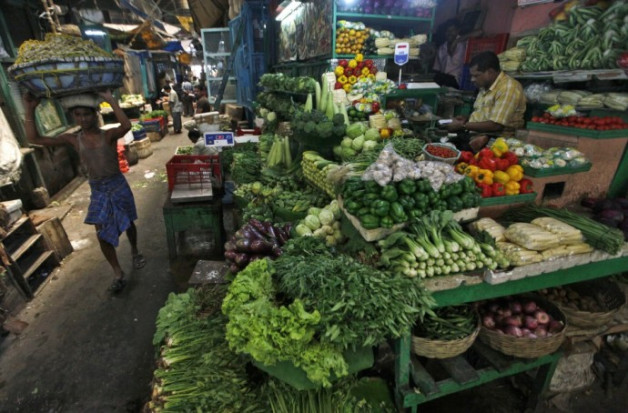 India's headline inflation declined to the lowest level in almost a year in December, paving the way for the central bank to ease interest rates to boost economic growth.
Inflation, as measured by the Wholesale Price Index (WPI), declined to 7.18 percent in December from 7.24 percent in November.
The Reserve Bank of India (RBI) had earlier projected an inflation rate of 8 percent for the month, while economists polled by Dow Jones Newswires were expecting inflation to increase to 7.44 percent on average.
The decline was primarily due to a slowdown in the prices of manufacturing items, which account for about 65 percent of the WPI.
The easing of inflation is likely to prompt the RBI to start focusing on economic growth by cutting key interest rates when it meets on 29 January. The central bank has been under pressure from the government and businesses to lower interest rates on the back of a dramatic slowdown in economic growth.
In the July-September quarter, India's GDP growth rate declined to 5.3 percent.
Nevertheless, retail inflation, measured by consumer price index (CPI), accelerated at a double-digit pace in December due to higher prices of vegetables, edible oil, pulses and cereal. The CPI rose 10.56 percent from a year earlier in December, compared with a 9.90 percent increase in November, according to official data.
While emerging economies such as China, South Korea and Brazil have all cut interest rates to boost growth, RBI has kept itself away from cutting the benchmark rates on worries of rising inflation above the bank's comfort level of 5-6 percent.
"Today's inflation print is in line with our call for a rate cut by the RBI at its January 29 meeting. Although CPI inflation remains high, core WPI inflation pressures have begun decelerating and growth concerns have clearly risen," said Aninda Mitra an analyst at ANZ Research.
"The marginal downtick in headline WPI, lower core inflation, in conjunction with the weak industrial trend, will spur the RBI to ease when it next meets on 29 January," said Jyoti Narasimhan, senior principal economist at IHS Global Insight.
IHS Global Insight expects the RBI to cut the repo rate by 50 basis points on 29 January.