India: Man has sex with injured cow using coconut oil as lubricant
Medical examination by veterinary doctors confirm rape.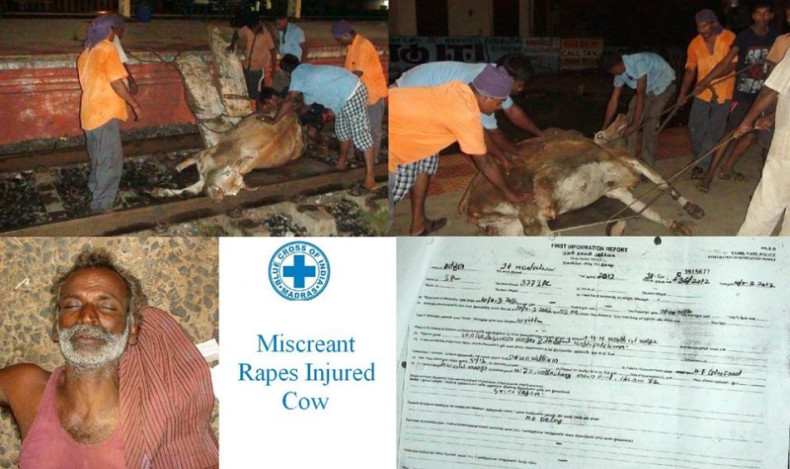 An Indian man has been arrested for having sex with an injured cow using coconut oil as a lubricant, local reports have stated.
Muthu, aged between 50 and 55, was seen with the animal, which was lying injured on a railway track, in the south Indian state of Tamil Nadu.
Local police officer Jayavelu confirmed Muthu, who goes by only one name, had been arrested under Section 377 of the Indian Penal Code, which bans 'unnatural sexual offences'. Muthu confessed to the crime and was placed in police custody.
The episode was seen by representatives of Blue Cross of India (BCI), an NGO working for animal welfare.
Officials at the BCI received a report about an injured mammal and approached the scene. Its volunteers were initially confused when they saw Muthu alongside the cow.
Dawn Williams of the BCI told IBTimes UK: "We were initially unsure of what the man was doing to the cow. When we went further and took a closer look, we realised this man was inserting his penis into cow's vagina. There was a bottle of coconut oil kept beside him, which he used as a lubricant."
Williams said the offender attempted to flee the scene and was apprehended by the volunteers. Later, Muthu is said to have asked to be pardoned for the act.
The cow was sent for medical examination and the veterinary hospital has confirmed the animal had been abused. The cow is generally considered holy in India and is worshipped in several parts of the country.