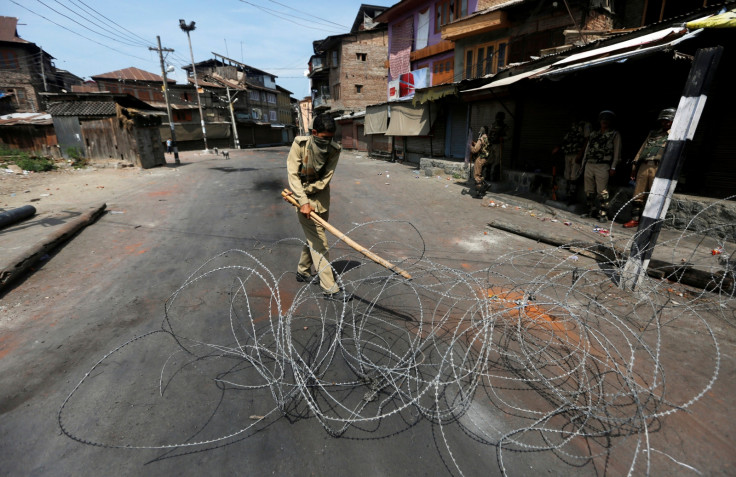 In order to keep the disturbed situation under control and foil a planned march by the separatists in India's Kashmir, the government extended the curfew to several parts of the Valley on Friday (12 August). All mobile telephony services expect state-run Bharat Sanchar Nigam Limited's postpaid connections have been snapped.
According to a police official, curfew has been imposed in Ganderbal town, Budgam, Chadoora, Magam, Kunzer, Tangmarg and Pattan areas of the Valley as a precautionary measure to stop the repetition of violent clashes that happened in Kashmir last Friday (5 August) after congregational prayers, which claimed the lives of three people and injured several hundred others.
"Curfew has been imposed in entire Srinagar district, Anantnag town, Shopian town, Baramulla town, Awantipora and Pampore towns of Pulwama district," the official added. Severe restrictions have been imposed on the movement of the people in rest of Kashmir.
According to a PTI report, the separatist camp has called for a march at Lal Chowk on August 13 and 14 and extended the shutdown call in Kashmir till August 18.
It is also reported that the locals are barred from using mobile internet facility for the 35th consecutive day due to the restrictions forced by the authorities and the strike backed by the separatist.
However, it is not the first time mobile telephony services have been snapped in the valley. Earlier, on 15 July, services were broken when violent protests erupted following the killing of Burhan Wani, a commander with terror outfit Hizbul Mujahideen, in an encounter in south Kashmir's Anantnag district on 8 July. However, the internet services were snapped way earlier on 9 July soon after the death of Wani.