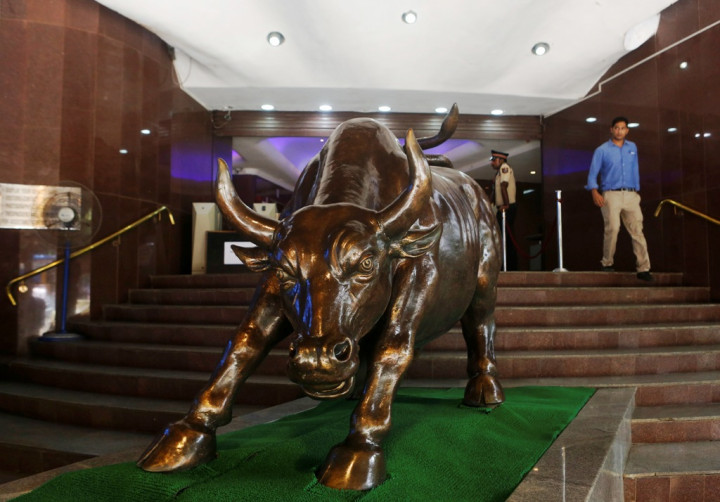 India's S&P CNX Nifty share average pared gains on 23 July after striking a historic high in Wednesday morning trade, led by gains in blue-chip stocks that benefitted from continued foreign-investor buying, while higher Asian stocks also helped prop up sentiment.
The NSE Nifty was trading 0.08% lower to 7,762.00 points at 13:58 IST, after it rose 0.53% to hit a record high of 7,809.20 points earlier in the day, beating its previous all-time high of 7,808.85 struck on 8 July.
The benchmark S&P BSE Sensex share average was trading 0.02% higher to 26,030.08 points at 13:56 IST, after it rose 0.62% to 26,188.64 points, just shy of its historic high at 26,190.44.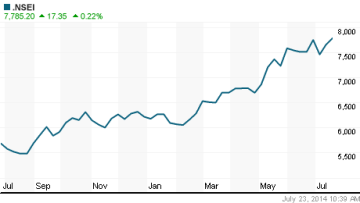 The Nifty and the Sensex have gained some 23% this year on strong foreign inflows. Foreign investors expect the Narendra Modi regime to roll out reforms that will boost growth in Asia's third-largest economy, suffering its worst slowdown in over 25 years.
But market participants said further gains are hinged on the execution of reforms by the newly elected government, progress of the monsoon and the Reserve Bank of India's next policy review on 5 August, Reuters reported.
The central bank is expected to leave rates on hold until inflationary pressures fade.
Goldman Sachs, in a report, said it is "strategically bullish" on Indian equities, with a 12-month Nifty target of 8,600 points.
Goldman, however, said further gains will be "less sharp, more earnings driven and contingent upon reform execution."
Dhiraj Agarwal, Director, Institutional Equities, Standard Chartered Securities told CNBC-TV18 that he expects the Nifty to touch 8,900-9,000 points over the next one year.
According to Agarwal, the tide has turned around for the market. However, he said a correction of around 10% at some point was inevitable.
Blue-Chip Stocks
Shares of ICICI Bank, the nation's second-largest bank by assets, rose 1.5% earlier in the day.
Software exporter Tata Consultancy Services and rival Infosys added 1.6% and 2.4% in morning trade.
Aluminium producer Hindalco Industries rose 2%.
Overseas investors purchased Indian shares worth 4.12bn rupees ($68.5m, £40.1m, €50.9m) on 22 July, marking inflows of $620.86m over five successive days of buying, exchange and regulatory data showed.