India's gold demand could rise in second quarter, says WGC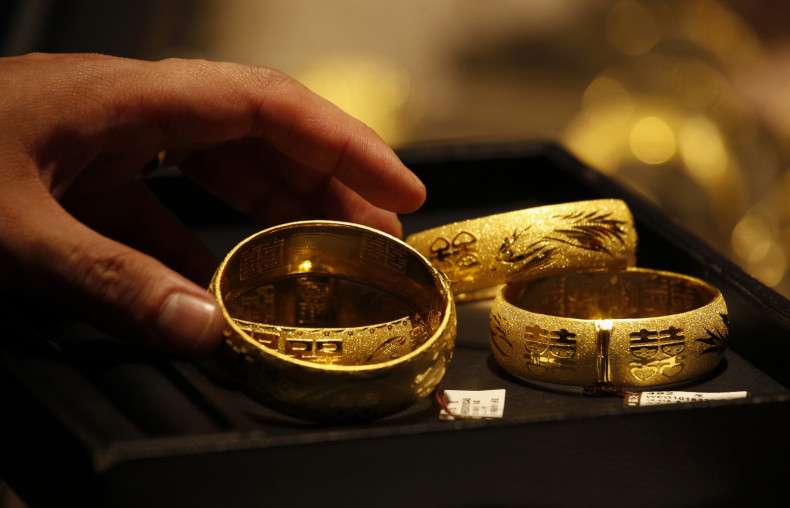 Gold demand in India, the world's second-largest consumer of the metal after China, is likely to increase in the April-June quarter, from the first quarter.
Demand will get a boost from strong buying during a major festival, lower prices and robust economic growth, according to the World Gold Council (WGC).
Second-quarter gold demand numbers for India, expected to be released by mid-August, will likely show an improvement over the first-quarter, when China was the top consumer, overtaking India by nearly 100 tonnes, the WGC said.
Second-quarter buying will be boosted in part by the festival of Akshaya Tritiya, when gold buying turns auspicious in the country.
Somasundaram PR, managing director of WGC's India operations told Reuters that gold demand in Asia's third-largest economy was expected to rise quarter-on-quarter as "GDP growth is expected to be higher and gold prices have come down".
India, China picture
India's total gold demand rose 15% to 191.7 tonnes on year in the first quarter of 2015, according to WGC's quarterly demand report, released on 14 May.
But that was significantly lower than Chinese demand, which hovered at 272.9 tonnes despite a 7% year-on-year drop.
The two nations accounted for 54% of total global consumer demand in the first quarter.

First-quarter global gold jewellery demand.
WGC
India's jewellery demand, which rose 22% year-on-year to 150.8 tonnes in the January-March quarter, drove the demand for the yellow metal in the first-quarter.
By comparison, China's jewellery demand fell 10% to 213.2 tonnes in the first-quarter, when demand is typically strong due to the Lunar New Year holidays.
Global picture
Bullion faced headwinds the worldover, including economic slowdown, rallying stock markets and an anti-corruption drive in China; and near-record local prices in Turkey, according to the WGC.
But gold market's complex eco-system was well balanced in the first-quarter. Global demand dipped a meager 1% year-on-year to 1,079.3 tonnes in a "generally quiet quarter".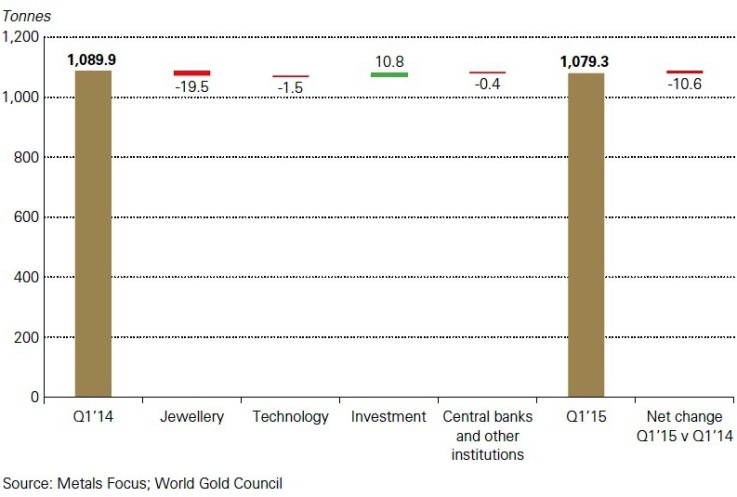 First-quarter global gold demand by category.
WGC
The WGC said: "Global gold demand was down just 11 tonnes compared with Q1 2014. Moderate changes in demand at the sector level broadly cancelled out, as did variations in demand across different markets."
It added: "Pockets of strength in jewellery were balanced by weakness elsewhere as demand responded to local conditions in each market. Higher volumes in India, the US and the smaller South-East Asian markets were set against declines in China, Turkey, Russia and the Middle East. The net result was a 3% year-on-year contraction in the sector.
"A similar divergence occurred between the different categories of investment demand. ETF flows were positive for the first quarter since Q4 2012 as Western investor attitudes towards gold turned more benign and bearish sentiment subsided.
"Conversely, investment in bars and coins came under pressure in a number of areas: strengthening stock markets in India and China drew attention away from gold, and profit-taking in Turkey and Japan was a response to price movements. Nevertheless, global investment in bars and coins still far exceeded historical (pre-crisis) norms and total investment demand expanded by 4% compared with Q1 2014."