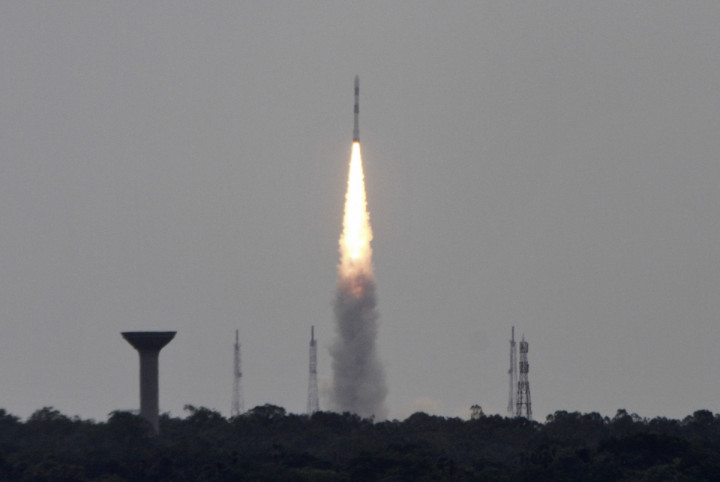 As India successfully fired off its Polar Satellite Launch Vehicle (PSLV)-23 carrying five satellites into space, Prime Minister Narendra Modi proposed a satellite exclusively for the south Asian region.
Modi, who has been keen on strengthening the South Asian Association for Regional Cooperation (Saarc) since his takeover, said the Indian Space Research Organisation (Isro) should develop a dedicated satellite that could be used in disaster management and as a tool to fight poverty.
"You should develop a Saarc satellite. We should dedicate this satellite to our neighbourhood as India's gift ... India is rooted in our age-old ethos of 'Vasudeva Kutumbakam' [Entire world is a family]. Our space science reflects that. We should share the fruit of this with our neighbouring countries," he said, congratulating the scientists behind the launch of the satellites at the Satish Dhawan Space Centre in the southern city of Sriharikota.
The 230-tonnne launch vehicle, with a height of 44.4 metres, was carrying payloads of one each from France, Germany, Singapore and two Canadian satellites.
Modi saw the launch of the satellites of developed nations as "global endorsement of India's space capabilities", adding: "This fills every Indian's heart with pride and I can see it reflected in the joy and satisfaction on your faces."
"We are proud that our programme is indigenous. Generations of scientists have worked to make India a self-reliant space power. Technology has a critical role in realising the vision of a Digital India - the power of 1.2 billion connected Indians. Such technology is fundamentally connected with the common man. As a change agent, it can empower and connect, to transform his life."
In the multi-billion dollar space market, India has emerged as a key player putting 35 foreign satellites into orbit so far.
Countries such as the UK, Denmark, Austria, Switzerland, Israel, Italy, Belgium, South Korea, Indonesia, Argentina, The Netherlands, Algeria and Luxembourg have used Indian launch vehicles to put their satellites in space.