Indonesia's Mount Sinabung has erupted several times in the last few days, sending clouds of ash into the sky. Although thousands of people living in nearby villages were evacuated, many refused to leave their homes on the slopes of one of Indonesia's most volatile volcanoes.
Mount Sinabung, one of about 130 active volcanoes in Indonesia, has been at the highest alert level for nearly two weeks. The volcano in northern Sumatra has been shooting ash more than 700m (2,300ft) into the air.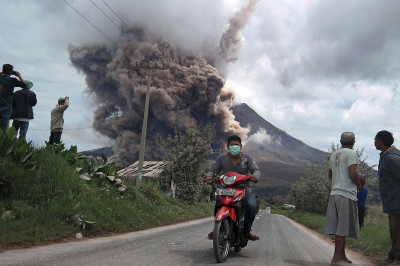 Subur Tambun, who heads the local disaster mitigation agency, said only 10,000 of about 33,000 people living within the main danger zone have moved into tent camps or government buildings a safe distance from the volcano. "The villagers insisted on tending crops," Tambun said. "They are confident of being able to escape a major eruption. All we can do is ask them to leave."
"We have lost our vegetables, but not coffee," said Sapta Sembiring Palawi, a farmer who refuses to leave Gambir village, three miles from the smouldering peak. "Coffee has let us survive and we have to take care of it now."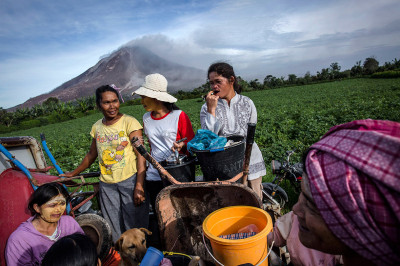 The reluctance of people to leave their homes despite danger is common in the sprawling archipelago nation. It has more volcanoes than any other country and is prone to volcanic eruptions and earthquakes because of its location on the "Ring of Fire" — a series of fault lines stretching from the Western Hemisphere through Japan and South-east Asia.
More than 150,000 people live along the slopes of Mount Sinabung, taking advantage of its fertile soil to grow oranges, cocoa and coffee.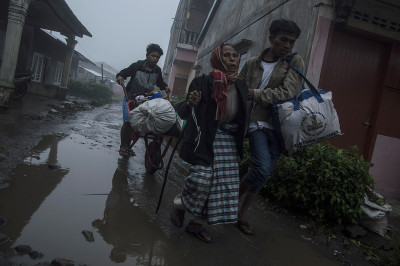 Sinabung has erupted sporadically since 2010, when it caught scientists off guard after being quiet for four centuries. Last year, a powerful explosion heard hundreds of kilometres away destroyed villages around its slopes and killed at least 17 people.