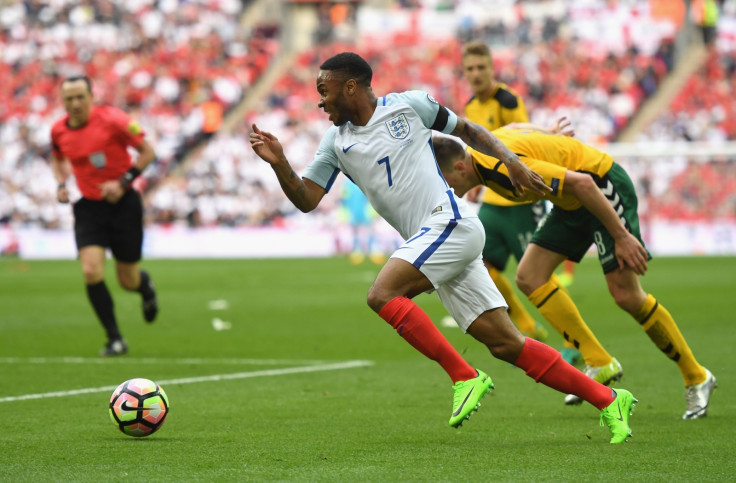 Manchester City winger Raheem Sterling's presence in the vital trip to Arsenal when the Premier League resumes this weekend could be in doubt. England boss Gareth Southgate revealed after the 2-0 World Cup qualifying win over Lithuania that the 22-year-old played through the game with a back injury, which he aggravated further at Wembley.
Sterling was replaced by Marcus Rashford after an hour and will now return to City to be assessed ahead of the crucial top-flight clash. The game is expected to prove pivotal in both side's attempts to qualify for next season's Champions League.
Third-place City have a five-point cushion over fifth-place Arsenal but the Gunners have a game in hand over Pep Guardiola's men. Sterling could, however, miss the game if his back problem proves to be serious.
"He was a little bit tight in his back before the game and at half time and that was partly in my mind," said Southgate after the game.
"We had Marcus and Jamie [Vardy] who can threaten in behind a bit more; Raheem likes to receive to feet a lot. At that stage of the game Adam and Dele were playing well and so that was the decision I took."
Prior to his withdrawal, Sterling produced the moment of magic which led to the opening goal in an otherwise forgettable international. The ex-Liverpool wideman provided the assist for Jermain Defoe's first England goal for over four years with a run and cross which brightened a dour first half.
"With creative players they're going to try things and sometime those things are going to come off and sometimes they're not," added Southgate.
Top players in the world
"He is a player we really like. We don't have a lot of players who can beat people in one-on-one situations. He is explosive and he's going to get better and better. It is young team. Raheem is improving all the time and he has the hunger and desire to improve as well. He's ballsy and I like that.
"The top players in the world are those who can take out players one-on-one. I'm not certain why we don't have loads but I don't know what the situation is like in other countries either. It is certainly an asset you want, especially teams who defend in numbers and Raheem can do it in one way.
"The difference is Raheem has that explosiveness over a short distance. It is great to have those sorts of options in the team."