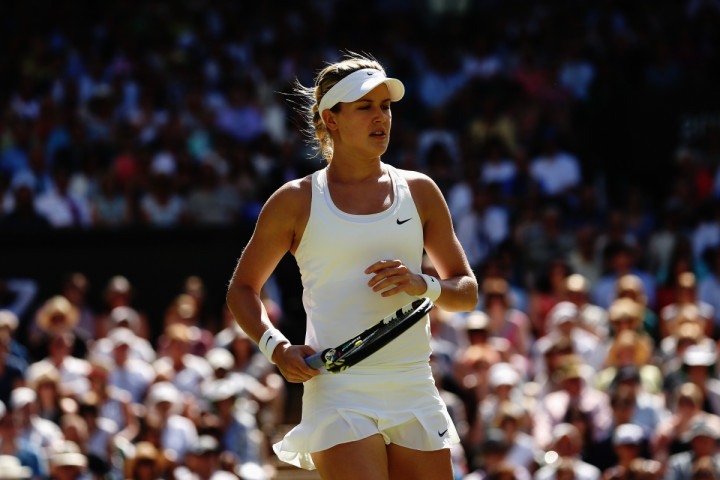 Eugenie Bouchard has withdrawn from the inaugural International Premier Tennis League (IPTL) after she sustained an injury on Monday.
The 20-year-old was a part of the UAE Royals, who boasts of having World No 1 Novak Djokovic, Marin Cilic, Caroline Wozniacki, Goran Ivanisevic Nenad Zimonjic and Arab player Malek Jaziri.
Bouchard will be replaced by 21-year-old French tennis star Kristina Mladenovic.
A statement released by IPTL said, "Current World No 7 Eugenie Bouchard who was representing the UAE 'Royals' in the inaugural Coca-Cola International Premier Tennis League (IPTL) presented by Qatar Airways, has been forced to withdraw from the League due to an injury she sustained in training on Monday."
"Talented French tennis star Kristina Mladenovic will take Bouchard's place and play for the UAE Royals in the upcoming professional team tennis competition."
The Canadian has expressed her disappointment after suffering the latest injury setback, which has ruled her out from the 2014 IPTL.
"I'm really disappointed I will be unable to compete in the IPTL this year due to an injury that I recently suffered in practice," Bouchard said.
"I was excited to be part of the first year and represent the team from Dubai. I wish all of the players the best of luck and I sincerely hope to be healthy and back part of the IPTL next year."
Speaking on behalf of IPTL, Mahesh Bhupathi said: "Genie's [Bouchard] exit from the IPTL is disappointing news but we're glad that Kristina was readily available to take her place. We wish Genie a quick recovery. We look forward to her joining us in season two."