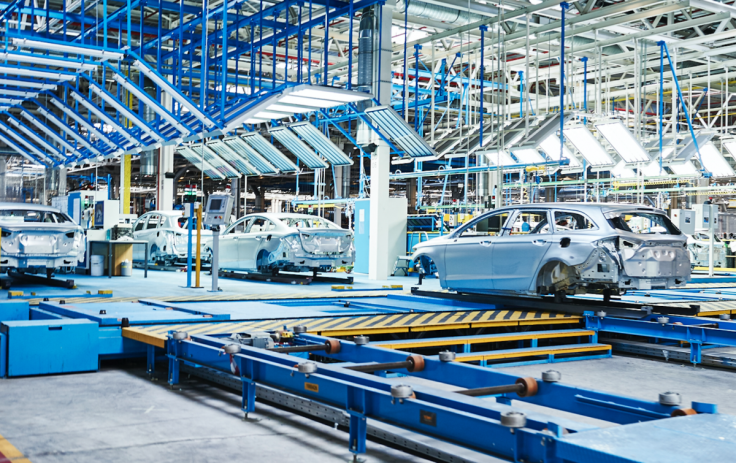 Ford recently upgraded its Valencia factory in a €2.3bn (£1.7bn) project that makes its one of the biggest, most-advanced production plants in Europe. With three times as many cars per year now being made, 100 vehicles now roll off the production line every hour, built by 600 robots using parts delivered by the same number of trucks every single day. 400,000 vehicles leave the production line annually and we were given a peek into how it's done.
IBTimes UK was invited to tour the so-called Mega Factory. Here, we saw how 18,000 different components are ferried on 'indoor motorways' from a Ford-owned industrial estate next door to the production line exactly when they are needed. GCSE lessons of just-in-time production methods came flooding back.
We also saw how ostrich feathers are used to clean car bodies before they are painted, how every type of Ford produced here shares the same production line, and how blue-collared Ford 'hand-finishes' its new Vignale range to challenge Audi, BMW, and Jaguar in a premium sector left unoccupied since the extinction of the Granada four decades ago.
Ostrich feather polishing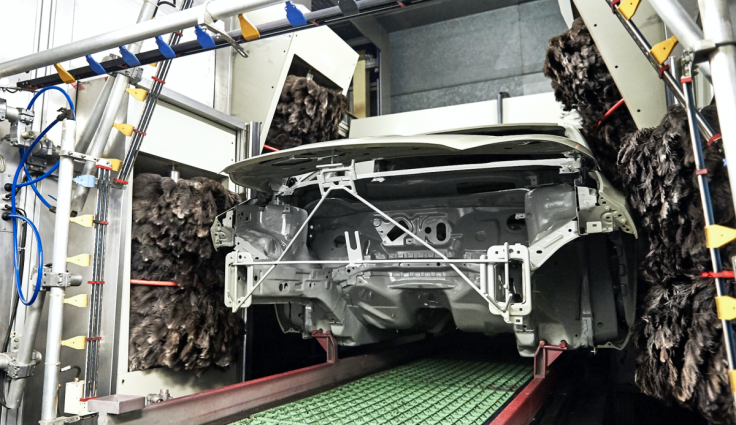 Yes, ostrich feathers. They are used to brush away fine exterior dust particles and fibres from the body before the painting process begins. Each feather - plucked exclusively from female ostriches - is up to 76cm long but weighs just 3g and can perform their job for up to five years before being replaced. Altogether, including the feather-dusting machine which looks like an automatic car wash, 56 robots are used in the paint shop, with very little human input.
"Removing the tiniest speck of dust before vehicles are painted can significantly enhance a smooth finish. Through their unique construction and durability, ostrich feathers are perfect for picking up and holding tiny particles," said Dirk Holzer, the chief paint engineer at Ford of Europe.
Pristine painting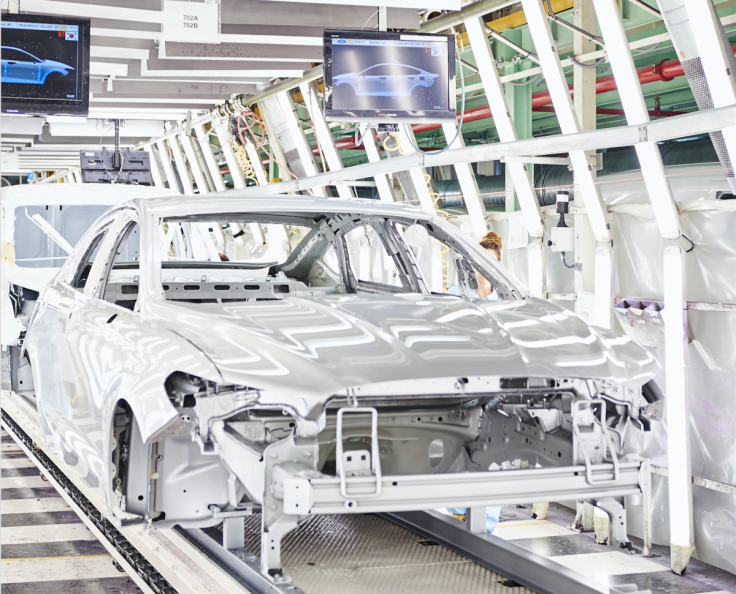 Once painted, every vehicle is put under bright lights and viewed by 12 cameras which can quickly spot tiny blemishes in the paintwork. The system can identify in seconds the tiniest blemish, barely a millimetre across.
These are flagged on a monitor, helping an employee to locate them and mark them for polishing at the next stage. Ford says 99% of blemishes spotted here can be polished out with no need for a panel to be removed and repainted.
Other practices used to keep Ford's paintwork pristine is a chamber that staff must walk through which blows air at them to remove any stray fibres from their clothing. Sticking mats make sure dirt and dust on employee shoes isn't wafted into the paint booths.
Poked and prodded by a robot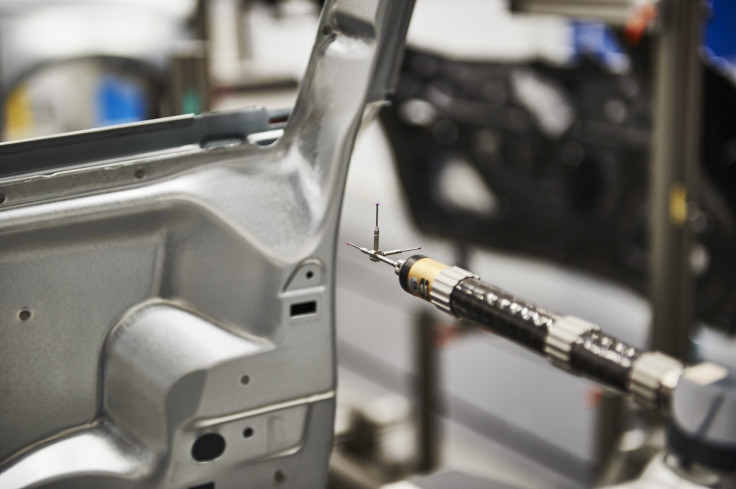 Before any new model enters production, every body panel is scanned with a handheld laser to spot any imperfections. Each panel is then placed into a rig and scrutinised by a robotic arm which touches its way around the panel, measuring every line and crease, every hole and mounting point, against what it knows the panel should look like. This process is accurate to 0.3mm and ensures that each batch of new components has been produced correctly.
Flexible production line
You might picture a production line as a row of identical cars slowly passing through a factory as more components are added, before they drive out the other end. At Ford's Valencia plant, things are a little different - this facility has the flexibility to produce five different models on the same line, at the same time. It can also cater for every variation of each model - so it isn't just Mondeos and Kugas, it's saloon and estate Mondeos, petrol and diesel Kugas.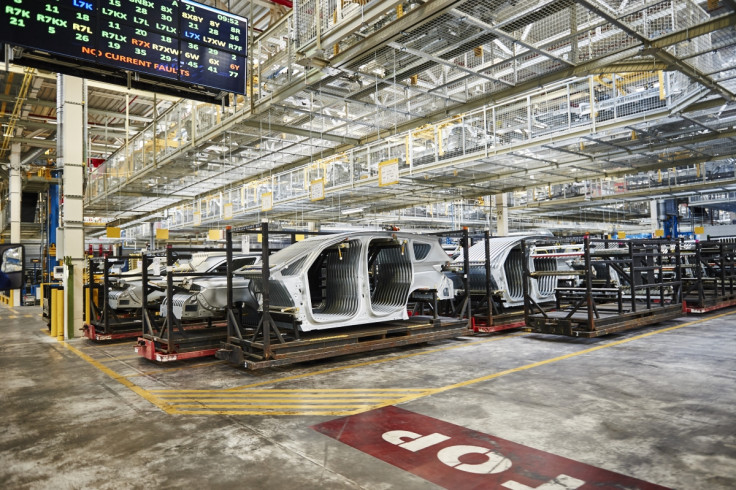 The body of each is produced separately to the chassis and drivetrain it sits on. At one point in the factory these two halves are mated together, where the body is lowered onto its suspension, engine and gearbox. If a Kuga follows a handful of similar Mondeo estates, the production line automatically switches. No time is wasted because the switch is done in advance of the body getting there and slots into place at the same speed as usual. Once placed together, the body and chassis are connected by a team of engineers who follow it down the production line and onto the next stage.
Although Ford employs 8,000 people at its Valencia factory, you hardly notice any staff at all along the production line. The robots take care of almost everything, with humans (of which 20% are female) left to restock the robots with components, perform visual checks in the paint department, and take complete vehicles away.
Shake, rattle and roll
Of the completed cars, 5% are chosen at random to be driven along a short test route, which includes a small section of the facility's test track and a route covering four stretches of different road surfaces. All four are bumpy and uncomfortable for the passengers (even those accustomed to British B-roads) and are designed to highlight any problems with how the car has been built.
Suspension issues would be quickly detected, as would any loose interior trim. This isn't as extreme as some phone factories - Vertu showed us how it practically tortures its handsets before putting them on sale - but it serves as a useful tool to make sure everything is running smoothly.
Feel the noise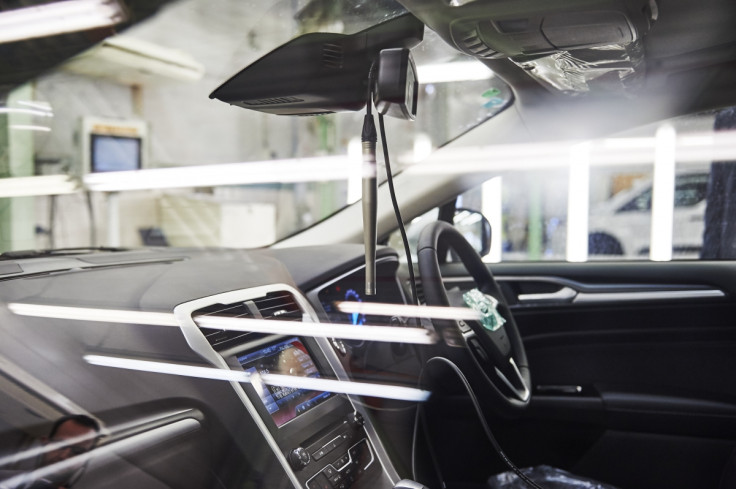 Another test reserved for the 5% is designed to highlight any interior build quality problems. A microphone is suspended from the rear view mirror and sound is broadcast from a nearby laptop to the car's radio. The range of frequencies is designed to make any loose trim vibrate. The sound of vibrations - but not those coming from the speakers - is recorded by the microphone, sent back to the laptop and analysed against a perfect score. Any problems are clearly plotted on a line graph, and if a solution isn't obvious then the car will be taken apart and looked at more thoroughly to find the fault.
This is really just a taster of what goes on here. To many a car factory won't be all that interesting, but once you get your head around 600 cars being produced every day you realise the effort, skill and, ultimately, pride which goes into producing each one.