Snap Inc, parent company of popular app Snapchat, has reportedly laid off "roughly two dozen" staffers, while private memos reveal threats against potential whistleblowers.
According to Cheddar, a New York-based media outlet founded by the former president of Buzzfeed, the firm sacked employees "across 8 different teams" on Thursday (18 January). Others, it revealed, have been asked to relocate from the UK to Los Angeles.
Founded in 2011, Snap Inc has a nearly 3,000-strong workforce. The company boasts 178 million active daily users and an average of 3.5bn snaps are sent every day, statistics indicate.
The sackings – which followed a dozen job layoffs in September last year– allegedly came the same week as an internal memo was sent company-wide discussing the importance of growth and scalability.
CEO Evan Spiegel wrote: "Getting bigger is not a competitive advantage, unless you are also able to achieve scale - which means generating non-linear returns on your incremental investment." He added: "We also need to have an organisation that scales internally."
In early January, Snapchat users reacted negatively to changes made in a redesign. TechCrunch revealed that 83% of reviews on the iOS App Store – out of 400 - were rated one or two-stars.
"There is a strong likelihood that the redesign of our application will be disruptive," Spiegel admitted at the time. In recent months, the company has been aiming to boost profits – not an easy task thanks to growing competition in a market still dominated by Facebook.
The problems for Snapchat did not end there, as Cheddar released another bombshell Friday (19 January), exposing another memo showing strongly-worded legal threats against any staff caught leaking company data. Of course, the anti-leaking memo then leaked.
It was reportedly sent to employees on 8 January, one day before The Daily Beast published an article detailing previously-unknown confidential metrics.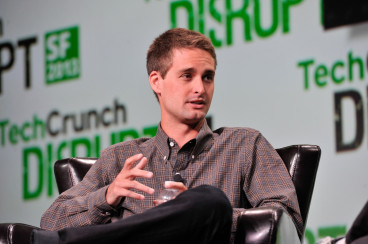 "We have a zero-tolerance policy for those who leak Snap Inc. confidential information," wrote chief lawyer Michael O'Sullivan.
"This applies to outright leaks and any informal 'off the record' conversations with reporters, as well as any confidential information you let slip to people who are not authorised to know that information.
"If you leak Snap Inc. information, you will lose your job and we will pursue any and all legal remedies against you. And that's just the start.
"You can face personal financial liability even if you yourself did not benefit from the leaked information. The government, our investors, and other third parties can also seek their own remedies against you for what you disclosed. The government can even put you in jail."
Snapchat did not immediately respond to a request for comment from IBTimes UK.